When I think of springtime, I imagine gardens in full bloom, and people's spirits lifting with the rising temperatures. Spring is also the busiest time of year for buying and selling homes, and as families search for new places to plant their roots, I can't help but think about the symbolism our homes hold as memorials to ourselves and our ancestors.
I have always been drawn to investigating historic houses that my forebears once lived in, as they can be a wonderful window into the past. Previous digging into my family's historic houses demonstrates the vast amount of information that can be uncovered by a visit to the bricks and mortar that have outlived our ancestors.
A story that always struck me growing up was that of my great-grandmother Florence Crofts whose mother died when she was just five. She was sent to live with her grandparents at Windwhistle Farm in Grassmoor, a little village close to Chesterfield, Derbyshire, England.
I remember hearing about how hard life was for her, especially after her grandparents died and her uncle took over her care. I had always wanted to visit this farm to learn more about my great-grandmother's life, and how she came to be the amazing woman she was. When I was 18 I got my chance, I travelled to England and tracked it down!
When I think back to that time when I found Windwhistle Farm, I'm forever grateful to the kind locals from Grassmoor that helped me during my visit.
The only information I had about this family farm was its proximity to Chesterfield and a picture sent to me from a family-tree connection. The picture was of my two-times great-uncle, known as "Fat Platts," sitting outside the front door of Windwhistle. One look at the photo below and you'll realize why it was a hard one to get out of my head. I would love to know more about Fat Platts (he looks like quite a character!) but that's a story for another day.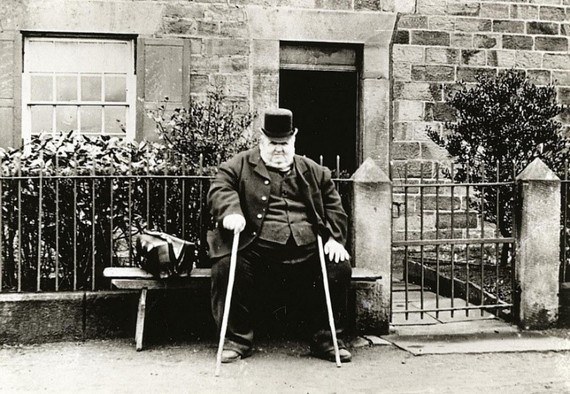 Fat Platts
With just the name of a farm and the picture of this portly man in my hand, I took a leap of faith and asked a stranger at a Grassmoor gas station if they'd ever heard of Windwhistle Farm. They not only knew where it was, but they even offered to drive me there! To this day, I can remember the butterflies I felt as we pulled up to the farm, and I instantly recognized the front step, all thanks to the picture of old Fat Platts.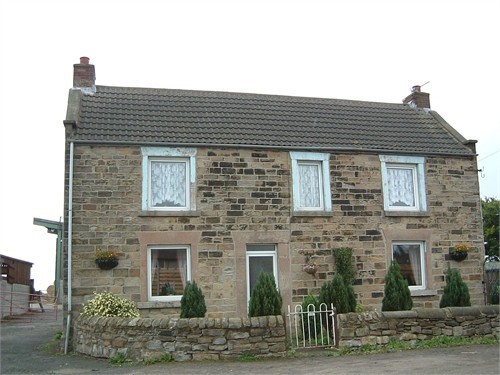 Windwhistle Farm, 2000
Seven years later when I was pregnant with my first child, I wanted to find Revel Farm, the home of my great-grandmother's parents (my great-great grandparents). My research began at the records office in Matlock, Derbyshire where I found an old tithe map that showed a house, an orchard and a road with other farms. I soon discovered that the whole area, including the village of Woolley had been flooded when they built the Ogston Reservoir in 1958, but determined to find Revel Farm, I drove endlessly until I literally stumbled across a farm that potentially fit from the map.
No one was home, but my journey didn't end there. Three years later, I wrote to the current farm owners to see if they knew anything about my ancestors and was completely bowled over when I received a response saying that not only had my family lived there for over 65 years, but there were still roses in the garden that my ancestors had planted!
The letter included a detailed account of my family's connection to the farm and surrounding area. For example, I learned that they were Church of England members and were held in high esteem by their neighbours.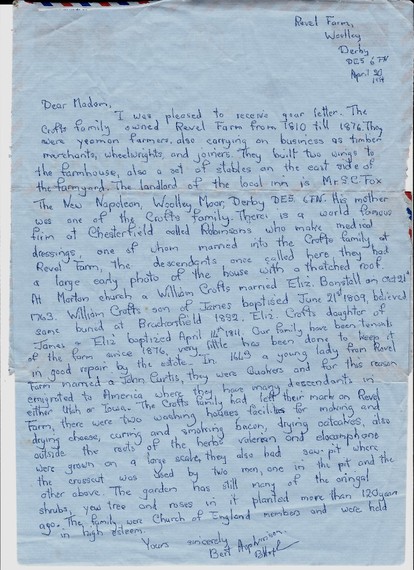 Letter from current owners of Windwhistle Farm
Discovering my family's home, wandering through the neighbourhood and learning more about my ancestors as a result, made me feel proud to be related to this admirable, strong family. It also helped me feel more connected to my great-grandmother, of whom I had heard so much about throughout my life. This journey helped reinforce the importance of historic homes as a crucial component of my own family research.
Spring is a time for new beginnings, so I encourage you to do some digging into where your family once lived. Whilst it may not always be possible to travel to the country they emigrated from, try using other resources to learn more about your ancestors' lives.
Family history sites such as Ancestry make it easy for you to research your family through census records and other historical records like church registers and tax assessment rolls. You can add photos along the way of your own journey and share them with others who might be able to help you. Or, take a chance, and connect with other family trees and locals who may be able to help put pieces of your family's story together from afar. You never know what kinds of doors you'll open.
Follow HuffPost Canada Blogs on Facebook