Blue Mountain Images
The poppy is one of the most recognizable symbols in Canada, displayed proudly on Remembrance Day by millions to commemorate those who fought and fell while defending our country and our freedoms.
I believe that for Canadians, the poppy actually has as strong a connection to the month of May as it does to November. It was in this month 100 years ago that our troops fought in the Second Battle of Ypres. This important battle was one of the first that Canadians participated in and the first time a Canadian division defeated a European power on European soil.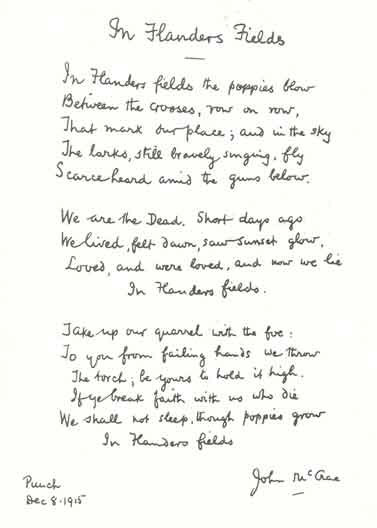 It was also during this battle that Lt. Col. John McCrae was inspired to pen one of the most iconic pieces of wartime literature: the poem In Flanders Fields. McCrae's good friend, Alexis Helmer, died in the battle and it was while presiding over his funeral that McCrae noted the poppies of Flanders.
John McCrae was born in Wellington County, Ont. on Nov. 30, 1872 to parents David and Jane McCrae. On Sept. 22, 1914, at the age of 41, McCrae completed an Attestation Form to serve in the Canadian Overseas Expeditionary Force (CEF) in the First World War. One can imagine that when he signed this paper, he had no clue as to the impact he would ultimately have on Canadian history.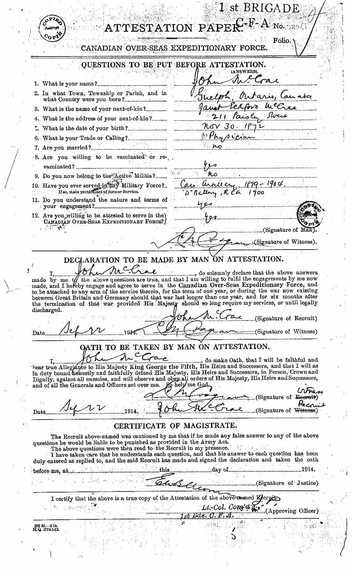 McCrae's poem that reflects his experience at Flanders touches all Canadians and asks us to remember the bravery and sacrifice of so many. It also brings to light, every year, the shared experience of our ancestors. Personally, learning about an ancestor in my husband's family tree who fought in the First World War was a wonderful journey of discovery.
It was a wartime love story. My husband's Great Aunt, Dorothy Quantrill, better known as Dolly, was living in London, England and fell in love with a Canadian soldier, Leslie Stuart Ricketts. Ricketts enlisted with the 9th Battery Canadian Field Artillery in September 1915 at the age of 21. His Attestation Paper revealed that he was born in Greenock, Scotland on Mar. 1, 1894. He and my husband's Great Aunt Dolly married in 1918, toward the end of the War, but within the year Dolly caught the Spanish flu and tragically passed away.
After the war, Ricketts returned to Toronto, Ont., as a widowed soldier and remarried in 1920 to another woman also named Dolly. A 1940 Canadian census revealed they had six children, four sons and two daughters.
I feel very proud to say that I had an ancestor who fought in the war and returned to Canada as a veteran. I am sometimes astounded at how many Canadians don't know about their family's military contributions. In fact, a recent Ancestry.ca survey revealed one in three Canadians has no idea whether they had an ancestor who fought in the First World War.
It has never been easier to discover these stories and these links to our history. I hope more people take the time to explore and marvel in the sacrifices, hardships and triumphs of their ancestors.
As for me, I will consider wearing a poppy in May this year to help remember those brave men and women who fought 100 years ago and who are forever immortalized in the words of McCrae's beautiful poem.
MORE ON HUFFPOST:
Erin O'Toole: 7 Things To Know About The Veterans Affairs Minister