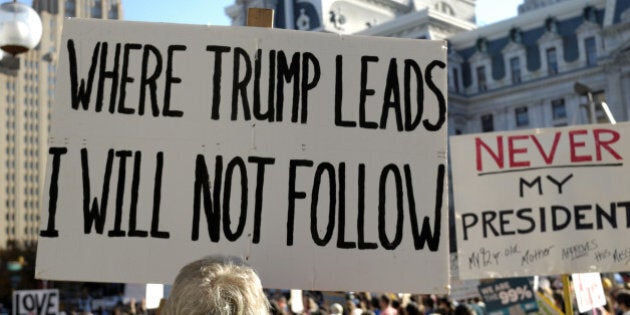 Throughout the week of January 16, 2017, I was riddled with contemplation about attending the Women's March in Toronto, which would start at Queen's Park and end at Nathan Phillips Square, the day after Donald Trump's inauguration.
On January 18, I attended a panel discussion called Canada in a Trump World, where diverse leaders and prominent figures of influence shared their experiences and perspectives on the impact a Trump presidency would have on Canada.
They also pushed back against the idea that Trump is taking us back in time, reminding the audience that North America has always been plagued by discrimination and prejudice, the veil is just now coming off again, when really, the ideologies and senseless acts of white supremacists have always been there, have always been taking place. Now, these radicalists have someone in power to whom they credit their beliefs, actions and words.
On January 20, I sat at my desk at work and hesitated to tune into the inauguration. I didn't want to listen at first, so I set my dial to CBC's The Current to hear host Anna Maria Tremonti speak to Canadians and Americans about what this means. I was more interested in the analysis. I also couldn't look at any more tiny hands.
Soon, though, I fell into the trap of American television and gazed at a fuzzy online stream of the Obama-era coming to an end and the real-time first episode of the worst reality show to ever exist. Of course, in between strange biblical references and Michelle's well-timed side-eye, there was coverage of violent protests, windows being smashed, people being tackled to the ground.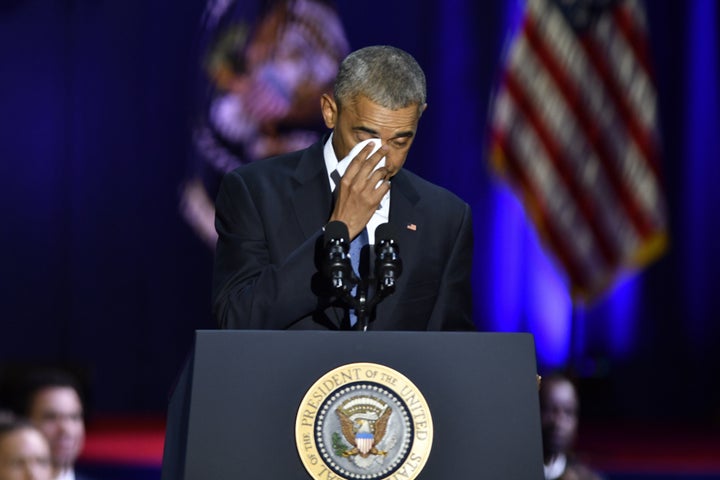 When I got home after work that day, I told the friend I had invited to Women's March Toronto that I probably wouldn't be going on January 21. I was exhausted. I was drained. I didn't want to talk about hate any more. I was really anxious, worried that I would get into trouble for walking down the street holding a sign celebrating hope and equality -- I mean, this is what I was so used to seeing in coverage of protests for years, and I didn't feel like getting pepper sprayed.
I also feared the words, "Don't be a martyr." Though, a huge part of my inner self was telling me to bite the bullet, to follow my heart and to stand for what I know is right. I was torn, and still nauseous.
Instead, I switched my perspective to baking muffins and making a hearty minestrone for the days to come. I went to bed after watching a few hours of Netflix, still feeling funny.
I woke up on January 21 with a to-do list of chores and errands to run, but instead, inside me burned a different flame. It was a flame growing with compassion, strength, vibrance. History was being made for women, minorities and people from marginalized groups and I knew I had to be part of the conversation.
A wave of excitement, and a bit of panic, came over me as I crafted a sign on a small piece of card stock. It read, "We are powerful. We are deserving. We are strong." I was inspired by these words in Hillary Clinton's concession speech: "To all the little girls watching...never doubt that you are valuable and powerful and deserving of every chance and opportunity in the world."
I rushed to meet up with a friend who leads a coworking space for women in Toronto called Shecosystem, and her tribe of marchers, and we were off.
"The Women's March was about bringing people together, showing that communities united are stronger than those divided."
At first, I was nervous to hold my sign, and to be honest, for most of the Women's March, I stayed silent. I was taking it all in.
There were families, there were husbands, there were 70-year-old men holding signs that said, "Human Rights aren't up for grabs," there were little kids asking their moms what Nasty Women meant, there were brothers holding signs for their sisters, there were daughters wearing pink hard hats, holding signs that read, "Love, not fear."
At the Women's March, there were also people of different religions, different backgrounds, different genders. There were Americans, there were Canadians, there were immigrants. There was a sea of colours before my eyes - pink hair, blue eyes, thick hair, all thighs, young faces, old cries, dark skin and no lies. Everyone wore a smile and chanted strong words of might, but after marching for two hours, I didn't see one fight.
Sixty thousand people in Toronto, and millions of others around the world, marched in solidarity and committed to a future that will be better for generations now and those to come. The Women's March wasn't just about Donald Trump, one human being, and I think that's where many will find themselves confused. The Women's March wasn't about being scared the world was going to end. Instead, marchers believe in a future with less fear, more tasteful fury, more honest outrage.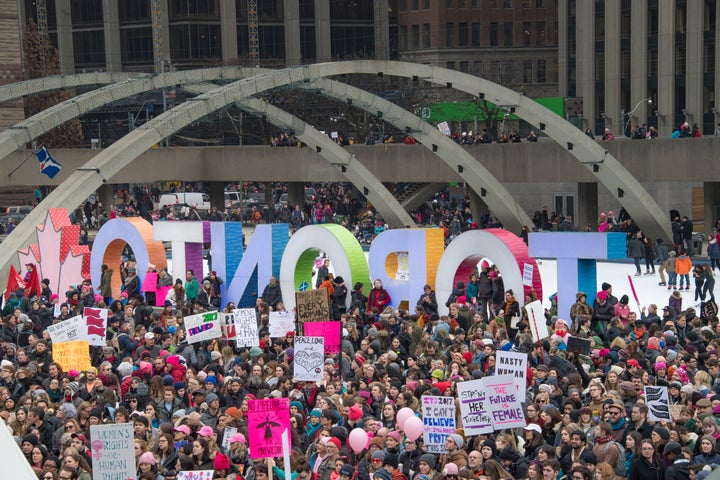 It was about being fed up with mistreatment and inequality, it was about standing strong in honour of those who marched before us and those who will march after us. It was about reminding women everywhere that we need to stop competing against each other, as we've been taught to do for centuries. Instead, we need to practice inclusivity and teamwork within ourselves.
The Women's March wasn't about not accepting Hillary Clinton's loss, either. I didn't meet one sore loser. The Women's March was about bringing people together, showing that communities united are stronger than those divided.
This powerful collective of change isn't about gaining social media impressions or increasing engagement scores for profit. It isn't about ratings. The Women's March was about respect and spreading good news.
The Women's March is a reminder that there are many ways to support a positive future. You don't have to make a sign or scream really loud or join 60,000 people on foot. You can educate yourself and others, you can donate to causes that support equality and the environment, you can volunteer for organizations that improve lives of people in your community and you can make small changes in your lifestyle to better the future of others.
The word "march" symbolizes movement, progression and discussion. To march, you do not need to physically stomp your feet or wave your hands.
All you have to do is believe that, yes, we can.
Follow HuffPost Canada Blogs on Facebook