Uriel Sinai via Getty Images
When people hear of First Nation communities, it is usually about a crisis, casinos or mind-blowing poverty conveniently hidden away in one of the world's richest continents. Or it is about on-reserve tobacco production, ranging from criticism of the supposed "free ride" for Indigenous people all the way to claims of organized crime and fraudulent production and sales. There is usually little painted positively, even though the success of businesses in some First Nation communities are truly impressive.
The emerging legalization of marijuana is an opportunity for continued and new business success in First Nation communities. As different parts of the U.S. have started legalizing the sale of marijuana (and Canada is on its way), cannabis capitalists are flocking to invest in dispensaries and other marijuana-related projects.
You know there is money to be made... when even Shopper's Drug Mart has applied to sell you marijuana.
The marijuana industry is projected to reach $15.2B by 2020. It is attracting high profile investors like Peter Thiel, big corporations and musicians. You know there is money to be made and this is serious business when even Shopper's Drug Mart has applied to sell you marijuana.
This means that First Nation communities that do consider marijuana production and/or sales may face some of the challenges and accusations they have already experienced through production and sales of tobacco.
A quote by Dave Bryans of the Ontario Convenience Stores Association (OCSA) notes a new study that shows an increase in smokers' use of contraband tobacco in Ontario, stating that 32.8 per cent of the cigarette butts collected in the study were from illegal sources -- an increase of eight per cent from 2015.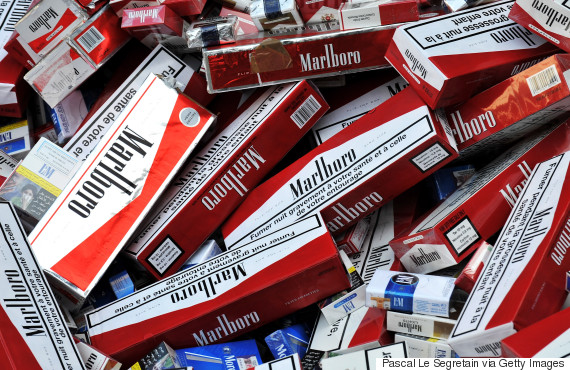 Counterfeit cigarettes. (Photo: Pascal Le Segretain/Getty Images)
"There are dozens of cigarette factories on reserves and an underground system of gangs to bring the product to buyers, including underage smokers," he states.
Bryans goes on to say that the continuing spread of illegal tobacco use should be a cautionary tale as the country moves to legalized marijuana. "It would not take much effort for factories now churning out illegal cigarettes to focus on pot production," he says.
In the article, Mr. Bryans feeds into stereotypes of Indigenous people, including that they are criminal and dishonest. He also neglects to mention that First Nation tobacco companies pay hundreds of millions of dollars in taxes per year.
I see his argument more as intended to protect his organization's piece of the pie under the guise of protecting youth and citizens -- taking the moral high ground of keeping organized crime in check.
The cautionary tale that I see is that the criticisms and attacks on Indigenous people used by large businesses and those representing Big Tobacco are likely to be the same that will be used to oppose First Nation production or sale of marijuana.
First Nation communities are demonstrating capacity to be stakeholders and leaders in what is ultimately big business.
However, First Nation communities can begin now to get a sense of what they will need to address for entry into the field and to understand where opposition will come from. A good starting point is the discussion paper "Toward the Legalization, Regulation and Restriction of Access to Marijuana" on the Government of Canada website.
The federal Task Force on Cannabis Legalization and Regulation has signalled that their work, expected to be posted online in a final report in December, has been guided by the discussion paper. If that is so, it is highly likely that the approach noted in the discussion paper for "some form of private sector production with appropriate government licensing and oversight" will be the model chosen.
Any successful private-sector operation will have to address the areas noted in the discussion paper, including safe and responsible production and distribution, education and awareness, prevention/education activities and minimizing the harms of use. These may seem daunting, but there are already examples of where First Nation communities are demonstrating capacity to be stakeholders and leaders in what is ultimately big business.
Production and/or sale of marijuana will create local jobs for many who are in desperate need right now.
For example, the Wahgoshig First Nation and an Ontario company called DelShen Therapeutics are converting a former forestry operation into a facility that will grow "pharmaceutical-grade" pot. The entire operation is expected to cost $18 million. In a press release, chief David Babin said the First Nation has chipped in $2 million of that cost.
First Nation communities in addition to Wahgoshig, such as the Penticton Band in British Columbia and Tobique First Nation in New Brunswick, have explored production of medical marijuana for economic development to benefit their communities.
First Nation communities have some of the highest unemployment rates in North America. A major reason why is that many reservations are located far from jobs. Production and/or sale of marijuana will create local jobs for many who are in desperate need right now, but have nowhere in the community to work and/or who do not want to be transplanted away from their families, traditions and history in order to earn a living.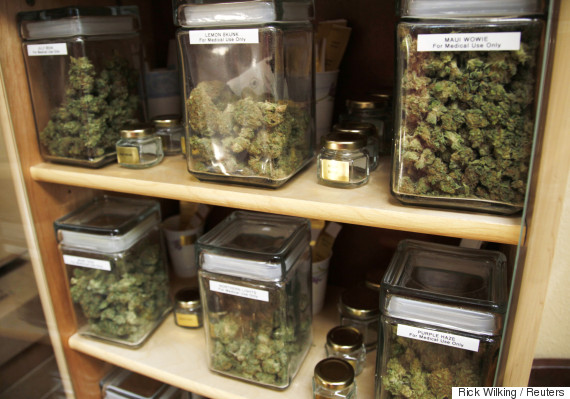 A variety of medical marijuana strains are seen at marijuana dispensary Alpine Herbal Wellness in Denver, Colorado June 20, 2011. (Photo: REUTERS/Rick Wilking)
The jobs that can be created around marijuana are endless, including growing the plants themselves, creating marijuana products, security, distribution, cafes, retail and more. If the state of Colorado legalizing marijuana has showed us anything, it is that profits and the boost to the local economy is rapid.
With increased tourism, visits and business from the outside world, there are also possibilities for stronger relationships and understandings of First Nation culture.
The time for First Nation entrepreneurs to take advantage of the marijuana boom has never been better, and the resources are already there. They may have to face some others with vested interests raising the spectre that First Nation communities will somehow be a hot bed of organized crime if they enter the legalized marijuana field, but I can only say I trust most people would see through this. They will recognize that profits might actually go back into First Nation communities to lift them out of poverty, rather than into the pockets and profit of big business.
It will be important for First Nation communities who enter this industry to do good business, and make it count for their communities.
Follow HuffPost Canada Blogs on Facebook
Also on HuffPost: