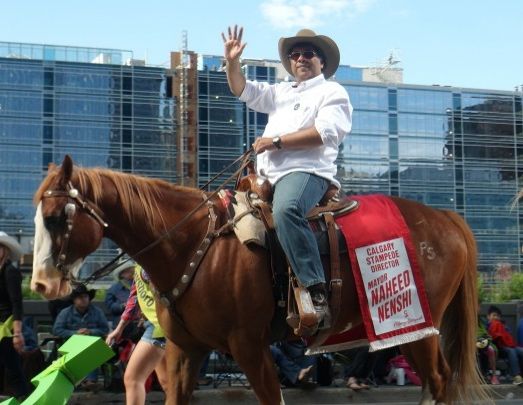 (Photo of Mayor Naheed Nenshi in the Stampede Parade, courtesy of Angela-Gaye Mallory)
It's been just over three weeks since raging floods wiped out countless homes and caused massive devastation here in Calgary and in Southern Alberta. It is nothing short of heartbreaking to consider what so many people are enduring, and what they have lost. The worst of it is that many of those losses can never be restored, replaced or rebuilt.
But in the face of the worst disaster ever to hit this city, or indeed, this part of Alberta, our mayor, Naheed Nenshi, has been the voice of reason and reassurance.
I will never forget the night before the floods. I don't think words could adequately convey the eerie feeling that hung thick in the air, hovering like that long violin note that keeps you on the edge of your seat in a Hitchcock film. It wasn't that there were particularly ominous clouds that night, although it was obvious that a storm was on its way. No, there was something else, a sinister "something" lurking invisibly yet palpably in the atmosphere, defying description.
I felt like I was in the middle of a Stephen King film. I half-expected aliens to come out of the sky, or a huge tank to come rumbling down the street, complete with a blazing wall of fire as a backdrop. Something really bad was about to happen; it was heavy in the air, yet no one could have possibly imagined what was about to unfold.
By the next day, every Calgarian and hundreds of thousands of Albertans would be changed forever. All hell had broken loose; Mother Nature had had one monstrous temper tantrum and there was no end in sight. The rain kept coming; the rivers kept rising. We had only just begun to taste her wrath and its consequences.
Harvard-educated and articulate, our Mayor Nenshi, who was not even considered a contender in the election of 2010 but ultimately won by a landslide, worked straight through for 43 hours. Calgary was becoming a muddy lake, the entire downtown core and numerous other areas submerged in a heartbeat, forcing nearly 100,000 people to be evacuated. City residents were insisting that their mayor get some rest. But he refused.
Instead, he worked tirelessly to ensure our safety and to keep things running smoothly so that all necessary services could be restored. With the help of hundreds of public servants, as well as numerous electricians and other tradespeople who just pitched in where necessary, within days Calgary was finding its feet and people were allowed back into their homes (at least to begin the arduous clean-up, if not to live in them).
At a time when we could have been coming apart at the seams, Mayor Nenshi - with his warm and easy manner - kept us from going there. Delivering frequent updates along with our acting Fire Chief, the director of CEMA (Calgary Emergency Management Agency) and the CEO of Enmax (our electricity supplier), we were kept in the loop as soon as new information became available.
His brilliant sense of humour worked its magic as he joked and kept things light, despite the crushing seriousness of our collective situation. I loved the rebelliousness of frequent statements that began with, "I'm probably going to get in trouble for saying this but..." - followed by the delivery of something honest, straight from the heart, and truly helpful yet completely ignoring political correctness and bureaucratic rubbish.
Calgarians loved his response to people seen canoeing on the deadly Bow at the height of the flooding.
"I can't believe I actually have to say this," said Nenshi, "but I'm going to say it. The river is closed. You cannot boat on the river. I have a large number of nouns that I can use to describe the people I saw in a canoe on the Bow River today. I am not allowed to use any of them."
Despite the daunting tasks set out for him, which will be ongoing for some time, he has never stopped smiling. Never stopped dispensing hope and humour. Never stopped showing his love for Calgary, his appreciation for Calgarians, Albertans and people from other areas who were and are doing their best to put this city and indeed, the whole of Southern Alberta, back together again.
Nenshi has responded to people personally. He has reminded us to be grateful for the help, the volunteers, for the hard work of those who have been making sure we've had clean water to drink, or who have repaired roads or electrics, or who have dug mud and debris out of homes, and in countless other ways got us through those horrible early days and will get us through what lies ahead. He keeps encouraging us to help one another, and we are doing it in droves.
We were in an official state of emergency for two full weeks, and even now, we're a long way from calling this "over." Our practical, down-to-earth, warmhearted Mayor Nenshi is still making sure that what needs doing gets done, and it is done as smoothly, quickly and sensibly as possible - and all with that never-ending smile that seems to say, "It's all okay, and if it's not, it's gonna be."
And we believe him.
When we think "politician", we think about someone who wants to score the most points, get the most 'likes', come out on top just so he can win. But none of that makes a leader.
If ever there was a man who was the epitome of a true leader, and someone worthy of running a country and doing it well, it is our Mayor Nenshi.
If he were representing this magnificent country, I would no longer merely be proud to be Canadian. It would be an honour in a whole new way.
Visit me, my books and CDs at www.libertyforrest.com