"It's going to be a really cool class and the best part is that the winning group gets $100,000 to start their business!" said my son. In his second year at the University of Calgary's Haskayne School of Business he'd signed up for a class in entrepreneurship. In groups of six, students, with the help of a mentor, would identify and research a business idea, write a business plan and present it to a panel of industry leaders.
But if you're not in school anymore where do you find mentoring with seed capital? For businesses in the idea stage seed capital - or pre-seed as amounts less than $100,000 are often called - is typically provided by the founders themselves and "love money" from family and friends. There are also a number of public and private organizations willing to step in and make relatively small investments to help grow businesses to a stage where bigger dollar players, such as venture capitalists, take an interest.
Recent graduates may still be able to apply for student-focused programs. Each year The Next 36 selects 36 Canadian undergraduates, or recent graduates, from a variety of academic disciplines, providing them with mentorship and up to $65,000 in funding. University incubators may also be an option for recent alumni, faculty or staff.
Many provinces and regional areas fund programs with varying requirements such as being locally based, age limits for founders, or in a specific industry sector. SmartStart Seed Fund, for example, has programs for ages 18-29, and for 30+, but requires participants to be Ontario based.
National programs include Futurpreneur Canada who, partnered with the Business Development Bank of Canada (BDC), provides repayable loans of up to $45,000 and one-on-one mentoring for up to two years. In addition, access to other advisors and fellow entrepreneurs is available through pre-launch webinars, boot camps, and various other events. Futurpreneurs, however, must be between 18 to 39 years old.
What if you fall outside the requirements of the public programs? Real Ventures, a private Canadian entity, runs the Montreal based FounderFuel startup accelerator. Although accelerator and incubator programs can overlap, accelerators are typically at a somewhat later stage, akin to the teen years of a business rather than its childhood. FounderFuel, which focuses on web, mobile, SaaS (software as a service), and gaming spaces, provides teams with a 12-week mentor driven program, advisors, and access to a network of venture capital and angel investors. According to general manager Sylvain Carle, they receive 600 applications annually, from which they select 14 to 16 to receive $50,000 to $100,000 of financing in exchange for a small slice of equity in the startup company. Those that are "venture ready" at "Demo Day" may also be eligible for a $150,000 convertible note from BDC.
Highline, based in both Toronto and Vancouver, is a private, venture capital-backed entity that, according to co-founder and CEO Marcus Daniels, Highline works with early stage technology companies that "have typically shipped a minimum viable product and are working towards product/market fit." Highline provides ongoing advice, access to their network, monthly founder events, and facilitates follow-on funding from venture capitalists. They receive 1,000 applications annually, targeting to fund 15 to 16 of those, with an average investment of $100,000 for equity of five per cent to seven per cent. Highline also partners with BDC and the Ontario Centres of Excellence (OCE) for additional funding.
Some programs focus on very specific technologies. IDEABOOST, for example, describes itself as "Canada's only digital entertainment accelerator." Others provide mentorship and introductions to investors, but not seed capital themselves. The Canadian Acceleration and Business Incubation Association, dedicated to supporting the growth of new and early-stage businesses, is a helpful resource.
Don't limit yourself to Canadian sources; good ideas transcend borders and there are United States entities willing to work with Canadian groups. According to Trevor Blackwell, a founder of Y Combinator, one of the larger US incubators, from the 6,000 applications they receive for each twice a year cohort they select 150. Successful groups receive $120,000 in return for seven per cent equity in the startup and intensive training in a "boot camp" environment at their headquarters in the Silicon Valley.
Y Combinator's volume is impressive, and likely so the caliber of competition. The Canadian counterparts work with leading North American, not just Canadian, venture capitalists and advisors, and have the advantage of being able to partner with groups such as the BDC.
Applying for the private programs is easy; many have eschewed a formal business plan for an online application. With acceptance rates from 1.5 per cent to 2.5 per cent getting accepted, however, is not.
Of course, early stage investors are looking for a great idea. But just as important, and what they are ultimately investing in is people. "We take a lot of care in choosing the smartest and most resourceful, dedicated, and passionate people we can find," says FounderFuel. "Please tell us about something impressive that each founder has built or achieved...This need not be business related and is not about the type of achievement so much as the magnitude," asks Blackwell.
Another option is to find an angel. Angel investors, individuals willing to invest in startups, often provide mentorship in addition to seed capital. The National Angel Capital Organization can help connect you with one.
My son's group didn't win the $100,000, but a seed had been planted. "Hey Mom, what do you think about the other idea I had, the app for students that...?" And that's all I'm allowed to say about it.
If you have a program that provides mentoring and seed capital that I didn't mention, spread the word by commenting below.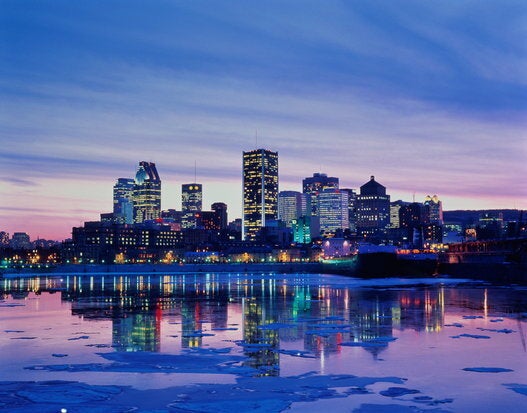 The Worst and Best Places to Own a Business In Canada: CFIB