Teillas/Flickr
The Côte d'Azur is one of the most beautiful places on earth -- the azure blue of the skies and sea are just the tip of the treasure chest. The ancient hill towns and villages are gems in themselves, and each has its own special charm.
Making scents in Grasse and Èze
When I heard about places in medieval Grasse and even-older Èze where you could book an appointment to create your own perfume, I was totally smiling. See some sights, have some fun and bag a trophy souvenir? You bet.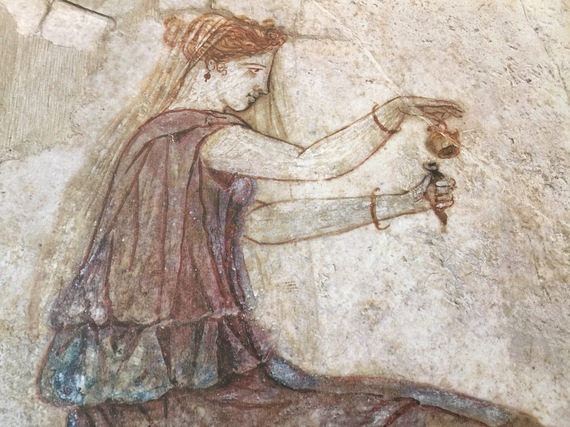 Fresco at the International Perfume Museum, Grasse - Photo: Lin Stranberg
Scent-free may be the new normal, but I love the stuff in private. So I followed my nose to Grasse. Two weeks later, I drove some visiting friends to do the same in Èze.
Where French perfume got started
The French did not invent perfume, as I learned at the elegant International Perfume Museum in Grasse, but they've been making all the "it" fragrances here since the 19th century. Grasse is a hill town surrounded by flowers. This is where the industry started up.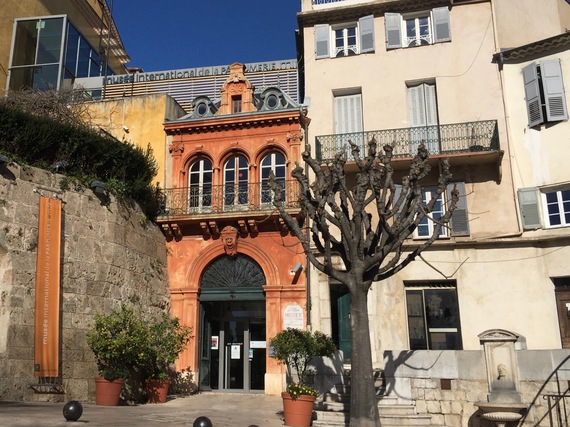 The International Perfume Museum in Grasse - Photo: Lin Stranberg
The museum is worth a visit, as is the town itself. Grasse has cobblestoned streets, sidewalk cafés and a view clear down to the sea. Your only clue that it is the centre of a billion dollar industry is the everywhere signage for the big three perfumers, Fragonard, Galimard and Molinard, whose artisanal factories, ateliers and boutiques are a major presence in town.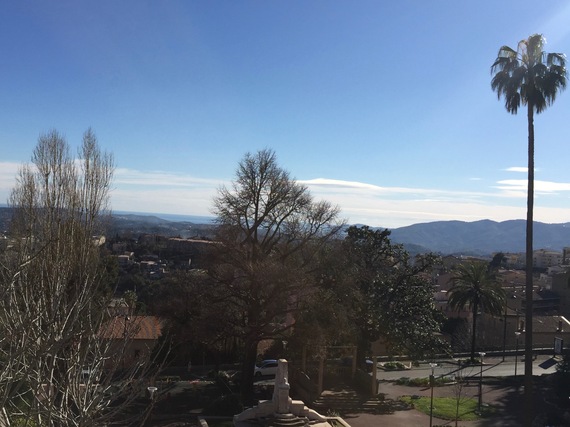 View down to the sea in Grasse - Photo: Lin Stranberg
Composing fragrances at a 127-note organ
Galimard, the oldest of the three, has been family-owned and operated since 1747. In the 20th century, the Roux family bought it from the descendants of the original Galimards. They are not the biggest, but they suited me the best. I liked the quality of their products and their options of learning one-on-one with a perfumer or in a group with other instructors.
If you love scents, you know what it's like to look for one that matches your personality. You sniff around the perfume counters and buy the one you think comes closest because you have no other option, really. A bespoke perfume -- a signature fragrance all your own -- is tough to come by, even in big cities like Toronto or New York. The handful of places you'll find offer a relatively small selection for the base, middle and top fragrances that compose a perfume. With 127 in all, feminine, masculine and unisex, Galimard is the real deal. Their selection is the biggest in Grasse.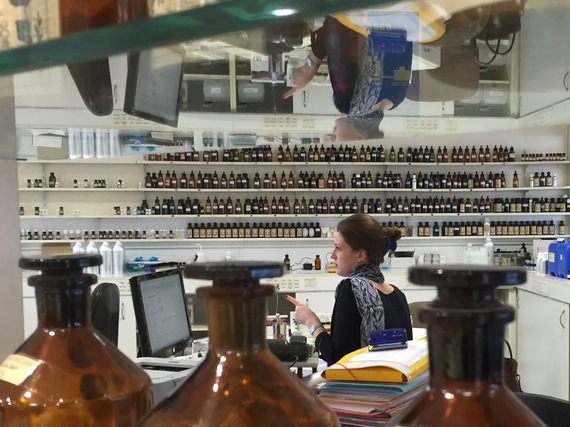 Perfumer Caroline de Boutiny at the Galimard lab in Grasse - Photo: Lin Stranberg
Working with a professional Nose
My appointment was with perfumer Caroline de Boutiny, an impressive professional who says making perfume helps you "to capture your own identity and be unique." She set me up at one of several perfume "organs" in Galimard's Grasse atelier. Two weeks later, she worked with my friends in Èze, where the perfume organs are identical and the process is the same.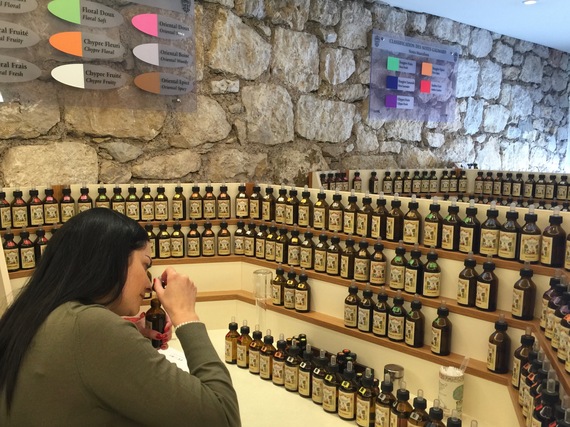 Erin Meagher selecting scents at a Galimard perfume organ in Èze - Photo: Lin Stranberg
Based on our taste in popular brands, she pre-selected a dozen or so small brown bottles for us to sniff as our bottom note. We narrowed it down to 6 or 7, then she eliminated those that would clash. We did the same for the middle or "heart" note, then the top note. She composed the formula and quantities for us to combine, and didn't lose patience when I lost count (all those thin red lines on that narrow glass beaker!)
Working with her was a unforgettable experience for us. In the summer months, Mme. de Boutiny works with customers in Grasse while another perfumer works with customers in Èze.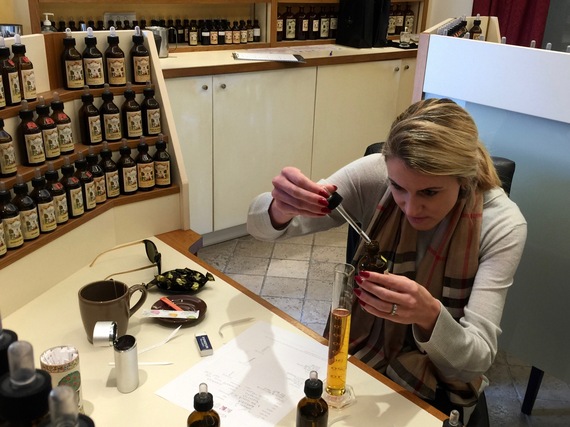 Mandy Wallace blending perfume at Galimard in Èze - Photo: Lin Stranberg
We each came away with a lootbag full of luxe. Inside was a beautiful 100 ml. bottle of our own signature scent, labelled and numbered, with an elegant old-school atomizer and a certificate I might even frame. Bonus: we can order our signature scents in a range of products online by using our private numbers.
Fresh cuisine in ancient Èze
The walled village of Èze is dramatically perched on a sheer rock mountaintop high above the Med between Monaco and Nice. It was settled and fought over for thousands of years for its strategic location and sweeping views of the sea.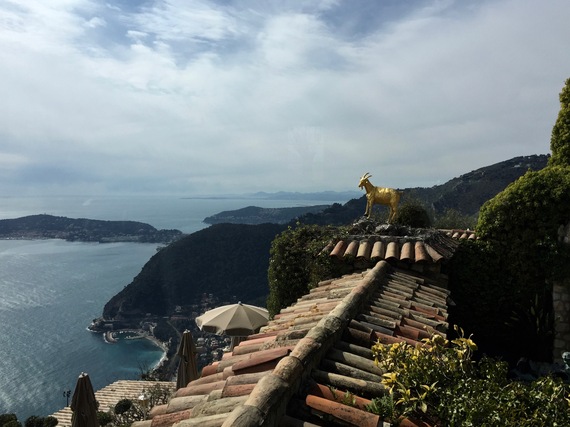 The golden goat is part of the view at the Chèvre D'Or restaurant - Photo: Lin Stranberg
The only way to improve on a great view is to find the perfect place to appreciate it. In Èze, that would be the gloriously appealing Château de la Chèvre d'Or, voted #1 hotel outside Paris for France and Monaco last year by Condé Nast Traveler readers. Drinks or a meal here are always a brilliant idea.
We had a spectacular lunch at the Michelin two-starred main restaurant, served against an ethereal backdrop of the big blue stretching to Cap Ferrat, Nice and beyond.
Chef Ronan Kervarrec, a Breton with a light and passionate take on classic French cuisine, has a particular affinity for seafood. The appetizer of scallop and ceviche, and the main course of St-Pierre, known in English as John Dory, raised the bar for me forever. It was full-on gastroglam to the very end and the clever dessert surprises of Pastry Chef Julien Dugourd. Service was professional, crisp and warmly hospitable. Check your diet at the door.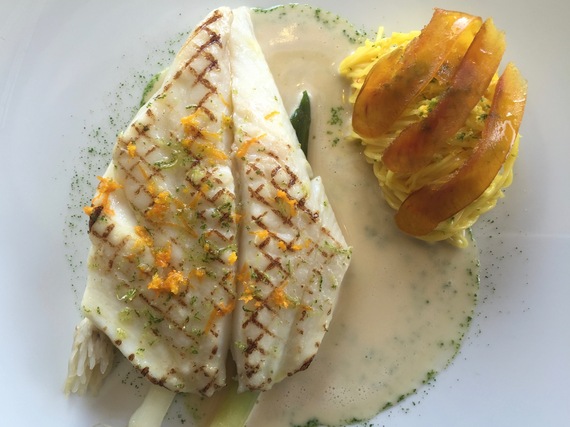 If you go in May or later, one of the two terrace restaurants would be the place to be. Same view, simpler menus. Reservations are a must, especially in the warmer months.
After lunch, take some time to stroll through the sculpture gardens so you can enjoy not only the historical details (the Iron Age battlement is certainly worth a linger) but the urbane whimsy that flows, like the tranquil fountains and waterfalls, throughout this magical location.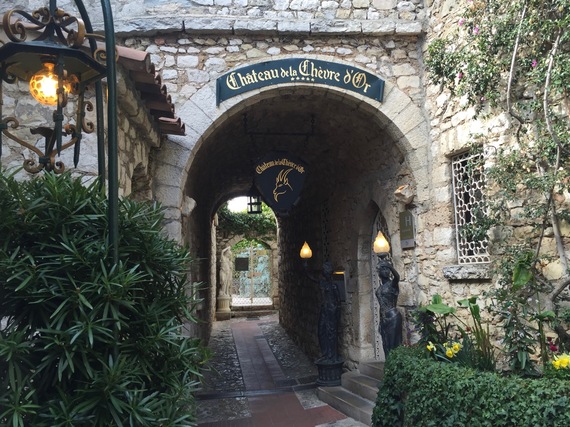 The Chèvre d'Or is an intrinsic part of the village of Èze - Photo: Lin Stranberg
For more information on Grasse: Grasse Tourism
For more information on Èze: Èze Tourism
For what to do in Monaco, see: 6 Ways to Live the Dream in Monaco
Follow HuffPost Canada Blogs on Facebook