Depending on who tells the story, either Queen Victoria or Queen Elizabeth II called Goderich, Ontario (pop. 7000), "the prettiest town in Canada." Not true. It seems there never was a royal visit, but don't let that stop you. This underpopulated little gem is a restorative cure for the urban soul, and it's an easy road trip from Detroit, Cleveland, Toronto or Buffalo.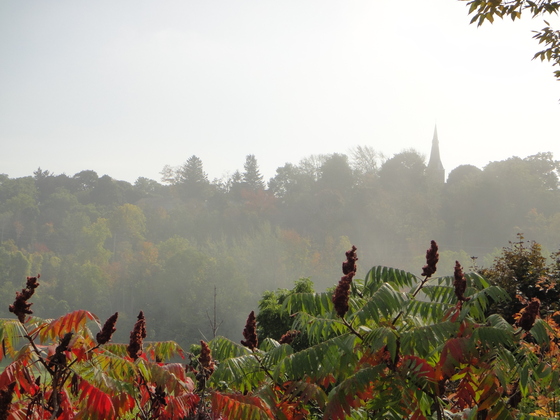 Photo: Lin Stranberg
Goderich has its own brand of rural allure. This is Alice Munro country, after all. And if that's not enough, here are six other reasons to go:
1. Hike in, hike out, and raise the bar on glamping.
If you like your outdoor experiences close to your comfort zone, I'd recommend Samuels Hotel, just across the bridge from Goderich on Highway 21. This seriously affordable boutique hotel will amaze you. You can hike, cycle, fish, canoe, kayak, snowshoe, snowmobile or cross-country ski right out your door, according to the season. Book a room with a view of the Maitland River, get outside in the fresh air and scenic surroundings, then back for a snooze on your king bed before dinner. There's a gas fireplace in every room; when owner Kim Burgsma, a designer and author, renovated this historic property, she redefined country comforts along the way.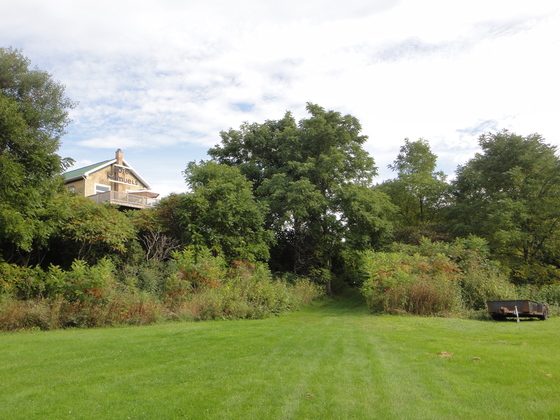 Photo: Lin Stranberg
2. Happy trails.
The Maitland Trail Association maintains more than 120 km of hiking trails, including the 50 km Maitland Trail itself. Some sections are suitable for cycling, skiing or snowshoeing and on-leash dogs are welcome in most. For a spectacular view over the Maitland River near Lake Huron, don't miss the Menesetung Bridge on the Tiger Dunlop Trail, a mostly flat 3 km that connects to the Maitland Trail at one end and the old Canadian Pacific railway station at the other. Across the road from the station is the Waterfront Boardwalk, a 1.5 km stroll along Goderich's Lake Huron beaches and coastline. Check out www.hikehuron.ca for details.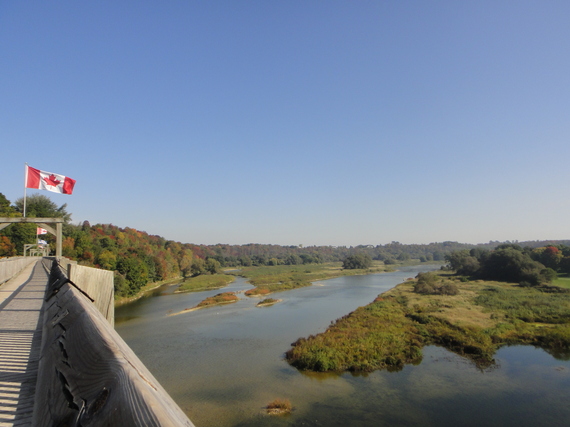 Photo: Lin Stranberg
3. Local flavour.
Like everything else in this part of the world, fine dining here is low-key and casual. I enjoyed the bounty of Huron County's rolling farmlands at Thyme on 21 and the Benmiller Inn. The food and ambiance at Thyme's four small intimate dining rooms in an 1870s lace-curtain Victorian were top-notch, and host Peter King's warm welcome adds a gracious touch. The exceptional setting of the Benmiller Inn, a former 19th Century mill outside the hamlet of Benmiller, and the "progressive Canadian" cuisine of Chef Peter Vail are worth the short drive.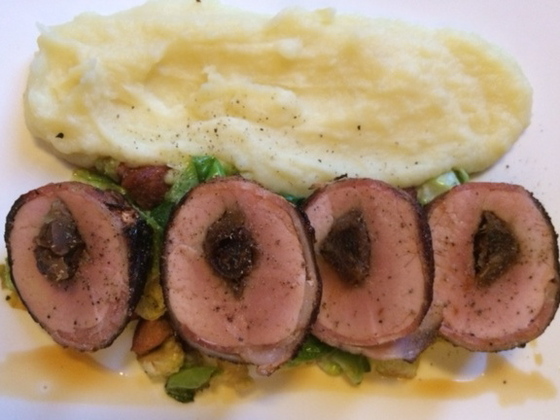 Photo: Lin Stranberg
4. Walk back in time.
Well-preserved 19th Century homes and commercial buildings dot the eight streets radiating from the ring road around Goderich's Courthouse Square, the octagon-shaped centre of the heritage district. For a throwback to the pre-Cineplex era, catch a movie at the Park Theatre on the square. On West Street, check out the jelly doughnuts at Cuthbert's Bakery, a Goderich institution for or more than 130 years, or browse new and used books at the Book Peddler. And if you love libraries, I recommend a stop at the public library on Montreal Street. It dates from1903 and is a living testimonial to the glory days of Carnegie Librairies. A booklet with four self-guided Heritage Walks is available free from Tourism Goderich.
Photo: Lin Stranberg
5. Local artists and artisans.
Meeting people makes for some of the best memories of all. It's easy to reach out to local art galleries and studios. Many keep regular hours and welcome drop-ins, like The Co-op Gallery on Courthouse Square. The space is run co-operatively among an eclectic group of local artists and craftspeople, so you never know what you might find to catch your eye. For something completely different, make arrangements to visit Sharp's Creek Forge and speak with blacksmith Jim Wallace. His forged architectural metalwork can be seen inside and outside homes and public places throughout Southwestern Ontario.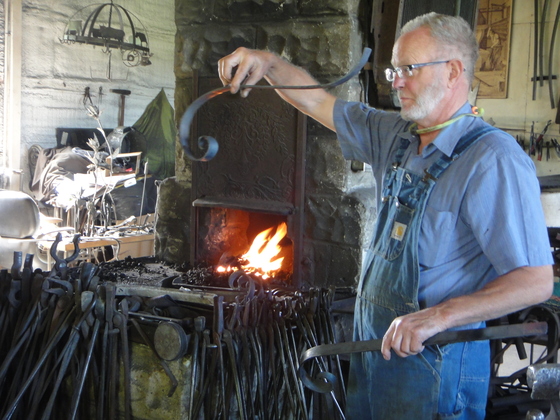 Photo: Lin Stranberg
6. Small town fascinations.
Nearby Clinton, ON (pop. 3000) is where Alice Munro makes her home. "To me, it's the most interesting place in the world," the Nobel prizewinner said in a 2013 New York Times interview. I couldn't linger to discover why she might find it "endlessly fascinating," but I wouldn't have missed my overnight stay in one of the four guest rooms at the Kildonan House, either. It's remarkably quiet. I had a great sleep, followed by breakfast in the dining room with hosts Maureen and Gene Logel. The 12-foot ceilings, splendid antiques and mellow surroundings of this stately 1867 home are redolent of a quieter, gentler place in time, all with the requisite modern conveniences. In summer, there's a saltwater pool in a lush garden setting.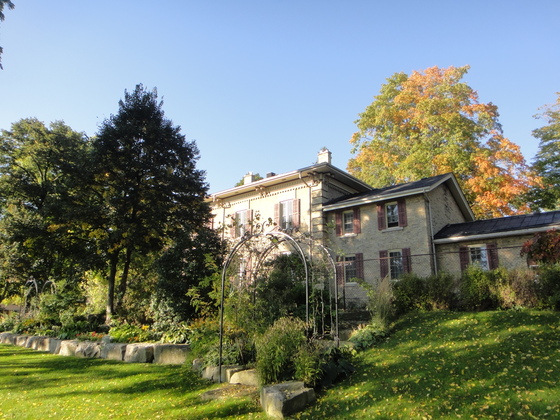 Photo: Lin Stranberg
For more about visiting Goderich: www.ontarioswestcoast.ca
MORE ON HUFFPOST: