When you need a quick getaway -- a real escape -- that's no further than 20 minutes away from a major airport, it's time for a weekend in Montreal, the second-largest French-speaking city in the world. It doesn't get much easier to experience such an appealingly different destination in a very short time. Montreal is a city that's small enough to negotiate easily, cosmopolitan enough to keep you intrigued, and bilingual enough to accommodate most English-speaking visitors. Here are some new finds and old favourites:
Old Montreal
Old Montreal is the heart of the city and where, it all began nearly 375 years ago. It's eternally chic and gets more charming each year. The visitor experience keeps pace, you might say: now you can walk the cobblestoned streets and do more than admire the architecture with the Montréal en Histoire app on your phone. Just line up your location with the map for visuals and stories of what's around you. There are downloads involved, so do that with a network connection. If you forget, just wander down to Place Royale and jump on the free WiFi outside the Pointe-à-Callière Museum.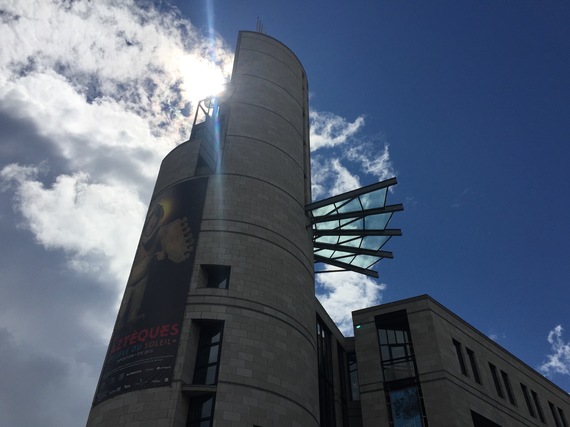 Pointe-à-Callière Museum Photo: Lin Stranberg
Bordered by Saint-François-Xavier, Saint-Paul, Saint-Sulpice and de la Commune Streets, the Place Royale hotspot is a public square with a pedigree. It figured prominently in the establishment of New France. Samuel de Champlain set up a fur trading post there in 1605, and it later became the communal square where the king's orders and laws were announced. You can find out more at Pointe-à-Callière, the Montreal Museum of Archaeology and History. Underground, there's an exhibit-cum-archaeological dig whose layers reveal centuries of the past. The exhibits on the floors above, with their multimedia approach, both entertain and inform.
The Snow exhibition, on at the museum until January 3, 2016, is an unexpected treat -- as is the sensational pastry at the Maison Christian Faure on the east side of the square.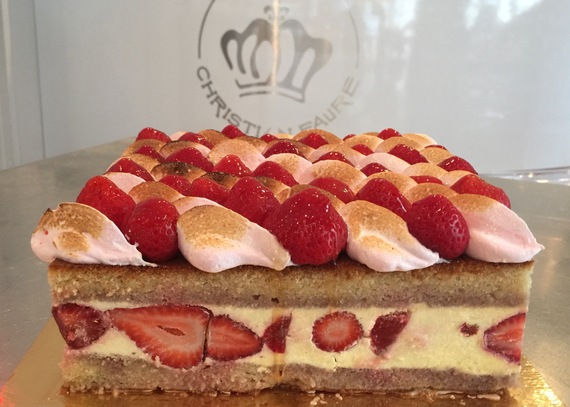 Strawberry shortcake à la Christian Faure Photo: Lin Stranberg
Pastry chef, glacier and confectioner Christian Faure is a Meilleur Ouvrier de France, a supreme designation in the French pastry world, and it shows. Housed in a beautifully restored 19th century warehouse and store, his patisserie is an experience not to be missed. Upstairs, he runs an international pastry school for professionals and one-day workshops for serious amateurs, held two Saturdays a month. Classes are small so reserving early is recommended.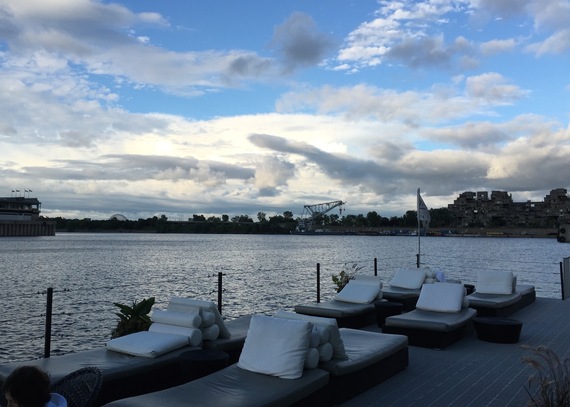 Dusk on the restaurant deck at Bota Bota Photo: Lin Stranberg
That floating feeling you usually get after a spa treatment or massage is the real thing at Bota Bota, a former ferry and showboat turned floating spa moored at the Old Port, the revitalized Old Montreal waterfront on the St. Lawrence River. Its five decks have been imaginatively refurbished with 21 treatment rooms, a hammam, a restaurant and, over a walkway to dry land, a lounging garden with swimming pools, a steam room and a waterfall. An ingeniously spawesome way to relax on the river.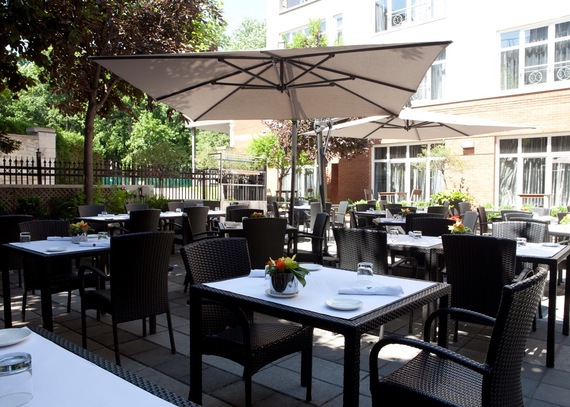 The terrace at Le Sinclair Photo: Le Sinclair
You can linger over lunch in Old Montreal on a sympatico terrace restaurant like Boris Bistro, Le Sinclair, or the Terrace Nelligan, a rooftop with a view. A favourite hotel in the area is Le Gault, an artsy 30-room warehouse refurb that manages to be hip and homey at the same time. Bonus: Standout concierge Jonathan Leclerc.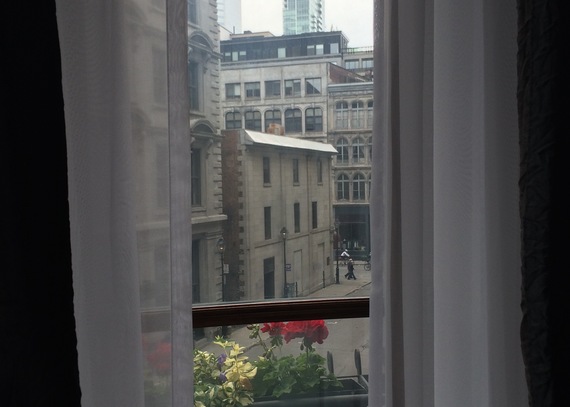 Rue Ste-Hélène from the Hotel Gault Photo: Lin Stranberg
Downtown Montreal
Further uptown (in downtown Montreal, as the locals say), you'll find the shopping, restaurants, museums and nightlife the city is known for, as well as plenty of big name hotels. Central to everything yet much more chill is family-owned Le Germain Hotel, Montreal's first boutique hotel and still one of the best. Le Germain's warmth and personalized welcome now extends to guests' canine sidekicks as well, with a pamper-ready package of extras like beds, bowls and tasty treats. Woof!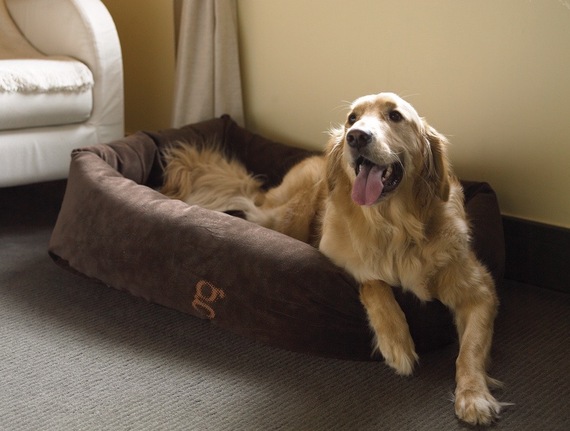 Le Germain is a dog-friendly hotel Photo: Le Germain Hotel
Outside the McCord Museum just around the corner, you can enter the Urban Forest, an exuberant transformation of a formerly dark and nondescript city block into an out of the blue public space with picnic tables, a piano, "trees" and a glider (on until Sept. 23).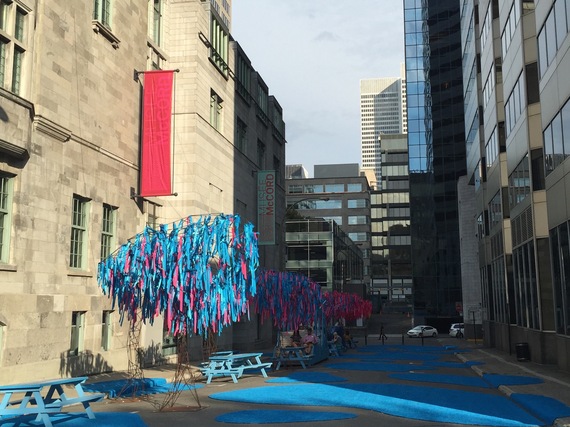 The Urban Forest at the McCord Museum Photo: Lin Stranberg
Further west, you can catch the blockbuster Rodin show at the Montreal Museum of Fine Arts until October 18. There's also emerging artist Michael Williams, an interestingly curated modern collection, and an exhibit of sports equipment by Quebec designers.
For a walk on the wild side of Quebec cuisine, reserve a table for some nose-to-tail gastronomy at the renowned Au Pied de Cochon. Macho meat maestro Martin Picard, who invented foie gras poutine, (he likes Quebec foie gras on everything, then cooks it with duck fat) opened his restaurant to wild acclaim over ten years ago and it's still going strong.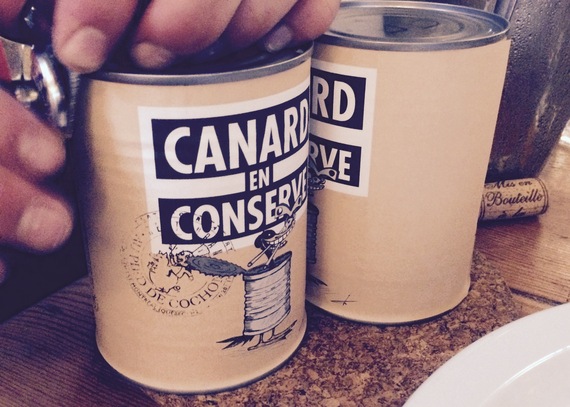 Duck in a can at Au Pied de Cochon Photo: Lin Stranberg
Don't miss the signature dish, Duck in a Can, a next-level sous vide that combines magret of duck, foie gras, buttered cabbage, garlic, thyme and balsamic meat glaze -- not for the faint of heart or delicate of constitution, but you won't regret it. Eating here is an adventure. Bonus: the excellent wine list.
Find out more
Montreal information: Tourism Montréal, Québec Original, MTL
Montreal travel information: Flight Network
Montreal restaurant information: Resto Montreal
MORE ON HUFFPOST: