Danita Delimont via Getty Images
One of my favourite times to be in Montreal is in late summer and early fall, when festival frenzy winds down and Montrealers come out to catch the last wave of warm weather. The beat of the city is lush and mellow: flowers are still in bloom, there's time to linger over dinner at a restaurant terrasse, and the mood is purely pleasure-driven.
Montreal is a one of a kind place. Its unusual Feng Shui (it lies on an island with a mountain in the middle; no matter where you are, the mountain is behind you and the water's in front), combined with its position as the second largest city in Canada and the second largest French-speaking city in the world, has sparked a fabulous culture of art, design and interesting things to do.
Tops for fabulosity this season is the blockbuster at the Montreal Museum of Fine Arts, on until October 5. "Fabulous Fabergé: Jeweller to the Czars" showcases 240 splendid objects commissioned by Russia's imperial family, the Romanovs, from master jeweller Carl Peter Fabergé (1846-1920). On loan from the Virginia Museum of Fine Arts in Richmond, the collection is considered to be the finest outside Russia.
The MMFA show delivers a rare glimpse into a world of over-the-top wealth, privilege and creative perfectionism. This is high-end historical voyeurism.
Most of the pieces are from a 1947 bequest by Lillian Thomas Pratt, the wife of a General Motors executive. She acquired them mainly through A La Vieille Russie in New York and from Armand Hammer, the manufacturing tycoon who bought imperial loot from the Soviets for Western currency in the decades following the Russian revolution.
Along with photo frames, parasol handles, jewelry, tableware and religious iconography, there are four magnificent Easter eggs, exquisitely crafted and displayed alongside the hidden surprises they contained. The marquee object is the lapis lazuli and gold egg that Czar Nicholas II, then the richest man in the world, gave his wife, Alexandra, at Easter 1912. The surprise inside is a double-sided miniature of Czarevich Alexei, the 7-year-old heir to the throne, painted on ivory and framed by an imperial eagle blazing with diamonds.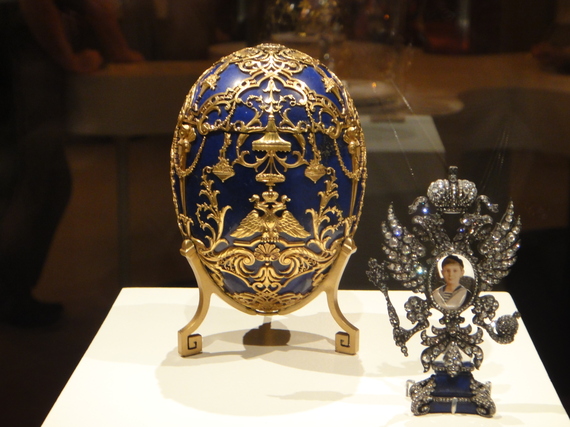 The show is a visual stunner and, if you need one, a good reason to take a few days and go. Because why not? Montreal is easy to visit and easy to like. It's a chill destination you can get in and out of without planning too far ahead, unless, of course, you decide to go during high season or Grand Prix weekend. I was able to book a room at the Château Versailles, a charming and affordable hotel that's five minutes west of the museum. I stayed in a roomy flat-screen and fireplace suite with high ceilings, elaborate plasterwork and a big bow window looking out on Sherbrooke Street.
The Château Versailles is in a 19th century heritage property repurposed as a hotel some 60 years ago. With the heart of an elegant townhouse and the soul of an upmarket bed and breakfast, it's long been a go-to for those in the know. The CV is LGBT-friendly, pet-friendly and generally all-round friendly, with personalized service and a welcoming attitude. The 65 rooms and suites range in size, layout and décor; they range wildly in price ($99 - $499) and include both a Continental breakfast buffet and afternoon tea.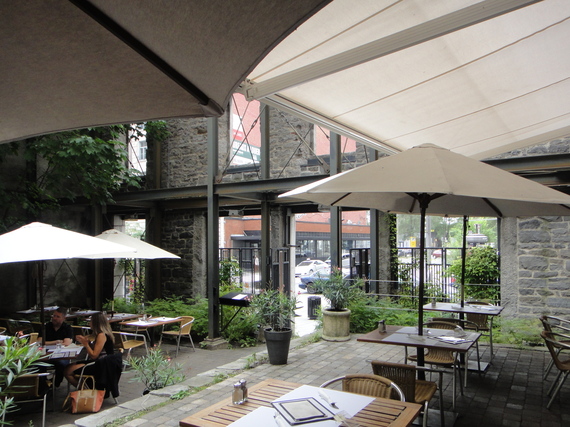 I cabbed it down to old Montreal for a fun lunch with my friend Christina Riverin on her favourite terrasse at Boris Bistro. It's hidden behind the empty façade of an old stone building with a whiff of bombed-out chic. The next day I had brunch on the upstairs terrasse at Thursday's, a Crescent Street institution, before driving an hour north to spend the afternoon in St-Sauveur des Monts.
St-Sauveur, in the Laurentian Mountains Heartland, is a little town I love to revisit. Even though it's become a poor cousin to the slickly redeveloped Mt. Tremblant, it still retains some magic. Above all, it remains proudly authentic.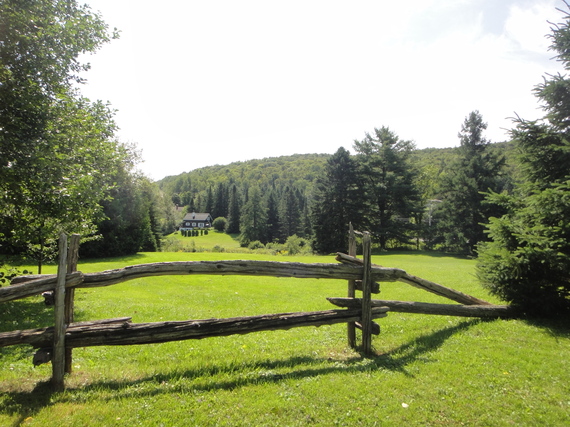 I picked up some fresh-baked cheese straws at Boulangerie Pagé, checked out the can't-find-them-anywhere-else selection of original sunglasses and frames at Zyves, a family business led by savvy optometrist Yves David, and stopped in at S. Bourassa to pick up Québec cheeses like La Sauvagine, Riopelle and Frère Jacques at a fraction of Toronto prices.
In nearby Prévost, I made a late afternoon pit stop at the Mini-Golf

Restaurant, a hot doggery next to the "Le P'tit Train du Nord" linear park, to get down with Québec's answer to soul food -- an all-dressed steamy dog on a top-loaded bun, sided by the best patates frites in all creation. Last stop? Ste-Anne-des-Lacs' natural spring for cold, clear water to carry us home.