Getty Images
Myrtle Beach has long been ground zero for Canadian golfers, honeymooners and families on a budget. Now, with the loonie in a serious slump, it may be time to give this evergreen destination a second look. Its surprisingly diverse mix of attractions -- both man-made and natural -- moderate climate, affordable accommodations plus direct flights from Toronto (on Porter or WestJet) make it a smart way for U.S. dollar-challenged Canadians to explore the coastal South.
Here are six things to do that won't break the bank:
1. Get out on the Grand Strand.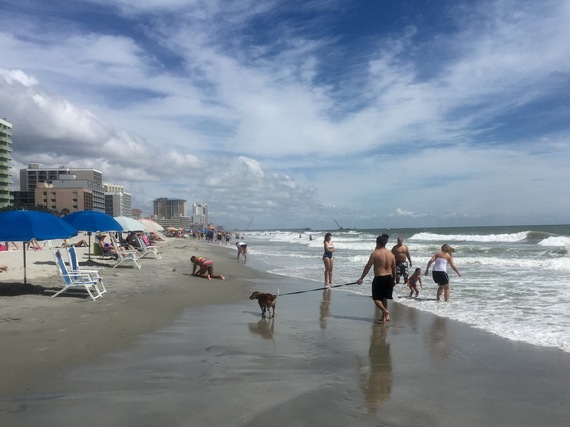 The Grand Strand, Myrtle Beach Photo: Lin Stranberg
South Carolina has more than 300 kilometres of coastline, and the stretch between North Myrtle Beach and Georgetown, called the Grand Strand, has 96 coastline of the most beautiful coast. Hotels line the Myrtle Beach oceanfront: some, like the top-rated Hampton Inn Oceanfront, go for under $200 a night including breakfast, and it gets much cheaper the further you stay from the beach. Many hotels could use a refresh, so be mindful when you book.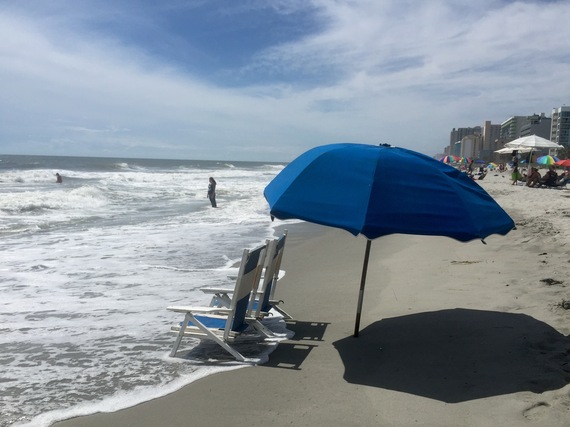 The Grand Strand, Myrtle Beach Photo: Lin Stranberg
Some lifeguards are on the beach for your safety and others are just there to rent you chairs and umbrellas. Two chairs and an umbrella will cost you $35 a day, but you can cut costs by buying a cheap set locally and leaving them behind when you leave.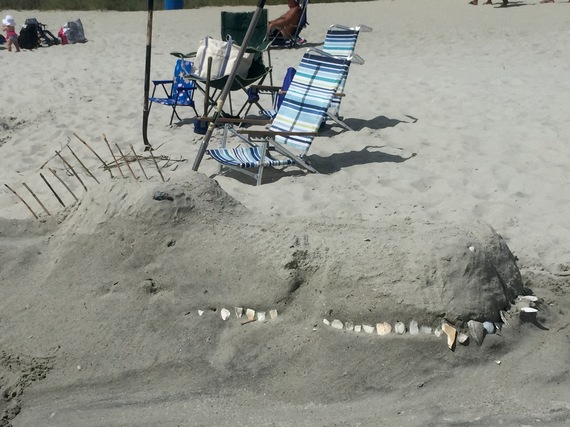 The Grand Strand, Myrtle Beach Photo: Lin Stranberg
2. Golf, golf, and more golf.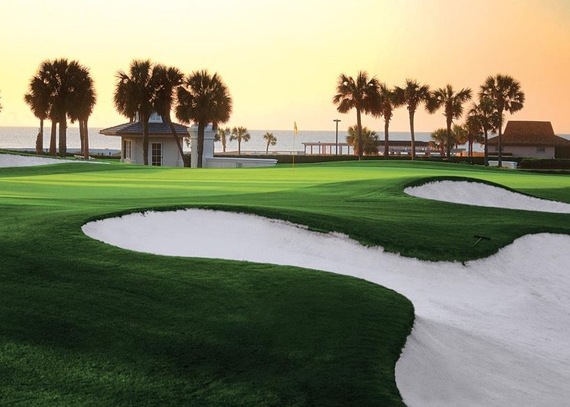 The Dunes Golf Club, Myrtle Beach Photo: Myrtle Beach Chamber of Commerce
There are more than 100 championship courses to play year-round in the Myrtle Beach area and more than half are Golf Digest 4-stars. The game is accessible rather than elitist, with courses and packages to suit different budgets and playing levels.
If you've been meaning to learn how to play, this might be the place. There are instructors galore, and the Classic Swing Golf School at the Legends Resort is one of the most affordable in North America. If you just want to practice your putting or have fun with the kids, you can play mini-golf at dozens of themed locations for under $10 a game.
3. Soak up some South.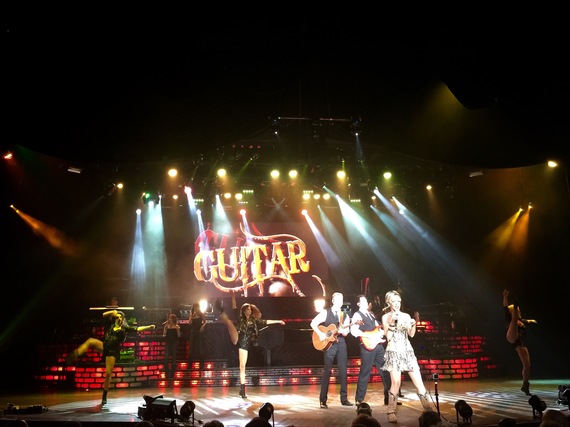 The Carolina Opry at the Calvin Gilmore Theater Photo: Lin Stranberg
Go out for some glitz and glamour at the Calvin Gilmore Theater. For live entertainment with a Southern accent, the crowd-pleasing Carolina Opry is the best value around.
It costs nothing to take in the sights from the Myrtle Beach Boardwalk and catch the Skywheel lightshow at dusk. You can find metered parking or lots for just a few bucks a day. A ride on the 57-metre high Skywheel will buy you an eye-popping view of the area -- and if giant ferris wheels are your thing, you can save with a season pass ($25 and under).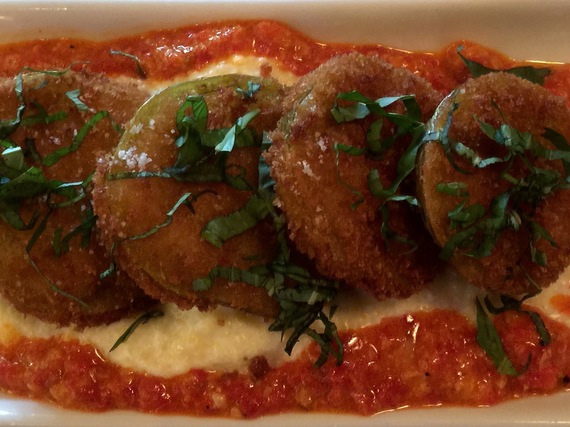 Fried green tomatoes at Tupelo Honey Cafe Photo: Lin Stranberg
Treat yourself to some Southern French fusion cuisine at Croissants, a bistro and bakery with mid-range prices. Or taste the "new south flavours" at Tupelo Honey Cafe at Market Common, with small plate eating and drinking bargains weekdays after four.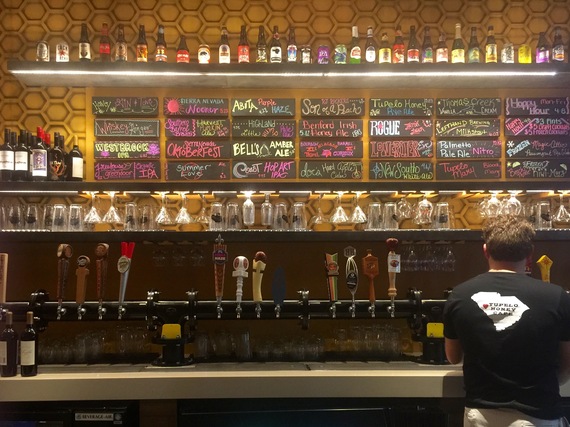 The bar at Tupelo Honey Cafe Photo: Lin Stranberg
4. Eat fresh fish.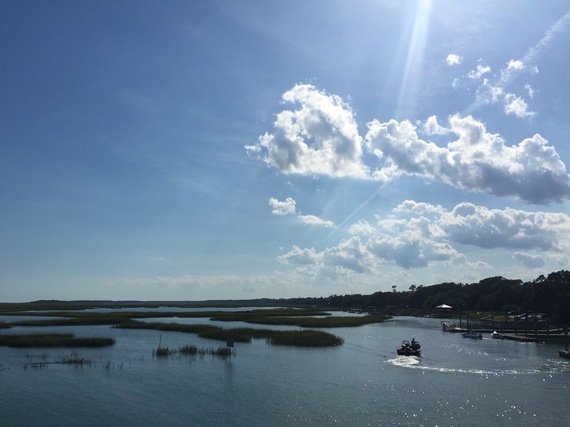 Murrells Inlet Photo: Lin Stranberg
The seaside community of Murrells Inlet, just south of Myrtle Beach, is known as the seafood capital of South Carolina. The scenic salt marsh views from the MarshWalk are worth the trip alone, but might as well linger awhile and enjoy some fresh local fish. There's a row of restaurants on the MarshWalk, and more off the main road.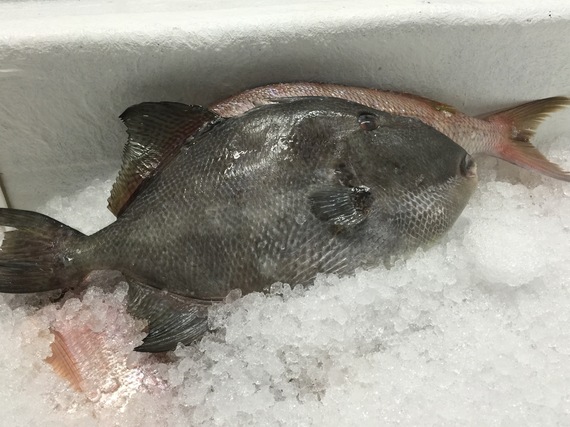 In the fish room at Wicked Tuna Photo: Lin Stranberg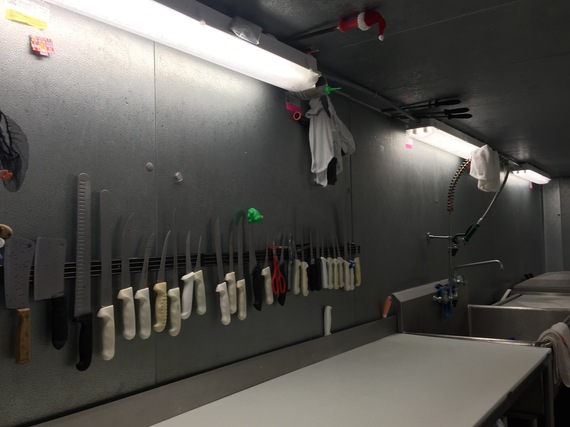 The fish room at Wicked Tuna Photo: Lin Stranberg
Wicked Tuna, with its own fishing boat at the restaurant's back door, is a standout. "It's easy to make good food in this area; you've got everything you need right here," says Chef Dylan Foster. "Our boat lets us adapt the menu daily to whatever the ocean is providing us." Best deals are at lunch, and the views from the deck are awesome.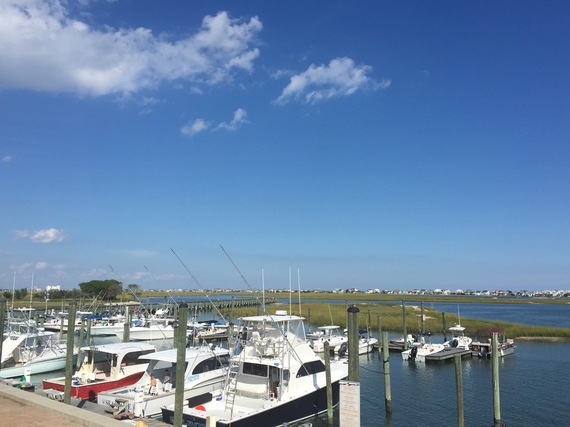 View from the deck at Wicked Tuna. Photo: Lin Stranberg
The budget-obsessed may be just as happy at a picnic table down the road by Murrells Inlet Seafood, where Austrian Master Chef Ted cooks up fabulous bisques and other seafood soups for a song.
5. Get out on the water.
Murrells Inlet and Pawleys Island, its neighbour to the south, are on the third-largest estuary in the Eastern U.S. You owe it to yourself to experience it firsthand. Even if you've never been in a kayak before, paddling around the salt marsh with the wonderful guides at Black River Outdoors, at $35 for two hours, is a treat worth every penny (free for kids under seven).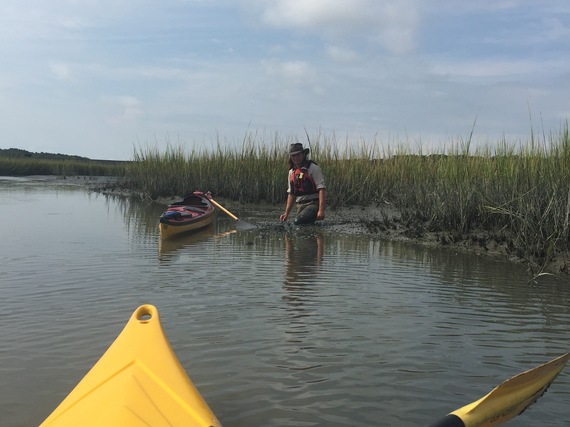 Black River Outdoors guide demonstrates the pull of pluff mud. Photo: Lin Stranberg
If it's open water you crave, book a dolphin watch with Crazy Sister for about the same money, or go for broke with one of their all-day deep sea fishing trips.
6. Take a trip back in time.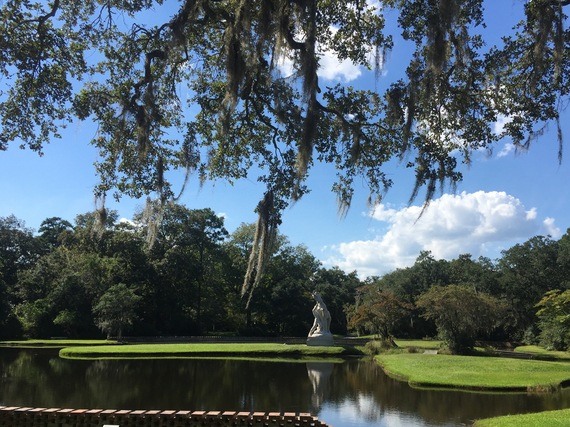 Sculpture by Anna Hyatt Huntington at Brookgreen Gardens Photo: Lin Stranberg
If you have any feeling at all for history, or beauty, or the land, head south on Route 17 to experience two spectacular living museums. Brookgreen Gardens, which is closest to Myrtle Beach, is an outdoor sculpture/history/ecology museum created in the 30s by Archer and Anna Hyatt Huntington on the site of four former rice plantations. Less than $15 buys a week's admission to the gardens and zoo; tidal creek and back-roads tours are under $10.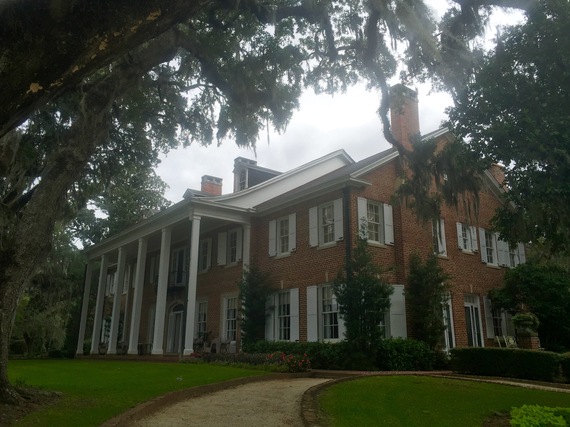 Hobcaw House, once the winter retreat of Bernard Baruch Photo: Lin Stranberg
Just north of Georgetown is the must-see 16,000 acre Hobcaw Barony. The site, originally a 1718 colonial land grant, was bought in the early 20th century by Bernard Baruch and is now maintained as a research and wildlife reserve by the Belle W. Baruch Foundation. There's no admission for the Discovery Center and you can book a two-hour tour for $20.
The cheapest time to travel?
Hotel rates are usually lowest in December, according to flightnetwork.com, but that may be about to change. From January to April 2016, Myrtle Beach is offering substantial discounts to Canadian visitors on hotels and attractions to help offset the exchange rate. For more information : www.visitmyrtlebeach.com
Note: The author was given a media rate for flight and hotel and a chamber of commerce pass to many attractions listed.
MORE ON HUFFPOST: