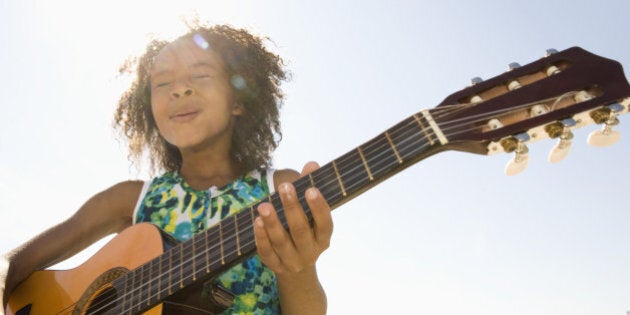 Tis the season to hear music everywhere. Many of us find ourselves singing along. We do so because in our youth there might have been the opportunity to be involved in musical training. There are many benefits to music in our lives.
In 2014 Time Magazine ran an article with the headline "Actively learning to play a musical instrument can help a child's academic achievement." I would add that actively learning to use the instrument you are born with -your voice- is also a boon to a child's academic pursuits.
If you are a parent, here are some good reasons to consider giving your child the gift of musical training.
Musical training such as participating in a choir develops language. Being in a choir means reading the lyrics of songs with the tempo of the music. Playing an instrument requires another type of reading and language. It is the ability to read music and transpose that to the instrument. Both activities require an immediacy that is brain training at its best.
Musical performance whether singing or playing an instrument is a technical skill. This training involves practice and discipline. Proficiency comes over time and with that, your child learns patience and tenacity. These skills are readily transferable to the world of work later in life.
Playing an instrument or singing requires your child to take risks and conquer fear. Walking out on a stage is no easy feat for adults, let alone children. Some children are born to perform but others need to grow into it.
When I was directing musicals during my teaching career, I recall many instances of stage fright. One grade 8 student in particular did not want to be on stage. The audience disappearing was his greatest wish. He made it through the performances but said it would never happen again. He graduated and went off to high school.
Imagine my delight and surprise when four years later at a local music festival, that same student, exuding confidence, stood front and centre on stage introducing his musical ensemble.
Another student who had some learning challenges struggled with memorizing lines. The cast rallied round him and the participation in the musical became one of his treasured school experiences.
Playing in a school band or singing in a choir requires the student to be a team player. Again, that is a skill that transfers to later life. The teamwork and co-operation of presenting a musical performance is demanding but extremely rewarding.
Participating in a band or choir develops social skills. There is a sense of community that goes with these activities. The members have a shared commitment to the end result of the performance. Comradery is a beneficial by-product. No one person makes that band or choir. It is everyone working together that produces the show or sound.
There are numerous studies supporting the academic benefits of musical training. In her research, Nina Kraus, Director of the Auditory Neuroscience Laboratory at Northwestern University has determined that there is " direct evidence that musical training has a biological effect on children's developing nervous systems.
"She qualifies that with the fact that participation is the key element. Although listening to music has many obvious benefits, it is the active participation that is necessary.
As a parent you may meet reluctance when suggesting music lessons. This is the time to negotiate. Ask for a commitment of an agreed upon number of lessons. Five to ten lessons or practices usually are enough for your child to make a connection.
For vocal performance participation requires nothing more than a voice to sing. There are many inexpensive ways to acquire instrumental musical training. Ukuleles are one small, portable instrument that is perfectly child size. At one small school where I taught, the music teacher had a ukulele band. Children gained all the experiences of a larger band environment with these small inexpensive instruments.
School music programming is always an easy target when it comes to budget cuts. That is an unfortunate fact of the educational system. Yet those same decision makers within a school district know that there are many cognitive benefits from musical training. I have never understood the disconnect with those facts and a school board's reality .Yet I see school musical programmes marginalized over and over again across the country.
My sons were raised with music in their lives. They went from Shaking Their Sillies out with Raffi when they were very young to many years of Bach Beethoven and the boys in the church choir.
Later on, I watched my younger son play the part of Kinneki in Grease in his high school musical and sat in Walt Disney Concert Hall in Los Angeles listening to my older son's musical ensemble sing the Messiah with the Los Angeles Philharmonic.
'Music gives soul to the universe, wings to the mind, flight to the imagination and life to everything.' Plato
Follow HuffPost Canada Blogs on Facebook