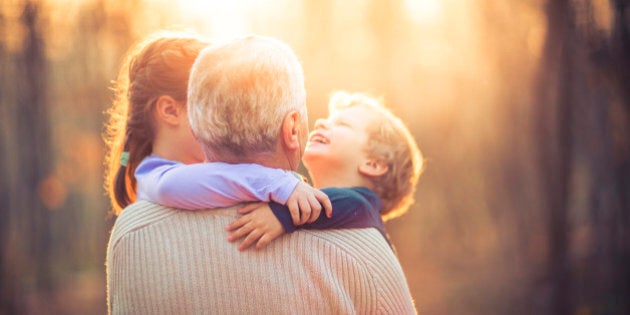 "You don't know what you got till it's gone."
Joni Mitchell's words are a maxim in my life. As midnight chimed on the clock and Saturday turned to Father's Day 1969 I was a very few minutes into being fatherless. What I know today and didn't realize then was that I had the most remarkable father any child could ever have.
He was a farm boy who left high school to go to work as the Depression loomed. Within a few years he was swinging in his hammock in the bowels of a corvette patrolling the North Atlantic on convoy duty, taking supplies to England.
He married my mother at the beginning of the Second World War. My oldest brother was born in the darkest days of the war in 1942. At that time the sailors in the Canadian Navy got a rum ration. My dad, who did like rum, sold his daily ration in order to send more money to my mother living in a little cottage in Dartmouth, Nova Scotia.
That selfless willingness to sacrifice was a trait inherent in him. His commitment to being a father was an example to others.
Life after the war was like that of every other returning serviceman. Busy times setting up house and babies in quick succession. When all was done, there were five children around the table.
Most families operate without a spotlight, behind closed doors. My family life -- five siblings in a small town -- was, by today's standards, about as normal as it gets.
"Do good for goodness' sake" was his unwritten motto, and a life lesson I learned from my dad.
In retrospect, it was rather idyllic. Big old house, huge back yard. He was always coming home with some new offbeat delicacy he'd picked up in his travels. Chocolate-covered ants was one I recall.
Other small things I remember: He never swore, at least not a home. "Golly" was as severe as it got.
After his business grew to something of substance, Dad became a bit of a local philanthropist. More often he was an anonymous benefactor. "Do good for goodness' sake" was his unwritten motto, and a life lesson I learned from my dad. He quietly did his good deeds and got on with life. In retrospect, he was unobtrusively being a model, someone to look up to as a parent.
This is where the idyllic life starts to go sideways. Easter weekend of 1969 he got sick. He never got sick. But he was very sick. He had been slightly out of sorts for a few months, behaving in an uncharacteristic way.
Easter weekend he went to the local hospital. They, in turn, sent him to a larger city for more tests. The family huddled and held onto the fact that he was strong as a bull -- invincible, the family hero.
The doctor arrived in the hospital room with the grim news. We listened as he told us that Dad had a fatal illness and probably only had six weeks to live. The pillar of our family was crumbling.
Those stages of grief were experienced quickly and we found ourselves, as Father's Day approached, wondering how much longer we would have a complete family unit. Just before midnight Saturday night he died. In a few minutes it was Father's Day and we were experiencing our first fatherless Father's Day.
Forty-seven years later, his life lessons are with me every day of my life.
My sons did not have the opportunity to know him. In one of those cruel ironies of life, their paternal grandfather was cold, aloof, disinterested and had minimal involvement in their lives. They missed having the unconditional love of a grandfather.
In many ways, Dad's spirit lives on in my sons and grandchildren. One grandson is a namesake. Almost by osmosis, my sons have gathered the goodness of my father. His picture hangs in both homes. When my grandchildren come to the family cottage, they snuggle under their great grandfather's 1940 navy-issue Hudson's Bay blankets with his name still printed on them.
Time has probably dimmed his imperfections, but his life lessons continue to have a very bright patina in my life. Good parenting "sticks" no matter how long they are with you.
There have been thousands of pages devoted to the skills necessary to raise a child. I am quite sure my father never read one book about parenting. Common sense was his guiding force. He was a humble, compassionate man who knew right from wrong, and good from bad.
Take heed, follow those lessons and it's really all you need to know to raise a child.
"Have a heart that never hardens, and a temper that never tires, and a touch that never hurts." -- Charles Dickens
Follow HuffPost Canada Blogs on Facebook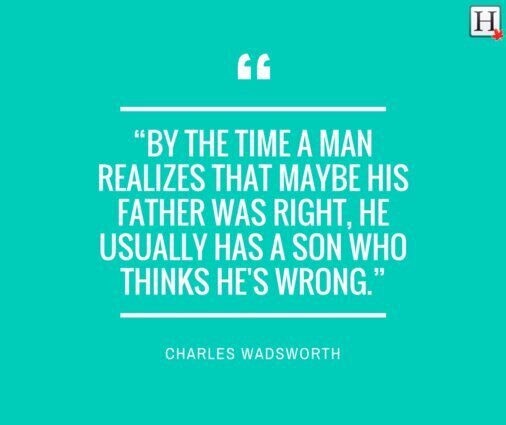 Inspiring Father's Day Quotes To Celebrate Dad