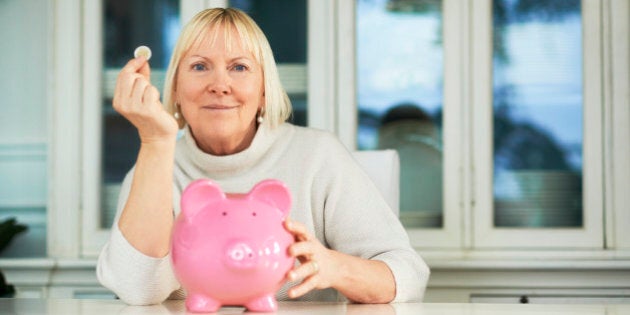 A journalist made an odd request recently. At least odd for my world. She wanted to interview me. The intent was to determine the amount of my regular financial handouts to my grandchildren.
The journalist found out I was not in a position to give away great swaths of money. As a result, I just didn't fit the 'Baby Boomer' profile for her article.
I have been divorced for twenty years. Our divorce happened at a time in our marriage when the usual challenges associated with early married life were behind us. We had finally achieved a relatively, comfortable middle class life.
A mark a yen a buck or a pound...

Is all that makes the world go around

Liza Minnelli
Suddenly I was thrust back into those dark days of fiscal jeopardy. As a very single parent, there were debts and two mortgages to service. I was barely able to keep myself financially solvent. Thus, I did not stash cash away for a rainy day or for a giveaway somewhere in the future. At the time, just making it to the end of the month was my personal victory. Many people who have been through a divorce know the feeling of that financial insecurity.
A tenacious spirit kept me going. Life did improve but never to a point where I was sitting on cash that had nowhere to go.
Ironically, many years after our divorce, my former spouse was the one to receive the significant inheritance that gave him financial autonomy. My thoughts briefly linger at the question of why some parents of wealth offer their children financial assistance if a reasonable need is there, and others do not?
This whole encounter with the journalist got me thinking about that elusive pot of gold. I don't buy lottery tickets. Not that I don't dream about what I would do with all that cash. But it seems to stay there, as a dream. It doesn't get me out the door to the local lottery kiosk.
Thinking about lotteries does make me think of money. Those thoughts turn to the moneyed people of this world. The first that comes to mind is Bill Gates. This year he is once again the richest man in the world. He's about my age. I've followed his career.
I confess he is a bit of a hero of mine. Notwithstanding his obvious dedication to his family, he is a hero because he has taken the whole notion of philanthropy and turned it on its ear. The Giving Pledge it is called. He enlists billionaires to make a moral commitment to assign the majority of their wealth to making the world a better place. The pledge is not without its critics and an excellent article in that regard was written a few years ago by Eleanor Goldberg.
My admiration stems from the fact that Gates looked at ways to encourage entrepreneurial thinking to problem solve those big issues of poverty, equality and the environment through The Bill and Melinda Gates Foundation. It is not a singular top down organization but one that encourages collaboration.
I realize there have always been philanthropists among the rich but Gates gave it a different spin.
Saying out loud that his wealth could do more than be his children's inheritance for example.
William Buffett and Mark Zuckerberg signed on with the promise to give most of their money away. The vision spread.
Back to the possibility of winning the lottery. My sons and their families would be the first people to benefit. Help them to live a life of real financial security that I have never known.
Then I would establish a girl's foundation. For now, I volunteer with teenaged girls because today's world is a challenge for them. I want to help. The need is great. I give my time because I can do that. As a guidance education advocate, I know there are never enough resources for the necessary programming.
Some Boomers lost their way along the hippy highway over the last fifty years. They took a right turn into casinos and consumerism. Seared in my brain is watching a load of Boomer casino goers unload from a bus and waddle away. Poker chips in hand as they sink into the windowless abyss.
It is the least we can do for this big blue marble we call home.
Follow HuffPost Canada Blogs on Facebook