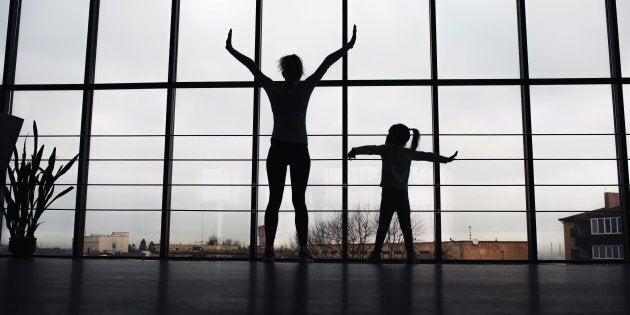 Each new school year brings a reset in the life of your daughter. Friends leave, new friends arrive, dynamics of power change within the friendship groups. She faces these new challenges along with her own personal emotional growth issues. For any number of reasons, growing up is fraught with angst.
Wrapped up in that emotion is your child's concerns with their appearance. Society's diet obsession is but one of many contributing factors. Inadvertently overhearing adult discussions in the home about weight can be a trigger for your daughter.
With body image, significant focus has been on weight, but the Nemours Foundation begins their teen body image page with the following questions:
Does any of this sound familiar? "I'm too tall." "I'm too short." "I'm too skinny." "If only I were shorter/taller/had curly hair/straight hair/a smaller nose/longer legs, I'd be happy."
For a girl there can be any number of body image issues outside of weight that causes them grief. However, perception contributes to personal body image distress. What your daughter "sees" in the mirror and reality can often be at counterpoint.
There is no time in those growing-up years when a parent can say their daughter is safe. P!nk recently and very publicly addressed body shaming at the VMA award show. Her six-year-old daughter was concerned about her appearance. In a very P!nk way, she eloquently took on body shamers of the world in that very public forum.
Contributing to the varied messages of body image is the noisy world of social media. Visual assaults from every social media spectrum remind girls of body perfection. However, much of body imperfection can be airbrushed or Photoshopped away in a picture. Real life does not work that way.
Every child goes through stages of vulnerability and social media's effects can exacerbate the many aspects of that state of being. Research shows that a vulnerable child spends an inordinate amount of time on social media searching for the elusive "like." It's a chicken and egg scenario. Posting pictures to Snapchat and Instagram invite comment. The pictures all silently say, "Please 'like' me." The trolls of the world take delight in making negative comments in the faceless world that is the internet. The vulnerable count the "likes" to prove their self-worth and validate a positive body image. Then they despair over the negative comments.
The vehemence with which these trolls manipulate, intimidate and criticize is staggering. No longer content with small acts of aggression, the newfound anonymous power of the internet pushes girls to extremes. There are many well documented tragic results from these online predators.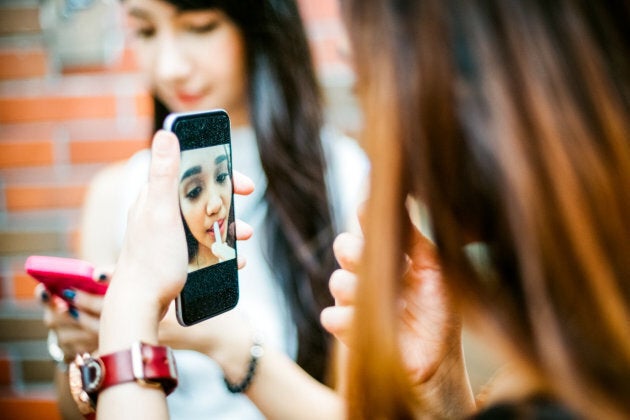 Remarking about those extremes in our world today, the author Anthony Horowitz, himself bullied as a child, stated recently that "People used to disagree. Now they send death threats." The world is changing at an alarming rate. Technology is changing by the minute. All this is happening while our children try to navigate the challenge of growing up. Melinda Gates observed these changes in her own daughter's lives and has clearly defined the issues and necessary actions:
"The pace of change is what amazes me the most. The challenges my younger daughter will be facing when she starts high school in the fall are light-years away from what my elder daughter, who's now in college, experienced in 2010. My younger daughter's friends live a lot of their lives through filters on Instagram and Snapchat, two apps that didn't even exist when my elder daughter was dipping a toe in social media."
She makes smart, well-informed insights, and offers links and tips for raising children in the technology age. What she so clearly points out is that our children's lives are changing rapidly as a result of social media and parents must be vigilant.
In many cases gone are the texting words of very recent yesteryear to be replaced with pictures. Pictures are the silent stalker in your daughter's life today. Everyone has a phone attached at their hip. Privacy in the age of social media is a rare commodity.
A picture is worth a thousand words, as the old saying goes, and those pictures might turn your daughter's life upside down. Invasion of privacy flies in the face of garnering "likes."
The best advice for any parent is to be informed about your daughter's life, her friendships, and her hopes and dreams. Actively listen when they want to talk to you, as P!nk so dramatically demonstrated in her speech. Stand up for them as she did with such pride and fervor. Know the strategies to help your daughter develop and maintain a healthy body image.
For it is only through each and every parent paying attention to their daughter's world, while incrementally building their child's self-confidence and self-esteem, that the bullies of this world will be defeated.
Follow HuffPost Canada Blogs on Facebook