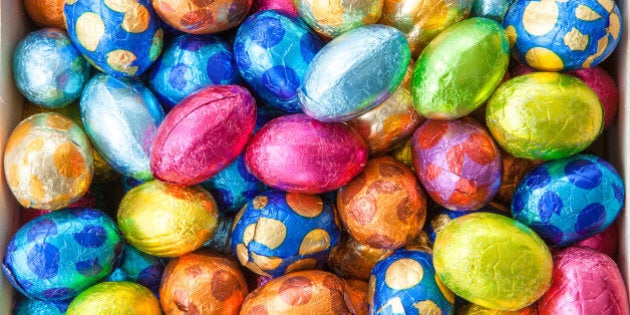 Easter. Oh, Easter. I do love a good four-day weekend filled with excitement, magic, chocolate and kids. Until... the excitement, magic, chocolate and kids take a turn for the worst and our kids become over-tired, over-sugared and everything goes sideways.
As a continuation in my pursuit to help you remain sane over the four-day long weekend filled with candy chicks, chocolate eggs and Easter brunches smothered in hollandaise sauce, I figured the need for some nutrition tips was warranted. While some of these may be quite basic, it seems that during holidays and long weekends, the basics often get thrown out the window. So, let this serve as a reminder to you to, well, remember the basics.
Hydrate: Carry water with you for you and your kiddos everywhere. I usually do this but for some reason during holidays our water bottles often get put on the sidelines and juice and pop are a free for all on long weekends. Water, water, water. For both you AND your kiddos. It's so very important.
Provide chocolate ground rules: Before you head out to the numerous Easter egg hunts I'm sure you're bound to be going to, talk about your chocolate ground rules before you even leave the house. Decide how many pieces of chocolate they'll be allowed to consume while hunting, after hunting and hours after hunting. Be super clear and stick to your guns. Protect your kiddos from the sugar crash. And hey Mamas, set some ground rules for yourself, won't you?!
Have healthy snacks readily available: Prepare yourself for the hunger that comes with having kiddos. Cut up fruit and veggies, bake some healthy muffins or crackers and be prepared for the barrage of "I'm huuuuungry, can't I have just one more piece of choooocolaaaaate?!" Pack a couple lunch kits filled with healthy and yummy alternatives and constantly offer up your goodies to fill your kids with the good stuff first.
Set a time limit: Set a time on the clock when the absolute last piece of candy may be consumed. There's a lot to be said about not having sweets after 5pm so the effects of sugar can be diminished by the time you need to start getting your kiddos ready for their bedtime routine. Remember that blood sugar will peak within about 20 minutes of eating chocolates, candies, etc. and it can take between 2-4 hours for it to return to normal (if ingested with other food that includes proteins and fats). So, prepare yourself for the "sugar-rush" and the "sugar-crash" accordingly.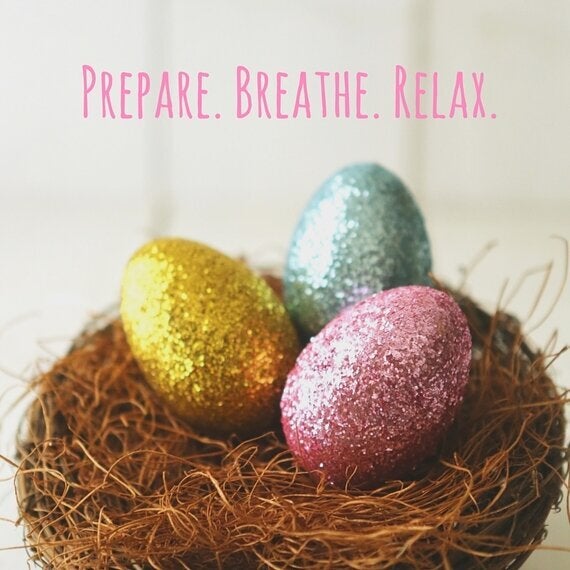 Relax: Last but not least, the best thing you can do is prepare yourself... and then let it all go. Bring water, yes. Bring healthy snacks, yes. Set ground rules, absolutely. Set a time limit, yup! But Mamas, there's going to be sugar and there's going to be fun and there's nothing wrong with letting your kiddos "fill their boots" at an event or two. Let 'em run and have fun, search for eggs and chocolate and let their faces and hands get sticky with it. That's part of the fun.
Just breathe and prepare yourself. It's the best thing you can do. Let go. Relax. Laugh. Let them have their moments, just maybe not all day for four days.
Enjoy your time together, Mamas, and make some wonderful memories this weekend.