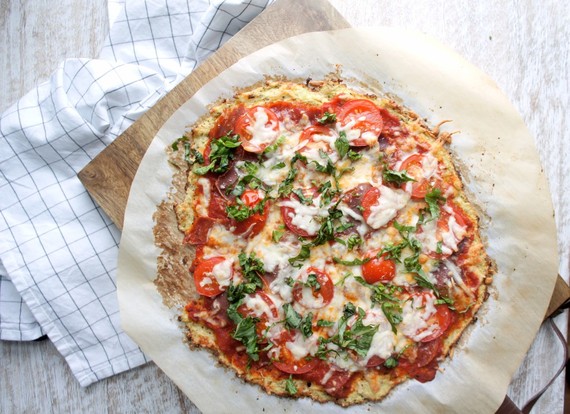 A couple of weeks ago I shared a pic of this cauliflower crust pizza I made. By popular demand, here's the recipe up on the blog.
I have to admit, I was a bit hesitant to try this out. I wasn't totally confident it was going to turn out but I was pleasantly surprised! It holds together well and gives you a nice thin base to top however you please. I would avoid piling the toppings too high on this one as it isn't quite as durable as a regular grain based crust.
The key to a successful crust is making sure to ring out the cauliflower as much as possible after steaming it.
Give it a try and let me know how it goes! I'd love to see what combinations you come up with! Use the #inthekitchenwithLJ to show me!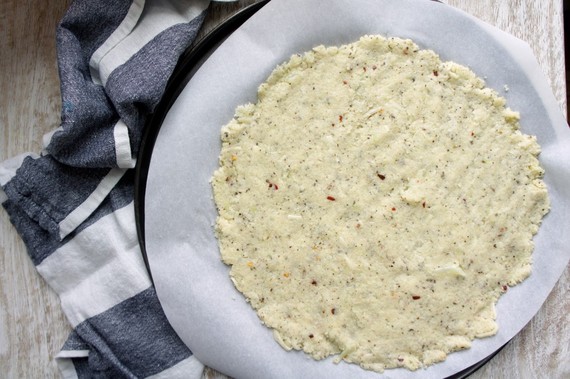 Prosciutto and Arugula Cauliflower Crust Pizza
Makes 1 x 10-12 inch Pizza
Ingredients
- 1 tsp avocado oil
- 1 medium sized head of cauliflower (approx. two to three cups once processed), washed and cut into bite sized pieces, florets only, stem cut off
- 1/4 teaspoon coarse salt
- 1 tsp Italian seasoning blend
- 1/2 teaspoon garlic powder
- 1/8 -1/4 tsp chili flakes *optional if you like spice
- 2 Tbsp shredded parmesan cheese
- 1/4 cup mozzarella cheese + 1/3 cup to be used later on
- 1 egg
- 1/4 cup pizza sauce of tomato sauce
- 2 Roma tomatoes
- 75 g prosciutto, thinly sliced
- 1/4 cup fresh basil, thinly sliced
- 2 cups arugula
- 2 tsp extra virgin olive oil * for drizzling
Directions
1. Preheat oven to 450F.
2. Line a baking sheet with parchment paper and brush lightly with avocado oil or other high heat cooking oil so that the crust doesn't stick.
3. Place the cauliflower pieces in a food processor (if you have a small one you will need to do multiple batches). Pulse the food processor until the cauliflower is in small grain-like granules.
4. Place the cauliflower in a microwave safe bowl and microwave, covered for three to four minutes.
5. Dump cauliflower onto a clean tea towel and allow to cool. Once cool enough to handle, ring out as much water as possible. This step is key to make sure you don't end up with a soggy, crumbly crust.
6. Add cauliflower to a medium-sized mixing bowl along with the salt, Italian seasoning, garlic powder, chili flakes, parmesan, mozzarella and egg. Use a fork or your hands to mix to combine well.
7. Once combined, lay the mixture out on the shape of a pizza crust
8. Bake for 15-20 minutes, until the crust becomes a nice golden brown and bubbles a bit.
9. Remove from the oven and add the pizza sauce, tomato, prosciutto, basil and last 1/3 cup mozzarella.
10. Return to the oven to bake another five minutes.
11. Remove from the oven and let sit for five minutes to allow crust to set a bit.
12. Top with arugula and finish by drizzling with olive oil and a pinch of coarse salt if desired.
Serve and Enjoy!
Happy Eating!
Lindsay
P.S. If you haven't yet joined The 3-2-1 Method Program and Community and want to learn more, you can read all about it HERE!
Follow HuffPost Canada Blogs on Facebook
ALSO ON HUFFPOST:
Photo gallery

Hearty But Healthy Recipes

See Gallery