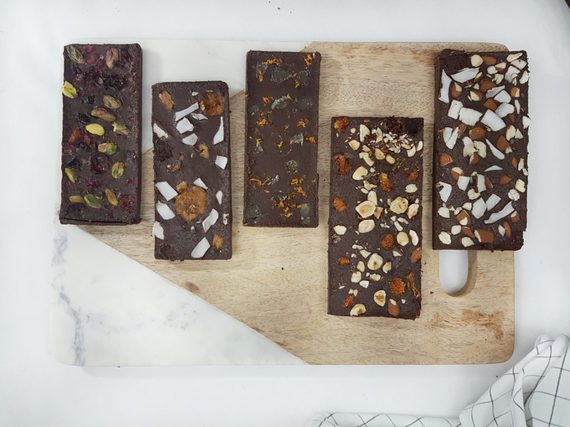 I've always been known as a savory tooth kind of girl, but lately I've really been enjoying a taste of something sweet. This creamy chocolate avocado pudding has been on repeat. I remember as a kid, the fruit and nut chocolate bars were always my Mom's favorite treat. I was not a fan, but somehow over the years they have really grown on me and now I can't resist them!
These home made fruit, nut, and flower laced chocolate bars are almost too pretty to eat...almost. All the more reason to sit down and eat them mindfully, enjoying every beautiful and delicious bite.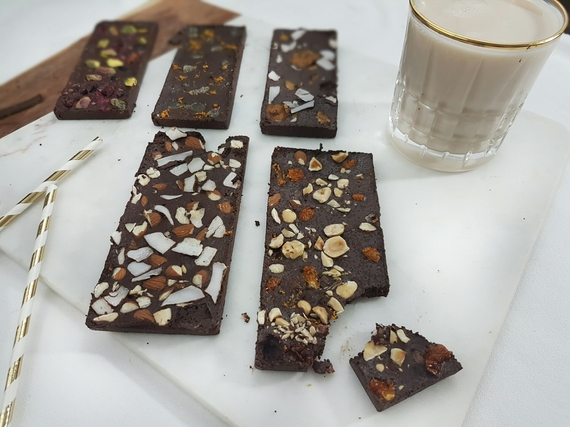 With the holidays just around the corner, these make the perfect host gifts, stocking stuffers or something different to leave out for Santa.
You'll have just as much fun making these as you will eating them. Invite a girlfriend over for a little DIY ing or get your little ones in the kitchen with you, throw on some Christmas tunes and enjoy! I've never heard of anyone having a hard time bonding over chocolate!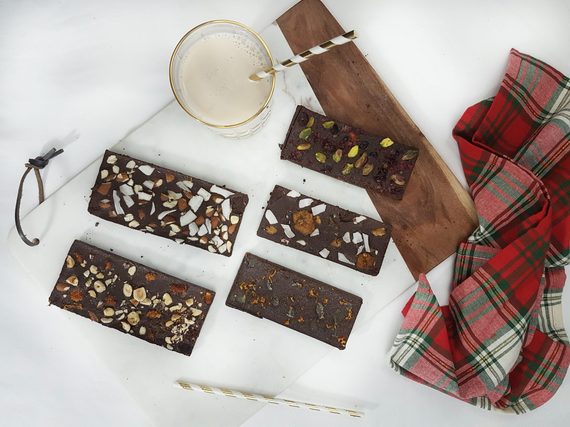 The best part is you can hand pick your favorite ingredients and combos. I got all of my ingredients from Whole Foods and had so much fun perusing their bulk area. They have the most amazing selection of organic fruit, nuts and seeds and I love knowing that none of their ingredients have artificial colors, sweeteners or preservatives.
I was so excited to find the dried goldenberries. I've never had them dried before but always love the beautiful touch they add to deserts and special dishes. They are so good! Not overly sweet, with a bit of a tang and as an added bonus, they are a good source of antioxidant vitamins A, C and E. I will definitely by adding the leftovers to my morning oatmeal along with some of the other goodies I picked up. I wanted to try some unique combos so I also picked up some crystalised ginger, goji berries, pistachios and a tropical fruit mix.
Don't be afraid to get creative! You really can't go wrong. I went with:
Toasted Coconut & Almond with Sea Salt
Toasted Hazelnut, Morning Berries & Orange Zest
Candied Ginger & Orange Zest
Dried Banana & Toasted Coconut
Pistachio, Cranberry & Dried Rose petals
I'd love to see what kind of combos you come up with! If you make these bars, tag me on Instagram @lindsaypleskotrd with #inthekitchenwithLP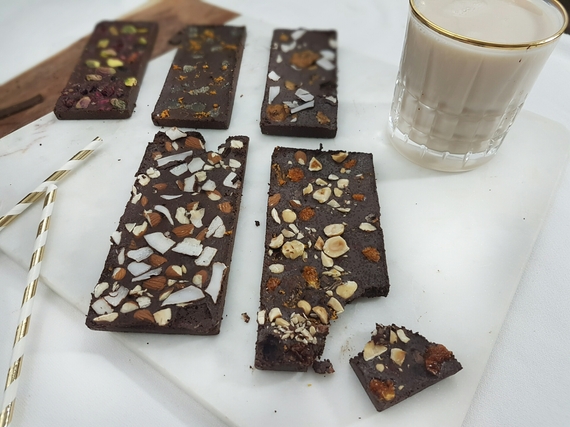 Fruit, Nut and Flower Laced Homemade Chocolate Bars
Makes 4 bars
Ingredients
- 300g chocolate of choice (I used dark chocolate)
- Your choice of fruit, nuts, flowers or other toppings
Directions
1. To get the shape of your chocolate bars, you will either need chocolate bar moulds (I used these ones) or you can use a small 6x3 loaf pan. If you don't have either of these you can also use a larger baking dish and cut into individual bars or pieces.
2. If using a loaf pan, line the bottom with parchment paper.
3. To melt the chocolate, fill a small pot with water and place a bowl on top, making sure it doesn't touch the water. Place your chocolate and coconut oil in the bowl, stirring consistently until melted.
4. Pour the chocolate into your molds or loaf pan and tap the bottom of the mold/pan on the counter to settle and even out the chocolate. Top each bar with desired topping combos.
5. Place in the freezer to set for 5 minutes. Remove and run a knife around the edges to loosen the chocolate then leave to set overnight. (Tip: If you are having troubles getting the bars out of the molds when ready, place back in the freezer for 5-10 minutes and they will pop out much easier.
6. Once set, enjoy immediately or wrap in cellophane bags to store or give away as gifts.
Happy crafting and of course, Happy Eating!
Click here for your free 5-Day Meal Plan (includes Grocery List & Recipes)
For more recipes and kitchen inspiration, check out www.lindsaypleskot.com or find Lindsay on Instagram here or Facebook.