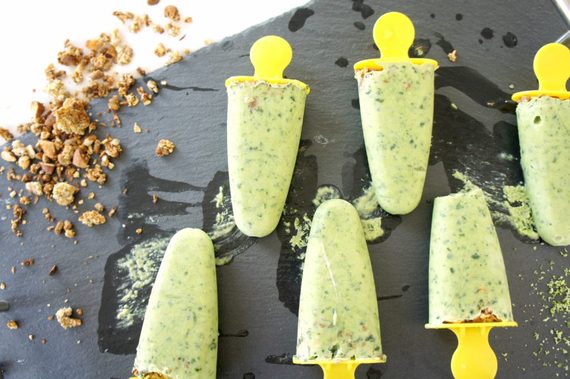 You've probably heard of kefir by now, it has deservedly gained a pretty solid reputation as a staple in a health-promoting diet.
Like yogurt, kefir is a cultured dairy product. While both yogurt and kefir provide probiotics -- the good bacteria that keep our digestive tract happy and healthy -- kefir boasts an even more potent dose. On top of its digestion-friendly benefits, it's also a great source of calcium, protein, potassium and B vitamins.
If you're feeling adventurous you can even make your own kefir at home using kefir grains or starter powder and allow it to culture in milk. It has a slightly tart taste, similar to buttermilk so downing a glass isn't for everyone. These kefir lime smoothie pops are a great introduction if you're new to the kefir scene. Pop them in the freezer for a perfect summer snack or enjoy the mixture as a delicious smoothie to start your day.
I also added a layer of my health nut coconut almond granola... cause what's a "pie" without a little crust? You could also take them out of the freezer a few minutes before serving to soften up, and dip them in some graham cracker crumbs for a nice finishing touch.
So, no more excuses! Get on the kefir train and let me know what you think of it! Show me your photos on Instagram and tag @lindsayjangrd with #inthekitchenwLJ to show off your kitchen skills!
Happy Eating!
Lindsay
Want a free copy of "Lindsayjang.com Top 10 Recipes Cookbook"? Click here for your free instant downloadable copy!
Key Lime Kefir Smoothie Pops
Makes 6-8 pops (depending on size of popsicle moulds)- great for a snack
Serves 2 if drinking as a smoothie
Ingredients
- 1/2 cup zero per cent key lime Greek yogurt
- 1/2 cup zero per cent plain Greek yogurt
- 1/2 cup one to two per cent plain kefir
- Juice and zest of two key limes (if you can't find these use half of a regular lime.Taste will be slightly different but still delicious!)
- 1/2 avocado
- 1 banana
- 1 cup spinach, packed
- 1/4 cup granola or graham crumbs ( I used my health nut toasted coconut almond granola)
Directions
1. Place all ingredients in a high speed blender. Blend until all ingredient are combined well and you have a smooth smoothie texture.
2. Divide mixture evenly into popsicle moulds, leaving about half an inch to an inch at the top for the granola, depending on how much crunch you want in there.
3. Divide the granola between the popsicles, place the popsicle holders on top and put in the freezer. Freeze four to five hours or overnight until firm.
Enjoy!
Need help with weekly meal prep and planing? Check out my 3-2-1 Method Program for all the tools you need for successful meal prep.
For more recipes and kitchen inspiration, check out www.lindsayjang.com or find Lindsay on Instagram here or Facebook.
Follow HuffPost Canada Blogs on Facebook
MORE ON HUFFPOST:
12 Things You Should Know About Kefir