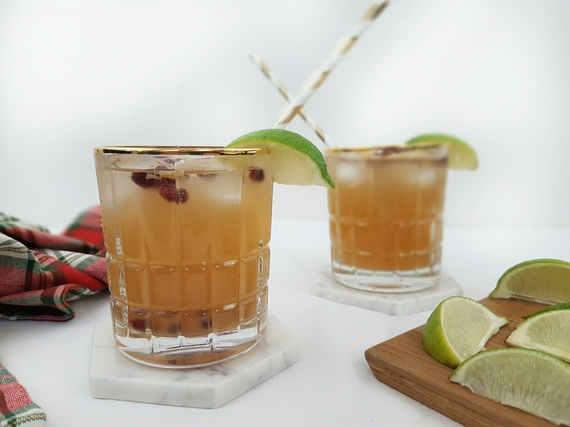 I hope you've all been enjoying some good R&R over the holidays season! We've been in heaven here in Hawaii with our whole family together. My parents also made the trip and we are celebrating my sister and her family's first Christmas in their new house! There has been lots of beach time, delicious food and of course, some celebratory cocktails!
With New Year's Eve approaching I thought no better time for my first ever cocktail on the blog! I thought I might as well start out with my favorite, the Moscow Mule. I'm not a fan of super sweet drinks and always tend to gravitate towards tangy, citrusy,and refreshing. To me this drink is the perfect blend of all these things!
I love ginger beer but for this version, I chose to test it out with ginger Kombucha and it was so good!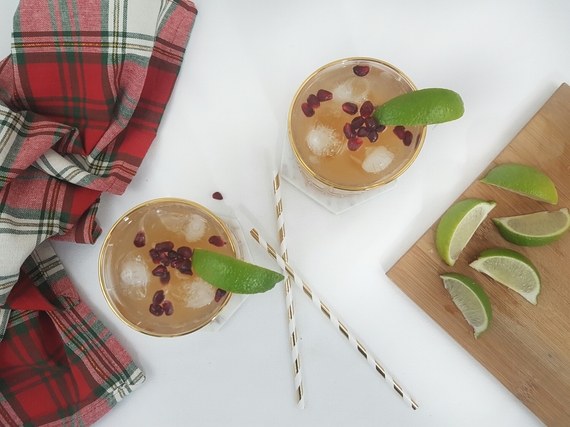 Kombucha is a fermented tea made with tea, sugar, bacteria and yeast. I know, sounds kind of gross right? But it's the combination of these ingredients that allows it to ferment, making it a probiotic (beneficial bacteria for our gut) drink with attributed benefits of aiding digestion and potentially contributing to decreased risk of diabetes, cancer and heart disease. While scientific evidence is lacking with limited studies, it has been consumed for centuries with some ancient cultures swearing by the benefits of this nutrient dense tonic.
While the verdict is still out, this naturally fizzy, tangy concoction makes the perfect substitute for a less sugary version of the Moscow Mule and hey, who's gonna say no to the potential digestive aid while those holiday cocktails go down?! For this holiday version, I decided to add pomegranate seeds. They are so festive and with known anti-oxidant benefits, they finish it off perfectly!
I'd also love to hear what you think of this cocktail and if you'd like to see more on the blog! Join me on Facebook or Instagram and let me know!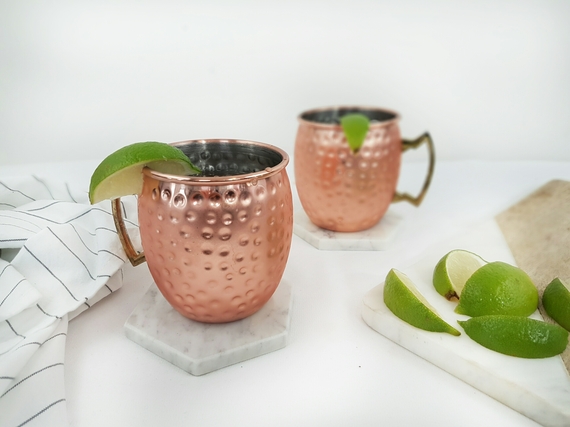 Ginger Pomegranate Kombucha Moscow Mule
2 Cocktails
Ingredients
- Lots of ice
- 3 oz vodka
- 9 oz Ginger Kombucha (I used Rise and I also tried it with their lemongrass flavor, also delish!)
- Seeds from 1/4 of a pomegranate
- 1/2 lime, cut into 4 wedges
Directions
1. Fill 2 rocks glasses half full of ice.
2. Pour in vodka and top up with Kombucha, followed by the juice of 1 lime wedge each.
3. To prepare the pomegranate, cut in half and then quarters and carefully fold it inside out so that the seeds are exposed. Pull at them gently with your fingers to remove from the skin.
4. Give your drink a good stir and sprinkle with pomegranate seeds, server with a lime wedge.
Happy Holidays! Enjoy!
P.S.- Have you heard?! I've just opened the doors to a new FREE Eat Well Live Well Facebook Community with daily tips, recipes, support and motivation. I'll be checking in regularly to answer your questions and create awesome content just for you! All you have to do is click on this link and hit the "Join" button. Can't wait to you inside!
For more recipes and kitchen inspiration, check out www.lindsaypleskot.com or find Lindsay on Instagram here or Facebook.
Follow HuffPost Canada Blogs on Facebook