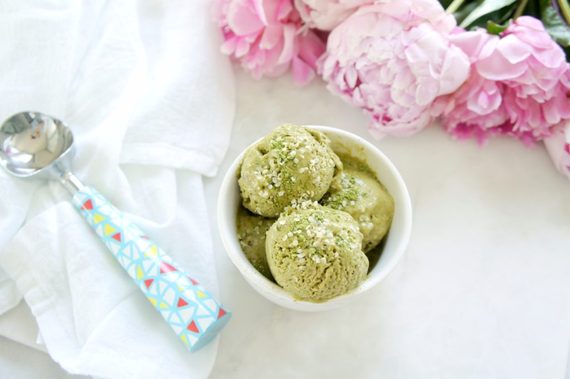 I had the pleasure of meeting Steve, owner and creator of Matcha Ninja, when he was out from Toronto for the CHFA West conference. If you haven't heard of this company yet, I highly suggest checking them out. Intrigued by some of the creative ways they use this nutritional powerhouse in recipes, I was inspired to get back in the kitchen with it myself.
I've been a fan of this form of green tea for awhile, you might remember this post awhile back 5 Things to Know About Matcha.
I have to admit I was a bit hesitant to jump on the whole banana "ice cream" bandwagon. But after trying it by accident my first time and loving it, followed by a few more good experiences, I became a true fan. I thought it was just going to be another "diet food" trend to try to trick yourself into thinking you're eating one thing when you're really eating something else that tastes nothing like it. Now I'm not saying this will completely replace ice cream, but it is certainly a delicious addition to your frozen treat repertoire!
I threw in a couple of extra ingredients to make this delicious treat a bit more versatile. A great balance of potassium and complex carbs from the banana, protein from the hemp hearts, and a little kick from the Matcha makes this a perfect post workout snack. It can also be enjoyed for breakfast as an energizing start to your day, or keep you going anywhere in between as a delicious snack or dessert. The frozen banana gives it the perfect creamy texture so you don't even need an ice cream maker for this one!
Want to give Matcha Ninja a try? I have partnered up with them to give two lucky winners a 70 serving pouch for the perfect mellow pick me up or some recipe testing of their own! Head over to my blog for contest details.
I always love seeing your creations on Facebook or Instagram. Tag Lindsay Jang,RD or @lindsayjangrd with the hasttag #inthekitchenwithLJ so I can see what you're up to!
Enjoy!
Want a free copy of "Lindsayjang.com Top 10 Recipes Cookbook"? Click here for your free instant downloadable copy!
Matcha Hemp Banana "Ice Cream"
Serves 2
Ingredients
- 3 bananas, quartered and frozen
- 1/2 cup lite coconut milk
- 4 Tbsp hemp hearts
- 2-3 tsp matcha powder (start with 2 and increase to taste)
- 1 tsp vanilla extract
Directions
1. Place banana, coconut milk and hemp hearts in a food processor and blend until a smooth, soft serve-like consistency is reached.
2. Add matcha powder and vanillla and blend until all ingredients are well combined
3. Eat as is or place in the freezer for 3-4 hours to set for a more traditional ice cream-like consistency
Serve and enjoy!
Need help with weekly meal prep and planing? Check out my 3-2-1 Method Program for all the tools you need for successful meal prep.
For more recipes and kitchen inspiration, check out www.lindsayjang.com or find Lindsay on Instagram here or Facebook.