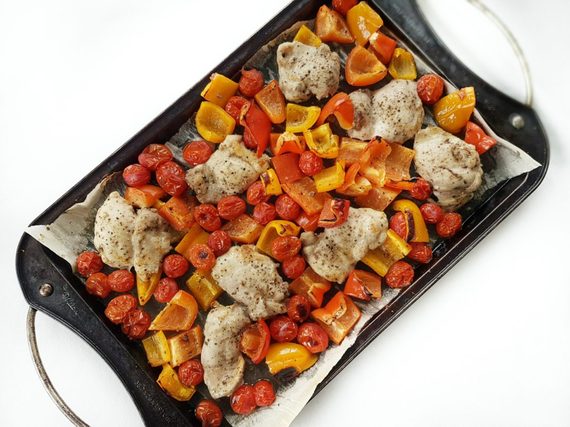 One pan meals- gotta love 'em! Remember that Baked Lemongrass Risotto a couple of weeks back? As promised, here is the perfect dish to compliment it and finish off the meal.
Packed with Vitamin C from the peppers, and Lycopene (anti-aging antioxidant? Yes please!) from the tomatoes, not only is this dish as beautiful as it is tasty, but your body will love you for it too. I love this combo of the Risotto + One Pan Chicken for the perfect meal to entertain guests. You can prep it all ahead of time and then pop it into the oven, minimal attention needed, so you can actually enjoy your dinner guests rather than missing out on all the fun!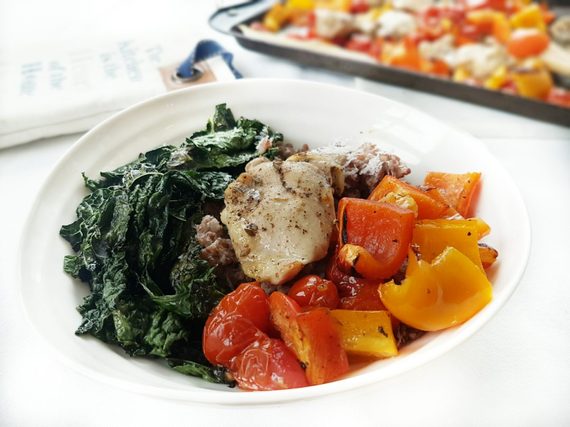 Another way to cut back on time and keep it simple is using pre-mixed spice blends. My pantry is stocked with these Club House mixes to make sure my meals never go bland, no matter how much of a time crunch I'm in. They add so much flavor in just one sprinkle. Two of my favorite things...maximum flavor, minimal time 🙂
Do you have any favorite one pan meals? Let me know in the comments below and be sure to share your creations with me on Instagram using #inthekitchenwithLP.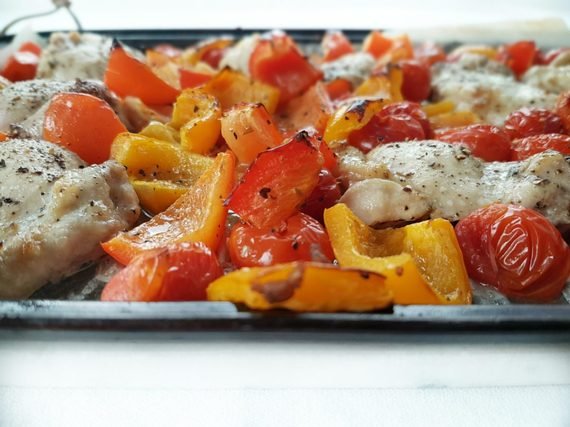 One Pan Greek Chicken with Blistered Tomatoes and Peppers
Serves 3-4
Ingredients
- 2 Tbsp extra virgin olive oil, divided
- 1 red bell pepper, cut into bite-sized pieces
- 1 orange bell pepper, cut into bite-sized pieces
- 1 cup cherry tomatoes
- 1 tsp Greek spice mix
- 6 boneless, skinless chicken thighs
- Juice and zest of ½ a lemon (I love using my microplane
for quick and easy zesting!)
- Coarse salt
- Freshly-cracked pepper
Directions
1. Preheat oven to 350F.
2. Add cut peppers and tomatoes to a medium-sized mixing bowl with 1 Tbsp of the olive oil and the Greek seasoning.
3. In another bowl, combine raw chicken, remaining tsp of oil, lemon juice + zest, salt and pepper.
4. Line a baking sheet with parchment paper and lay the vegetable mixture out on it. Create 6 pockets of space to place the chicken in and place the chicken on the sheet, thick side down.
5. Place in the oven to bake for 12 minutes, flipping the chicken half-way.
6. Finish by broiling for the last 3 minutes to let the chicken brown and the tomatoes and peppers blister, watching carefully to make sure they don't burn.
7. Remove from the oven and serve with Risotto or for a super quick and easy option, serve with roasted or baked potatoes.
Happy Eating!
Lindsay
P.S. Want to save time without sacrificing flavor? Click here to download my FREE 5-Day Meal Plan with Grocery List & Recipes
Follow HuffPost Canada Blogs on Facebook