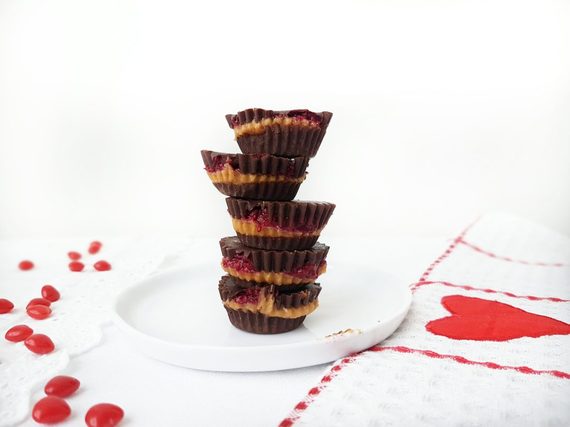 The sweetest holiday of the year is fast approaching and I've got the perfect treat for you! The combination of peanut butter and chocolate is hard to resist and I've taken it up a notch in these ones by adding in a layer of my Ooey Gooey Raspberry Chia Seed Jam.
These are super quick and simple to make and require just a few ingredients. We recently moved and for the first time in 5 years, finally have a microwave again! Being able to melt the chocolate in the microwave definitely saves time and a bit of a mess, but if you prefer the stovetop method, you can follow the steps I used here in my DIY Fruit, Nut and Flower Laced Chocolate bars.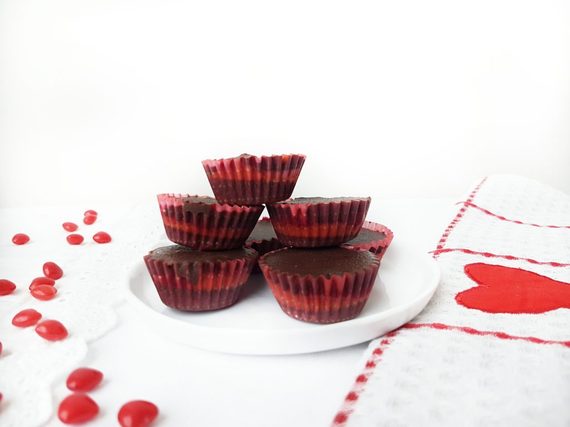 While you're at it, I would recommend doubling up the batch of the chia jam. It is soo good on toast, in oatmeal, with yogurt or even blended into smoothies. It somehow just makes everything seem fancy. Unlike your typical jam, there is absolutely no added sugar needed to achieve the perfect jammy consistency.
Chia seeds are high in soluble fiber which has the natural ability to thicken up liquids and the nutritional benefit of balancing blood sugars and keeping your heart healthy.
Now I'm not saying that you should start eating peanut butter cups for breakfast every morning but one or two won't hurt 🙂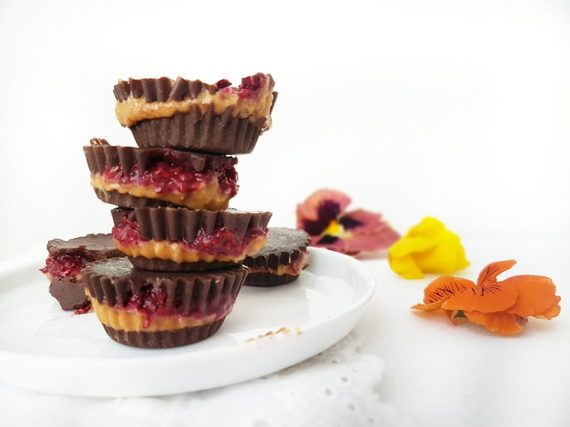 Chocolate PB & J Cups
Makes 24 mini cups
Ingredients
- 24 mini cupcake liners
- 1 ½ cups dark or semi sweet chocolate
- 1 Tbsp Coconut Oil
- 1 batch of Raspberry Chia Seed Jam *recipe below (or approximately ½ cup of your favorite jam)
- ¼ -⅓ cup of your favorite peanut butter (I used this coconut peanut butter spread from Whole Foods)
Directions
1. Add chocolate and coconut oil to a medium microwave safe bowl. Melt on high for 1 minute, remove from the microwave and stir. Continue to melt in 30-60 second intervals, stirring in between to make sure it doesn't burn.
2. Line a mini muffin tin with your cupcake liners, pour approx 1 tsp chocolate into each liner and place in the freezer to harden.
Meanwhile, prepare your jam, and set aside
3. Chocolate should be solid enough to start topping after about 10-15 minutes. Remove from the freezer and top each with approx ½ tsp of your peanut butter, followed by ½-1 tsp. Of your jam mixture.
4. Top with remaining chocolate and put back in the freezer to set. Leave for minimum 1 hour or overnight and enjoy!
5. Store any leftover cups in an airtight container in the fridge or freezer.
Ooey Gooey Raspberry Chia Seed Jam
Ingredients
- 1.5 cups raspberries, frozen
- 2 Tbsp water
- ½ - 1 tsp vanilla extract (depending on how vanilla-y you like it)
- 2 Tbsp chia seeds
Directions
1. Add raspberries, water and vanilla to a medium-sized pot over medium high heat. Bring mixture to a low boil, stirring frequently.
2. Reduce heat to low and let simmer for about 5 minutes until berries soften. Lightly mash the berries with the back of a fork to achieve the consistency you like (if you like a chunkier jam, leave bigger pieces).
3. Stir in the chia seeds and cook on low until the jam thickens, about 5 minutes, stirring to make sure it doesn't stick to the bottom of the pan.
4. Let the jam cool to room temperature and then pour into a glass jar or air tight container and store in the fridge. You can also store extras in the freezer and pull it out as you need it!
Happy Eating!
Lindsay
P.S. Want to simplify cooking without sacrificing flavor? Click here to download my FREE 5-Day Meal Plan with Grocery List & Recipes