mphillips007 via Getty Images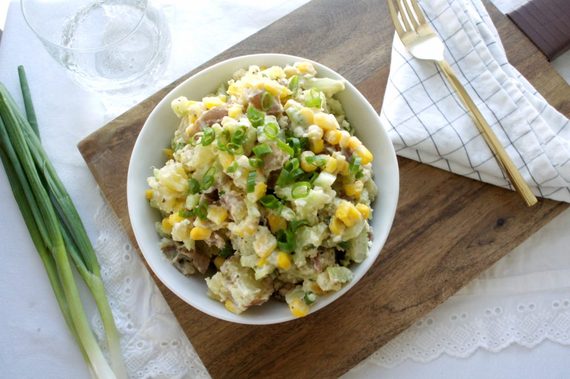 One of my favorite things to do in the warm weather is pack a picnic and go sit at the beach. There are so many gorgeous views around Vancouver. Lighthouse Park, English Bay and Sunset beach are a few of my faves. You can't have a picnic without potato salad right? This version is nice and light without feeling that way.
Here are a few of my other picnic faves. Throw a couple of these together, grab a blanket and you're good to go!
Tofu Stuffed Collard Green Wraps with Spicy Peanut Dipping Sauce
Grilled Lemony Asparagus and Feta Salad
Raw Chocolate Peanut Butter Energy Balls
Want a free copy of "Lindsayjang.com Top 10 Recipes Cookbook"? Click here for your free instant downloadable copy!
Light and Creamy Red Potato Salad
Serves 4
Ingredients
- 1 lb small red nugget potatoes
- 1/3 cup corn
- 1/3 cup feta cheese, crumbled
- 2 stalks celery
- 2 green onions, thinly sliced into rounds
Dressing
- 1/4 cup 0% plain Greek yogurt
- 1-2 tsp Dijon mustard (start with one and adjust to taste)
- 1 tsp red wine vinegar
- Coarse salt and freshly-cracked pepper to taste (~1/8 tsp salt and 1/4 tsp pepper)
Directions
1. Bring a large pot of water to a boil. Add potatoes when it reaches a rolling boil. Boil potatoes for 12-15 minutes, until easily pierced with a for. (You will be adding the corn for the last minute of boiling)
2. Meanwhile, chop celery and slice the green onion and set aside
3. In a medium sized mixing bowl, combine all dressing ingredients, mix with a fork until well combined.
4. Add corn for the last minute of potatoes boiling. Once potatoes are done and corn is heated through, remove from heat and add to a strainer. Run cold water over them until they are cool enough to handly
5. Quarter potatoes or cut smaller if desired. Add potatoes, corn, feta cheese, celery and green onion to the bowl with the dressing, mix with a fork to evenly cover all ingredients. Some of the potatoes will break up even more, this is ok, it will give it a nice creamy texture.
6. Serve warm or refrigerate for a cold potato salad.
Enjoy!
Need help with weekly meal prep and planing? Check out my 3-2-1 Method Program for all the tools you need for successful meal prep.
For more recipes and kitchen inspiration, check out www.lindsayjang.com or find Lindsay on Instagram here or Facebook.
Follow HuffPost Canada Blogs on Facebook