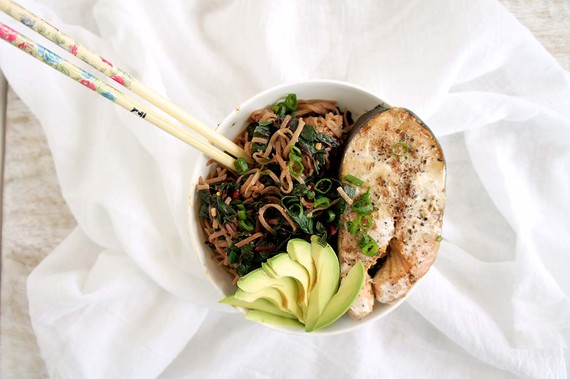 You know I love me a good bowl meal. They never get old and just have a way of making everything taste better! You can make pretty much any meal into a bowl meal, but this one is one of my go-tos for a quick weeknight meal.
Whether September brings the chaos of back to school and extra curricular activities for the kids, or adjusting from all of those extra long weekends and holiday time over the summer for yourself, with a bit of meal planning and having some simple go-to meals, the routine it brings can be a welcome change.
Salmon needs no introduction as a staple in a health promoting diet. We know it well for its anti-inflammatory Omega-3s, its heart and bone healthy Vitamin D, and of course, the filling dose of protein it provides. Avocados give a boost of antioxidant Vitamin E and provide healthy fats for that satiety effect, and you can never go wrong with too many greens. I mixed it up using Swiss chard in this recipes, but it is great with beet greens, spinach or kale as well.
To make this meal even speedier, wash and chop your greens at the beginning of the week, wrap them in paper towel (to absorb extra moisture and prevent them from going soggy) and store them in an airtight container so they're ready to grab and go throughout the week.
Enjoy!
Salmon Soba Noodle Bowl with Swiss Chard and Tangy Peanut Sauce
Serves 4
Ingredients
- 2 tsp avocado oil
- 4 x 4 oz salmon fillets or steaks
- Coarse salt and freshly-cracked pepper
- 6 oz (approx 180 g) soba noodles
- 2 bunches of Swiss chard, washed and thinly sliced
- 2 green onions, thinly sliced
- 1 avocado, thinly sliced
Sauce
- 1 clove garlic
- Freshly-cracked pepper to taste
- 2 Tbsp toasted sesame oil
- 4 Tbsp soy sauce
- 2 Tbsp hoisin sauce
- 1/4 cup chicken or vegetable stock
- 2 Tbsp peanut butter
- 2 Tbsp warm water, plus more if needed to thin the sauce out
- Juice of 1 lime
- 1/2 tsp chili flakes (red pepper flakes)
- Toasted sesame seeds * optional
Directions
1. Bring a large pot of salted water to a boil.
2. Meanwhile combine all sauce ingredients in a small mixing bowl or measuring cup and whisk until smooth. Set aside.
3. Heat avocado oil in a large frying pan over medium-high heat for 1 minute. Season salmon with salt and pepper and add to the hot pan. Cook for 3-4 minutes, allowing the salmon to brown. Flip to the other side and cook an additional 3-4 minutes (cook time will depend on how thick your salmon is and how well done you like it).
4. While salmon is cooking, add soba noodles to the water and cook according to package directions (be careful not to overcook them as they only take 2-3 minutes!). Add the Swiss chard for the last 30 seconds of boiling, allowing the leaves to wilt. Once noodles and chard are done cooking, drain through a strainer. Once all the liquid has drained off, add them to a large mixing bowl and pour the sauce in tossing to coat the noodles evenly.
5. Plate the noodle mixture between 4 bowls, top with salmon, avocado and sprinkle with green onion and sesame seeds if using.
Enjoy!
Download your FREE copy of my Top 10 Smoothie Book!
For more recipes and kitchen inspiration, check out www.lindsayjang.com or find Lindsay on Instagram here or Facebook.