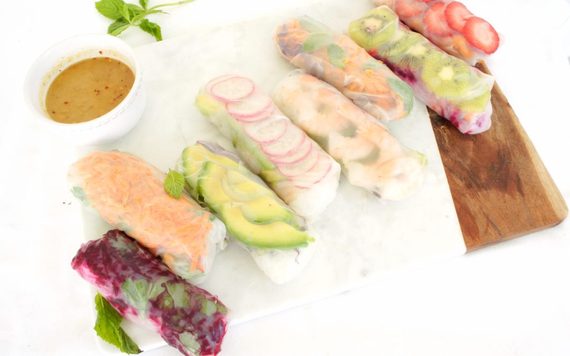 What better time to enjoy these beauties than right in the heart of summer! I don't know exactly why these are called Summer Rolls, they're actually one of my favorite go to meals all year round, but anything with the word summer in it- you won't hear me complaining! One reason I like these particularly in hotter months is that they don't require the oven to be on, so you can enjoy this delicious meal without melting in your kitchen.
As you've probably noticed with the past few recipes, I've been getting amped up for summer for awhile now. Can you tell it's my favorite season? This year I am especially excited. Our wedding is fast approaching, and this also means we are going to have family from all over visiting. Meik has family coming in from Poland and my sister, her husband, and my niece, Mila (who I am more than a little obsessed with) are staying for 3 whole weeks! We'll be spending a week with them out at the lake after the wedding to unwind and enjoy some major time in the sun.
These summer rolls will definitely be a staple on the dock. They are perfect to make ahead and are great for kids. Mess-less finger food at it's finest! They are also fun to make together, so get out of the kitchen and enjoy the beautiful weather! Set up a little station on a table outside by lining up all of the ingredients in an assembly line of sorts and each person can fill and wrap as they please! You can pretty much throw anything into them so they're also a great way to use up any leftover veggies or protein you have in the fridge.
I also love eating food that looks pretty-I swear it tastes better! The clear rice paper wrappers are perfect to display all of the colorful ingredients you have packed inside. I love the combo of different beets, purple cabbage, colourful bell peppers and, of course, avocados. But feel free to get creative and mix in whatever you've got! These are the definition of eating the rainbow!
So get wrapping and enjoy these nutrient packed treats for a delicious summer meal that won't have you slaving over the stove.
Want a free copy of "Lindsayjang.com Top 10 Recipes Cookbook"? Click here for your free instant downloadable copy!
Summer Rolls with Easy Peanut Dipping Sauce
Serves 2
Ingredients
- 4 rice paper wrappers
- 2 ounces (~100 grams) rice noodles (vermicelli)
- 1.5 cups of any leftover protein (I made them with 225 g of shrimp)
- 2 cups of fruit or vegetables of choice such as:
- purple cabbage, thinly sliced
- shredded beets or carrots
- bell pepper, thinly sliced
- radishes, thinly sliced
- kiwi
- strawberries
- mango
- 1/2 of an avocado, thinly slices
- ¼ cup of mint or basil leaves, chopped (optional)
Spicy Peanut Dipping Sauce
- ¼ cup warm water
- 2 Tbsp. creamy peanut butter
- 1 Tbsp lime juice (approx ½ lime)
- 1 clove of garlic, minced
- Pinch of chili flakes ( ¼ - ½ tsp)
- 1 Tbsp Soy sauce
Directions
1. Combine all ingredients for the peanut dipping sauce and whisk with a fork until smooth. Set Aside.
2. Prep your fruits or vegetables and set aside.
3. Cook the noodles according to package directions, drain water through a strainer and set aside (keep them in the strainer in case you need to run more water over the noodles- see below).
4. To prepare the rice paper wrappers: Fill a large pan or baking dish with warm water, 1-2 inches deep. One at a time, dip the papers into the warm water for 15-20 seconds until they become soft, but are not breaking apart. Remove the paper from the water and place on a flat working surface. Pat dry if needed and immediately start assembling your wraps with desired ingredients (except for the sauce), leaving room at the top and bottom of the wrapper to be folded in. *Note: if your noodles have started clumping together, run a bit of warm water over them to loosen them up again.
5. Fold in the top and bottom of the wrap, fold one of the lengthwise sides over and roll it up like a burrito!
6. Dip in peanut sauce and enjoy!
*For leftovers, wrap each roll in saran wrap to avoid sticking and tearing.
Need help with weekly meal prep and planing? Check out my 3-2-1 Method Program for all the tools you need for successful meal prep.
For more recipes and kitchen inspiration, check out www.lindsayjang.com or find Lindsay on Instagram here or Facebook.