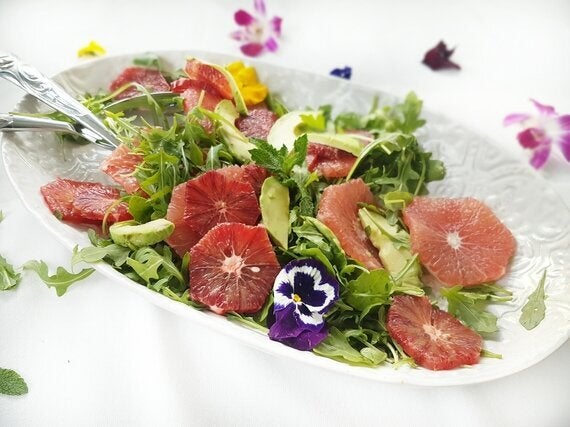 I have to admit, salads aren't always my first choice in the winter months but I have not been able to get enough of this one. It is definitely one that I will be transitioning into spring and summer. It pairs with pretty much anything. Seafood, steak, or even some grilled Haloumi cheese.
I have been a little obsessed with blood oranges lately. They are so juicy and have such delicious flavor. They are known to be a bit less acidic than regular navel oranges with a bit of berry undertones...I feel like I'm describing a wine. Maybe that's why I like them so much 😉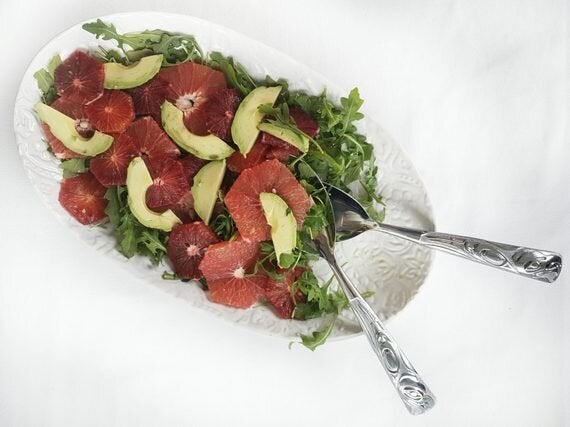 Interestingly, blood oranges are packed with even more Vitamin C than their navel counterparts and also contain higher levels of anthocyanin, a disease-fighting antioxidant that gives it it's unique pigmentation. With soluble fiber to balance blood sugars and keep your gut healthy, they are the full package!
I hope you enjoy this refreshing salad as much as we have been in our household! And if you're new to blood oranges, be prepared for your new obsession.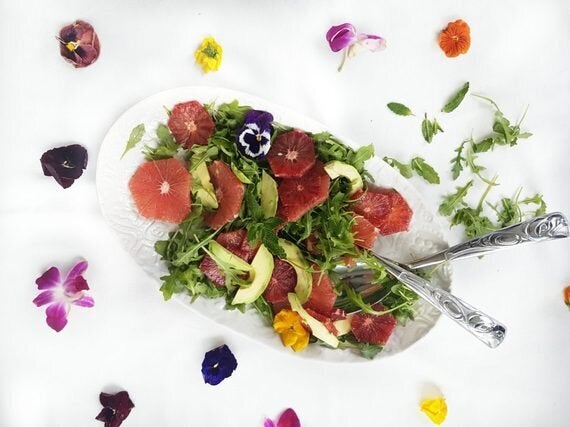 The creaminess of the avocado is perfect in this salad. I have also tried it with toasted almonds and feta cheese when I was out of avocado. Both are delicious! Let me know which combo you like best and what you think of those beautiful and delicious blood oranges. Leave a comment below and be sure to share your creations with me on Instagram using #inthekitchenwithLP.
Refreshing Citrus Salad with Blood Orange and Mint
Serves 2-4 (depending on whether serving as a side or a main)
- 8 cups arugula or mixed greens (I love it with arugula but if you find the flavor too strong, try mixing it with or opting altogether for mixed greens)
- ¼ - ⅓ cup fresh mint, coarsely chopped
- 2 blood oranges, peeled and sliced into thin rounds
- 1 grapefruit, peeled and sliced into thin rounds
- 1 avocado, thinly sliced
- 2 Tbsp extra virgin olive oil
- 2 Tbsp regular balsamic vinegar
- 1 Tbsp peach white balsamic vinegar (you can also sub this for more regular balsamic if you don't have any flavored)
- Coarse salt and freshly-cracked pepper to taste
1. Prepare your oranges and grapefruit and set aside.
2. Combine dressing ingredients in a small bowl, whisk with a fork until well combined (the dijon mustard will act as an emulsifier and keep the dressing together). Add more olive oil if you find it too tart.
3. On a large platter, arrange the arugula and sprinkle with mint, give it a few tosses to combine.
4. Layer your greens with the orange and grapefruit. Finally, top with your sliced avocado.
5. Drizzle with your dressing, serve and enjoy!
Follow HuffPost Canada Blogs on Facebook