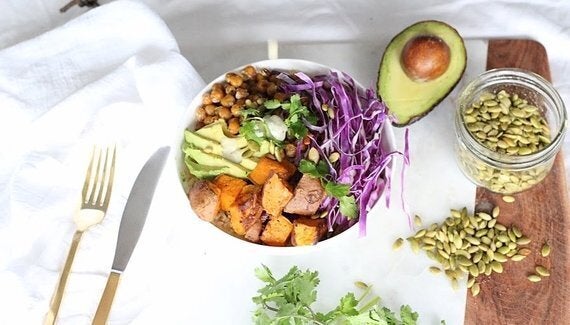 Is it just me or does food just seem to taste better when it's in a bowl? You've probably been seeing these bowls everywhere, and for good reason. There's actually a definition in the urban dictionary for Buddha Bowls, "a bowl which is packed so full that it has a rounded 'belly' appearance on the top much like the belly of a buddha." I love this.
This bowl is packed with so much goodness. As you're probably starting to learn about me, I love lots of color and lots of flavor in my dishes. To me, that is a huge part of the overall enjoyment of the meal. It really helps you eat mindfully when you can really appreciate everything about the dish from the presentation to the taste, smell and different textures in it.
There are so many different combos you can throw together, which makes them the perfect meal for the end of the week to use up any leftovers you have lying around while still getting to enjoy a whole new meal! I hope you enjoy this recipe for a start and get creative with your own combos of different dressings, veggies, proteins or grains for a simple new staple to your weekly meal rotation.
As always, I love to see your creations! Tag me on Instagram with @lindsayjangrd and #inthekitchenwithLJ.
Buddha Bowl with Tahini Lemon Dressing
- 2 cups brown rice, cooked
- 1 19 oz. can of chickpeas, drained and rinsed
- Sea salt and fresh cracked pepper
- 2 cups purple cabbage, thinly sliced
- 1/4 cup of pumpkin seeds
- 1/2 cup of cilantro, chopped *optional
- Juice of 1/2 of a lemon
- 1 clove of garlic, minced
- Sea salt and fresh cracked pepper to taste
1. Pre-heat the oven to 400F
2. Line a baking sheet with parchment paper
3. In a medium sized mixing bowl, combine yams, chickpeas, avocado oil, salt and pepper. Toss to coat evenly and lay mixture out on baking sheet in a single layer.
4. Roast in the oven for 45 minutes to 1 hour until yams are easily pierced with a fork and chickpeas are nicely browned on the outside
5. Meanwhile, cook rice according to package directions.
6. Combine dressing ingredients and whisk with a fork until combined. Set aside.
7. Prepare the cabbage, carrots and avocado
8. Once yams and chickpeas are cooked, assemble bowls, starting with rice and topping with all other ingredients. Finish by drizzling with dressing and enjoy!
Follow HuffPost Canada Blogs on Facebook