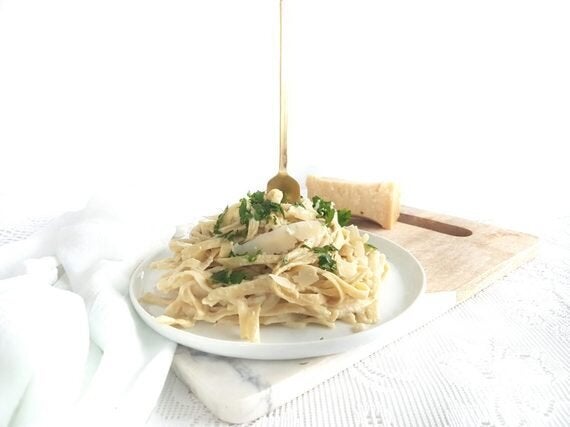 Cauliflower is in it's prime right now! This under celebrated veggies is finally getting the credit it deserves.
Due to it's colour...or lack thereof, it often gets overlooked, but it is a nutrition powerhouse! Cauliflower is a cruciferous vegetable, in the same family as some better known superfood veggies like kale, broccoli and Brussels Sprouts. They are known for their anti-inflammatory and anti-oxidant properties to fend off chronic disease and keep our bodies functioning at their prime! Sounds pretty good to me.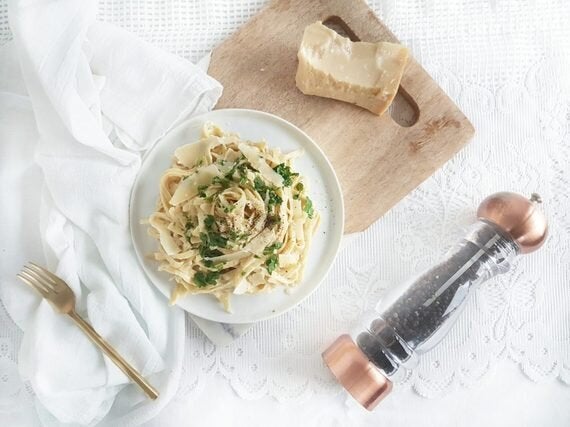 If you're like me, I was never too impressed by cauliflower- I didn't hate it but it certainly didn't impress me. The dull flavor of steamed white stalks just didn't really do it for me..I know, shocking right?! But then I was introduced to roasted cauliflower- I couldn't believe this was the same food!
So I started playing around with it in the kitchen and was blown away by it's culinary diversity. From Cauliflower Pizza Crusts to Creamy Potato and Cauliflower Mash and even Cauliflower Fried Rice, this veggie can do it all. Including transform into a creamy, garlicky and decadent ALFREDO SAUCE!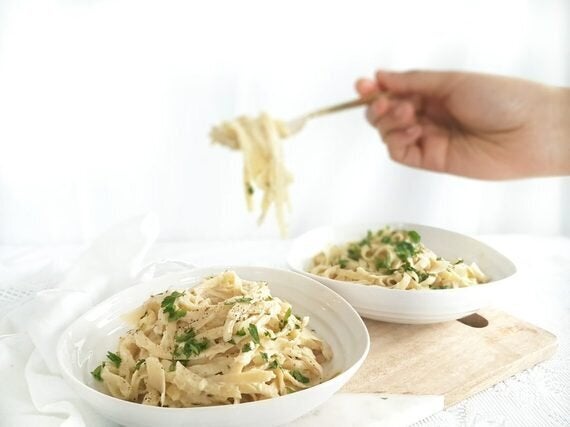 I know what you're thinking but trust me on this one!
We have also played around with different variations and made a cheesy cauliflower sauce to dip veggies in or make a baked taco casserole with. So GOOD!
Have you tried any of these cauliflower variations before? Leave me a comment below and if you like this one, let me know if you'd like more variations of this creamy, saucy goodness on the blog!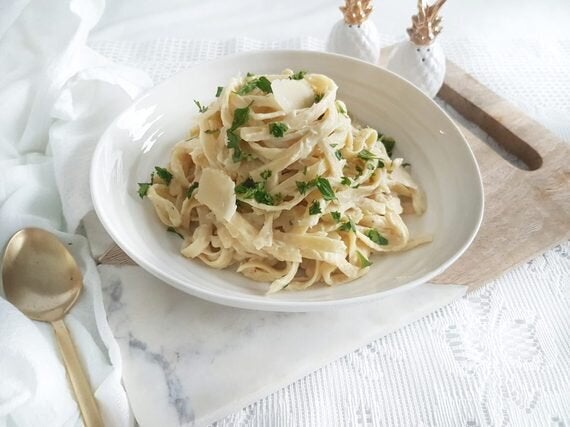 Best Ever Cauliflower Fettuccine Alfredo
- 160g Fettuccine noodles of choice (half of a 375 g box)
- 1 Tbsp extra virgin olive oil
- 3 cloves garlic, minced
- 1 medium head of cauliflower (approx. 4 cups)
- ½ cup of reserved cooking liquid from pasta, made into a strong stock (double the amount of stock mixture to water ratio)
- ⅓- ½ cup freshly grated Parmesan cheese
- Lots of freshly-cracked black pepper
- Coarse salt (approx ¼ tsp, adjust to taste)
- Fresh Parsley to Garnish
1. Add about an inch of water and your chopped cauliflower to a large frying pan. Cover with a lid and steam until cauliflower is fork tender, approx 15-20 minutes
2. Meanwhile, bring a large pot of salted water to a boil and cook noodles according to package directions. Once done, drain, reserving ½ cup of the cooking water
3. When the cauliflower is about 5 minutes away from being done, heat oil in a small saucepan over medium heat. Allow oil to heat up (approx 1-2 minutes) and then add your garlic. Saute until fragrant but not yet browning (approx 2-3 minutes)
4. Once cauliflower is ready, drain and add to your Vitamix or high powered blender. Add your garlic oil, milk, chicken stock made from the pasta cooking water, Parmesan cheese, salt and pepper.
5. Blend until a smooth, thick sauce forms.
6. Add your pasta noodles back to the pot and pour the sauce onto the noodles, using a spatula to scrape it all out of the blender (you may not need all the sauce, if this is the case, reserve any extra in an airtight container to be saved for later use).. Mix until noodles are evenly combined.
7. When ready to serve, top with a sprinkle of fresh parsley, and more salt and pepper if needed.
8. Serve with your favourite protein. I love it with fresh prawns, scallops or salmon!
NOTE: If you end up with extra sauce, freeze for later use or add to a soup for a creamy base
Follow HuffPost Canada Blogs on Facebook