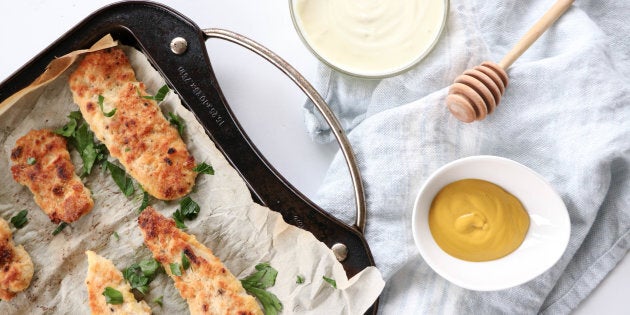 There are a few people in my life who have recently had to cut out wheat or gluten, so I was inspired to play around with the recipe and try out some different ways to bread the chicken that would make it suitable for everyone. This recipe is gluten and grain free, but you really wouldn't know the difference! What are your guys' favorite alternatives for breading?
The final product ended up looking a little different than what you see in these pics. I just wasn't quite satisfied with them, so I ended up testing them a couple more times after I shot these until they were perfect! Haha. I know, I'm crazy, but your tastebuds will thank me for it.
I tried them with both almond flour (ground much finer into a flour-like consistency) and almond meal, which is ground almonds with a coarser texture. I found that the almond meal gave much better flavour and browned up a lot more nicely! With a few other spices in the mix, the flavour was just right!
It took a bit of trial and error to get that perfect crispy browned texture, but here are a few of the tips I found ended up working best!
Use aluminum foil instead of parchment paper to line the baking sheet
Grease the foil and spray the tops of the chicken fingers
Pat the chicken dry before starting the breading. This helps to get rid of any extra moisture so it doesn't seep into the coating and prevent it from crisping up
Don't crowd the tray too much. Leave a bit of space between each of the fingers
Use a high heat. I tried with 350 F, 425 F and 450 F and just couldn't seem to get them to crisp up at the lower temperatures
Bake on the top rack of the oven
For the dipping sauce, I pulled out one of my best tricks for creamy dips — Greek yogurt! I often use it as a sub for mayonnaise for veggie dips, or instead of cream for soups and pasta dishes. I'm a heavy dipper. Just a little speck on the end of my food just doesn't do it for me! Greek yogurt is a great way to get the consistency and flavour I want without the heaviness of some other dips.
I hope you enjoy! I'd love to hear what you think! Share our creations with me on Instagram tagging @lindsaypleskotrd and #makefoodfeelgood.
1 lb (454 g) chicken breasts, cut into 1-1.5-inch-wide strips (approx. 3-4 strips per breast)
1 cup almond meal (approx. 1.5 cups of whole almonds if grinding them up yourself, or buy pre-prepared almond meal)
2 tsp paprika
½ tsp salt
½ tsp pepper
⅓ cup parmesan cheese, grated (optional)
1 egg
Avocado oil (or other high-heat cooking oil) and/or spray
Honey mustard dipping sauce
½ cup 2% plain Greek yogurt
1 tbsp honey
1 tbsp yellow mustard
Preheat oven to 450 F. Line a baking sheet with aluminum foil and grease it with about 1 tablespoon of avocado oil. This will help the chicken fingers really crisp up.
In a large bowl, crack your egg and whisk it until blended.
In another bowl, combine almond meal (if you are making your own, just pulse 1.5 cups of raw almonds into a coarse powder), paprika, salt and pepper, and parmesan if using it.
Cut your chicken into 1-1.5-inch-wide strips and pat dry with paper towel.
Add your chicken pieces into the bowl with the egg and use a fork to lift and mix pieces so that they're covered on both sides. Allow any excess egg to drip off before placing in the almond mixture.
Next, dip the egg-coated chicken pieces into the almond mixture one at a time. Use a fork to press down on the tops and coat well, flip the piece with a fork and repeat on the other side then place on the greased baking sheet. Repeat until all pieces are coated.
Place in the oven and bake for eight minutes. Remove and flip them over and finish baking for two more minutes or until no pink remains on the inside.
Meanwhile, whisk your honey mustard ingredients together in a small bowl. When the chicken is ready to come out of the oven, serve together.