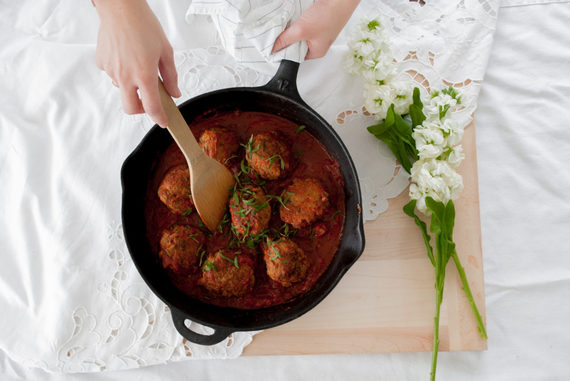 Meatballs are one of my hubby, Meik's, favourite foods but for some reason they always get forgotten in the rotation (oops...). A few weeks ago we were up in Kamloops visiting our families and his sister, Jeannette, was whipping up a batch of the family fave and it inspired me to make some. So much so that we grabbed a few ingredients on the drive home and I got to cooking when we got in Sunday afternoon.
I like making meatballs with ground turkey for a bit of a lighter version but I find that ground turkey can get a bit dry. Luckily I've got a little trick up my sleeve that I've been using for years. It gives you the juiciest, most delish ground turkey dishes. You might remember it from these Greek Turkey Burgers. The key is soaking your breadcrumbs in milk before adding them to your mixture - perfection.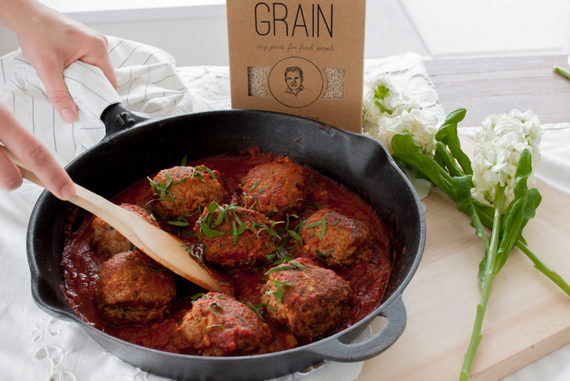 These could also be baked in the oven but I love a good sear in a cast iron pan for some extra flavour. This is a great batch cooking recipe so if you want to be extra organized and set yourself up for the week, double the recipe and get ready for those jealous stares from your co-workers.
I love the way that quinoa soaks up sauces so I decided to try them over quinoa instead of pasta. I wasn't totally sure how this was going to turn out but it was amazing and also Meik approved.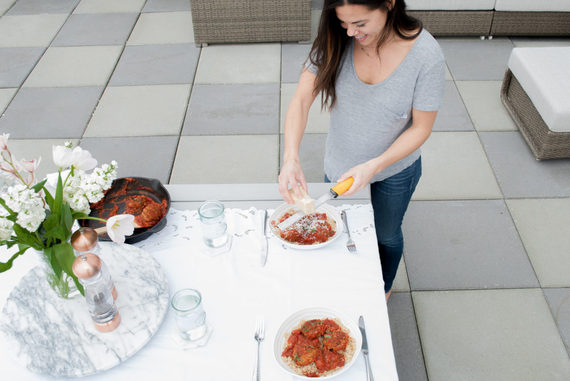 I've been curious to try out a different meat like bison or elk for meatballs. Have any of you ever tried it? What's your favourite ground meat? Leave me a comment below and if you have any favourite recipes. I'd love to try!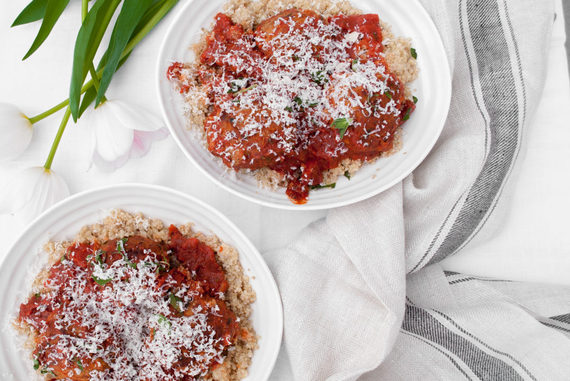 Juicy Skillet Turkey Meatballs
Serves 4
Ingredients
- ¾ cup dry quinoa (I used GRAIN's Golden Quinoa)
- ½ cup breadcrumbs
- ½ cup milk
- 1 lb ground turkey
- Coarse salt and freshly-cracked pepper (approx. ¼ tsp each)
- ¼ cup + 2 Tbsp fresh parsley, minced & divided
- ¼ cup + ¼ cup red onion, diced & divided
- 2 large cloves of garlic, minced or crushed
- 1 egg
- 1 Tbsp extra-virgin olive oil
- 1 25 oz can tomato sauce
- 1 Tbsp red wine
- ¼ cup oregano, minced (or 1 Tbsp dried)
- ¼ cup freshly grated parmigiano reggiano
Directions
1. Get quinoa cooking. Cook according to package directions.
2. Next, add breadcrumbs to a small bowl and cover with milk. Set aside and allow the milk to soak in.
3. Meanwhile, combine turkey, salt and pepper, ¼ cup parsley, onion and egg in a medium mixing bowl. Mix with a fork until all ingredients are well combined. Mixture will be quite wet, but will hold together once cooked.
4. Roll into 8-10 large meatballs.
5. Heat oil in your cast iron pan over medium-high eat. Allow to heat up for 1-2 minutes. Add onion and garlic and saute for 3-4 minutes or until fragrant. Next add the meatballs and sear on all sides, approximately 1-2 minutes each side or until golden brown (You may need to add a bit more olive oil as you go).
6. Keep the meatballs in the pan and add your tomato sauce, red wine and oregano. Simmer for 15-20 minutes to allow flavour to develop.
7. Right before serving, sprinkle generously with freshly-grated Parmesan and remaining Parsley and dish up onto your quinoa.
Happy Eating!
Lindsay
PS- Are you in the Community yet!? Join my Eat Well Live Well Facebook Community for daily tips, recipes, and motivation. Comment on one of the posts inside to let me know what you want to learn about and I'll be sure to create some awesome content just for you! All you have to do is click on this link and hit the "Join" button. See you inside!
Follow HuffPost Canada Blogs on Facebook