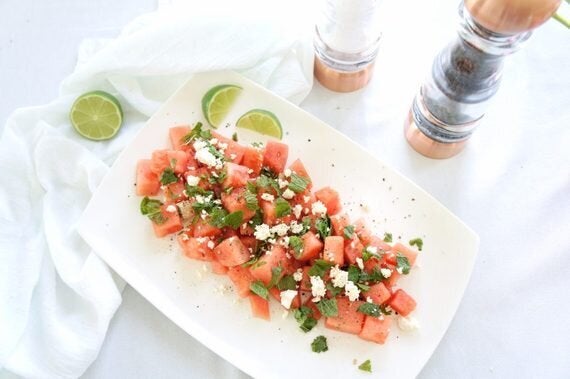 Doesn't watermelon just make you think of summer, barbecues and picnics? For me, watermelon also brings up great memories with my dad. Leaning up against the railing of our deck with a big plate of sliced watermelon, spitting the seeds over the edge and talking about life in the warm sunshine. It doesn't get much better than that.
This fresh watermelon, mint and feta salad is so simple I can hardly call it a recipe...but I'm going to anyways so that I can share this deliciousness with you guys 🙂 Don't be fooled by its simplicity, the compliment of flavours in this one is sure to please your tastebuds.
What makes watermelon an even more perfect summer fruit? As well as its high water content to help keep you hydrated, watermelon is one of the highest lycopene containing fruits.
Lycopene is a powerful antioxidant that has a higher-than-average ability to protect our body from free radical damage associated with cardiovascular risk, certain cancers and premature aging (particularly premature skin aging).
I hope you enjoy this refreshing salad over some great conversations and warm summer nights.
Watermelon Mint and Feta Salad
- 3 cups watermelon, cubed
- 1/2 cup mint, roughly chopped
- Pinch of coarse salt and freshly-cracked pepper to taste
- 1 Tbsp extra virgin olive oil
- 1 Tbsp red wine vinegar
1. In a small bowl or measuring cup, whisk the dressing ingredients together.
2. Lay the watermelon cubes on a large plate. Sprinkle with mint and feta. Drizzle with dressing and finish off with a pinch of coarse salt and some freshly-cracked pepper.
Need help with weekly meal prep and planing? Check out my 3-2-1 Method Program for all the tools you need for successful meal prep.