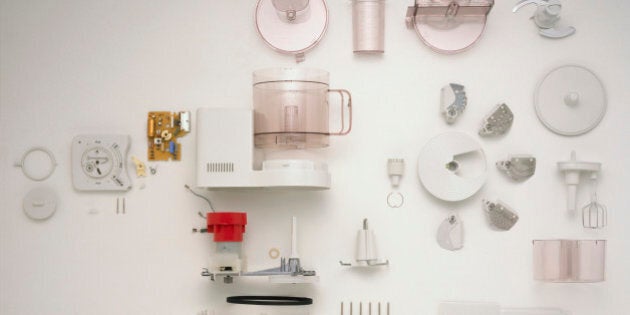 In the year before I got married, my mother's friends got together and asked me what I wanted for a shower gift. The possibilities were endless.
In the late '90s I had an unspoken arrangement with my parents. I would live at home way beyond the age I should have, in order to save money so I could afford to move out. In turn, I would cook them dinner every Sunday. This quasi-mutual cohabitation lasted two years. By all accounts, it was a success, although I did not ask for their point-of-view.
I was never one to putter in the kitchen as a teenager, save for a brief experiment in high school when I brokered a deal with my sister Lori and a friend of mine. Lori would bake chocolate chip cookies every weekend, the friend would sell them, and I would eat them.
One day, I went to a cooking demo put on by a local celebrity chef. She had simple cookbooks that provided simple recipes for people like me. I was mesmerized by the fluidity of her cooking skills and made a silent promise to give it a try. Every Saturday, for two years, I would visit the kitchen gadget store and buy one item a week with my earnings. I purchased a range of practical items like dinner plates, cutlery, glassware and measuring spoons. One day, I noticed a mini food processor. It was small enough to sit in my hand. I splurged on this indulgence and entered the dawn of food prep technology.
Every weekend I read cookbooks with energy and joy, reminiscent of the Nancy Drew novels I torpedoed through as a child. Mom and Dad were good sports about acting as guinea pigs. My parents looked forward to each Sunday surprise meal, even when dad quietly detested stuffed peppers.
After two years of perfecting my pesto sauce and saving enough money to move out, I made the plunge to independence. I finally could slice a cucumber, dice a tomato and invite friends over for a simple pasta dish or vegetarian chilli.
When I got engaged and was about to enter into matrimonial cooking bliss, I felt that was the perfect time to advance to the full-blown Cuisinart. My mother made my wishes known to her circle of friends and the beloved gift arrived in 2003.
But I was bewildered and overwhelmed by the contents. Inside the box were: circular blades of various dimensions, strange looking feeding tubes, attachments, a how-to video and a book. I didn't know where to begin so I carefully put it all back into the box and stored it in the basement.
What was the reason for my inability to learn how to use the food processor?
To say I developed a fear of my food processor is not entirely accurate. I continued to use the mini version from years ago, hoping to have the courage to experiment with the more complicated one. From time to time, I would open up the box, peer inside, and tell myself quietly that I can do this! But it seemed all too much. And each time I put it away quickly.
When my husband and I moved two years ago, along came my well-used kitchen tools. But 11 years later, I still had not used the food processor. How could I break down this self-imposed barrier? As detached as I was, I took the contents out of their imprisonment and packed each piece individually. We had no history together. Could we find happiness in my new home? The Cuisinart could no longer hide and I would be forced to use it... or so I thought.
Imagine the embarrassment when I re-discovered the unopened how-to VHS video. In the age of Netflix my long held secret would be revealed, now documented by the passage of time.
But I did not have the courage to tell my mother. Some of those dear friends of hers had since passed away. They lovingly bought this gift for me to use in my married life. I let them down.
What was the reason for my inability to learn how to use the food processor? I had assembled complicated furniture from IKEA, overcame a fear of heights with indoor rock climbing lessons, and tackled claustrophobia by entering our three-foot crawl space.
I finally chalked it up to one word: simplicity. I enjoy manual labour like gardening and seeing the fruits of my efforts by hand. I don't need bells and whistles to make food taste good; I embrace hand stirring that heavy cake batter with a wooden spoon. So I have concluded that my resistance to modern day cooking inventions is because I simply don't want to use them.
This summer I attended an out-of-town wedding, and while sitting at dinner, I overheard a guest call out a familiar person's name. A name I've seen before, but not someone I had ever met. I quickly took notice of Norene Gilletz, famous cookbook author of The Food Processor Bible.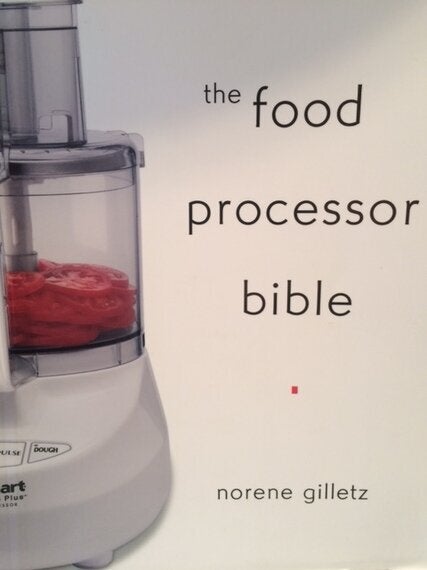 I stood up abruptly and cut into a conversation that I was not a part of and laid bare my gastronomic soul. "I have your cookbook! It was a gift to go along with my food processor. And I have never used either of them!" I now felt unburdened; relieved by my unremarkable declaration.
Norene took me aside and listened to my food processor woes. She talked me down from the ledge and gave me sage counsel. "Start small," she said. "Make a soup." OK, I nodded.
As we hugged and parted company, I thanked her profusely. "You have no idea how you have changed my life," I blurted. "Good luck," she replied. "And call me anytime if you need help."
I was stunned. I just met the Julia Child of Cuisinart cooking; a dream come true. But I didn't have the heart to tell her one more truth. I didn't know how to make soup.
I can always hook up the VCR.
My mother's friends have waited long enough.
Follow HuffPost Canada Blogs on Facebook