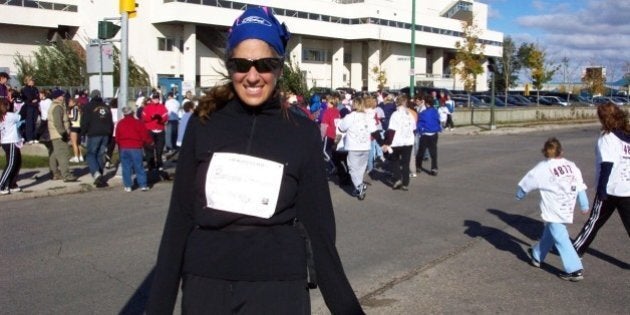 You'll find us everywhere you look. In the summer, we dress scantily to wholeheartedly worship the Sun God; in the fall, we expose a limb or two in defiance of Zeus' mighty exhalations; in the winter, we resemble castaways from Star Wars dressed in outlandish head wear; and in the spring, we partially disrobe to begin the ritual all over again.
Who are we? We belong to a covenant of earthly beings that feels compelled, almost driven, to pound the pavements of your neighbourhood. We are the secret world of runners, and we are more than the sum of our sinewy parts.
I was a runner from the moment I tied my shoelaces and took my first steps. Somewhere in my elementary years, I discovered I had a talent for it based on placing first in races at family picnics, running after boys in school, or sprinting away from my father's disciplinary actions.
At the age of 12, I was voted track and field Athlete of the Year and repeated this honour two years later in grade nine. Little did I realize how fast I could run until my brother, 11 years my junior, entered the same school and announced to the family that my racing times were still unbeaten!
From that day forward, I aspired to be in the Olympics, envisioning myself as a female Jesse Owens. But I underwent knee surgery after high school and was told to never run again. I was a structural mess: a combination of my mother's hammer toes and my grandmother's bunions. The surgeon told me to forego a running career; undeterred, I learned to swim at 25 and proceeded to race competitively as a triathlete.
I was convinced cross-training would strengthen my leg muscles and correct whatever imbalances my ancestors passed down. The idea of putting running shoes away for life was unconscionable. Running gave me the inner strength to chase after my dreams, it allowed me to forgive my failings, and it made me feel boundless and alive.
But don't listen to people who declare running is an activity only intended for wild game in pursuit of a meal! It is a secret weapon that, when used wisely, can empower and inspire people to acts of virtue. I know. I discovered this kernel of truth by chance.
In my early 30s, I entered a half-marathon in Toronto and collected pledges from co-workers in support of the Marvelle Koffler Breast Centre. My "pass-the-hat" approach netted $1,300. And while I did not garner the honour of top individual fundraiser, I was spurred to further action the next year, and gathered around me two dynamic co-workers who heralded my plea to raise more money.
We planned a battle of epic proportions at the ad agency where we worked and developed a multi-tiered fundraising campaign. The second year we raised $20,000; the third year we doubled it. Years later, this "little idea" raised almost a quarter of a million dollars, and precious lives were saved because an uncompromising determination to run was firmly planted a long time ago.
As I approached my 40s, the knees were not as forgiving as they used to be, and I cursed every time I tied my shoes. The knotted muscles took longer to stretch out before and after a run. But in the dead of winter, when all was white and pure, and I was often blinded by storms surrounding me, I occasionally spotted a kindred spirit running towards me in the distance. And when I squinted through the layers of heavy clothing that encased me and gingerly waved to fellow runners when we passed, I quietly wondered what acts of inspiration they too had secretly performed that day.
When I hit 40, I decided to call it quits after 30 years of running for fear of crippling arthritis or hip and knee replacement surgery waiting on the horizon. Who knew the disease I was raising money for was nipping at the heels of so many loved ones in my life.
Now in my 50s, I look back over the last five years or so with quiet resolve. Four girlfriends have been diagnosed with breast cancer, all with different journeys through the eye of the storm. When the sobering statistics warn that one in nine women will get this dreaded disease, I know that cancer lurks in the shadows.
In 2003, I moved from Toronto to Winnipeg. Shortly afterwards I met Julia and her family from Argentina and a friendship blossomed between us that was meant to be. We united in the newness of it all and the novelty of exploring together. We shared the hardships that befell us, supported each other and took comfort in the foods we love.
After years of living in Winnipeg, my bon ami and I met at the community pool where we swam and she talked openly about her previous bout with breast cancer. From her I learned that facing adversity means never losing your way and purpose in this life.
Last year my husband and I moved across the country, and Julia and I talked about the timing of a visit to see us. That summer she arrived on our driveway as the moving truck gathered our belongings and we embraced and vowed to keep in touch. Her parting gift to me reflected how we each had grown, both of us far away from our respective places of birth. It was a decorative candle with the words: "May the change of address bring you lots of happiness."
But I did not know then what I know now. Wasn't it just weeks ago that we last exchanged emails? In the silence of the moment you were taken away from us.
Perhaps it's time I dusted off those running shoes. The lyrics in Melissa Etheridge's powerful anthem of hope, I Run for Life, are an emotionally charged rallying cry that cannot be ignored any longer. The secret world of runners is beckoning me back from my hiatus... there is so much more work left to be done.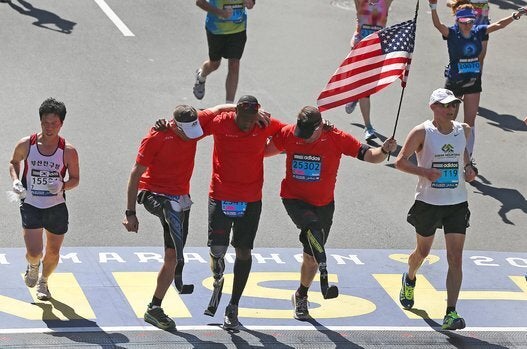 2014's Best Running Photos