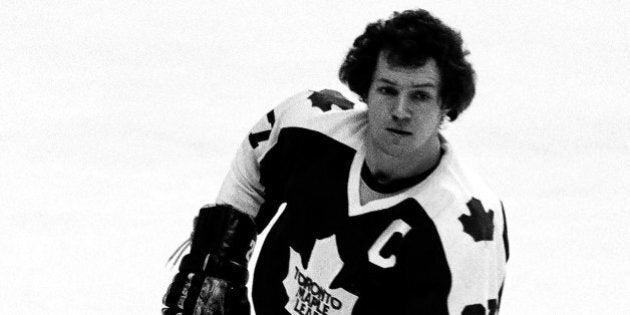 I understood the importance of the Toronto Maple Leafs as an institution when my dad took me to a Toronto Marlies game around 1973 and I caught my first puck. In my 10-year-old mind, that black piece of rubber was as close to hockey royalty as I could ever imagine touching.
In my babysitting days when I was a teenager, I watched Hockey Night in Canada. The year was 1976 and Darryl Sittler was king. I knew every player's name and number and would cheer them on every time they scored; yell at the TV when they did not; and tried not to wake up the children under my charge.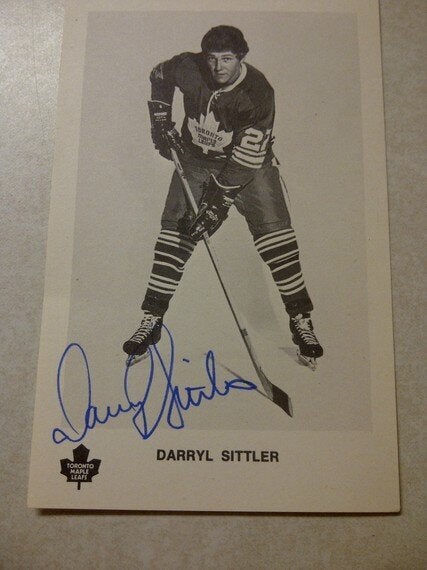 Fast forward to the fall of 2011, and the return of the Jets to hockey-starved Winnipeg was announced with such unbridled fanfare that it forced the closing of Portage and Main for an impromptu showing of civic pride.
I really had not thought much about Canada's beloved sport since 1983 until my husband Mark came home with coveted Jets tickets for season one. He knew how much I missed my hometown of Toronto, and secured two tickets to the Jets vs. Leafs game on December 31.
As game day approached I felt this strong urge to buy the brightest poster paper and lovingly take it to the arena to make a statement. I searched for coloured markers and took my rightful place at the dining room table, and out of my head and onto the fluorescent yellow paper came the words: "Confessions of a Torontonian. I had a crush on Darryl Sittler."
When season two arrived, I needed a new strategy. The sign was too awkward to carry. I would get it made into a t-shirt and had the letters pressed onto the fabric.
On February 7, 2012, the Leafs and the Jets were playing on the 36th anniversary of Sittler's 10-point record breaking game against Boston. It was the perfect setting to wear my new shirt. So it came as no surprise on this auspicious night that at intermission there were lots of guys looking at my chest. One large gentleman about 6"6" walked towards me, stared at the lettered confession, and then said in a loud-booming voice: "So did I!"
But it wasn't just men acknowledging me. A woman approached me when she saw the front of the shirt and screamed with delight that she too had a crush on Sittler. To which I shouted against the background noise: "So did I!" Then I informed her I used to watch Sittler on TV in my babysitting days to which she responded: "So did I!" We embraced like long-lost sisters, then pulled back, still entwined in each other, and I said: "I don't even know your name!"
A year later, I put all this nonsense behind me, and went to New York to celebrate my 50th birthday. On a walk through Central Park, the phone rang and Mark handed me his cell.
"Hi, this is Darryl Sittler. I'm phoning to wish you a Happy Birthday."
"No way!" I stated emphatically. "Who is this?"
"This is Darryl Sittler."
"I can't believe this. No really who is this?"
"It's Darryl Sittler. Ask me anything."
"How did you get my number?" I asked.
"The Alumni Association?" he replied with uncertainty. We both fumbled around trying to sort out how this all came to be.
No matter. I had Darryl Sittler on the phone calling me! My heart was racing.
After Darryl asked what I was doing to spend my special day, I thanked him for the call and we parted company on the phone. It was a glorious five minutes. What a class act to make the effort!
So what does my husband do for a hat trick? He gets us prime seats to a Leafs game in Toronto. This called for a new t-shirt to be worn in my hometown declaring: "Darryl Sittler called me on my birthday!"
After flying in for the November game and settling in our seats behind the Leafs bench, Mark spotted the Prime Minister two rows down. Cameras were flashing, crowds were gathering and we rushed over.
The next thing I see Mark is beside the PM. As I approached the two of them, the Prime Minister glanced at my shirt and read aloud. "He never called me. How did you pull that off? You must have connections," he proclaimed somewhat miffed. The PM clearly approved of my bravado, but Sittler still eluded me.
At second period, Mark shouted: "It's Darryl Sittler!" I looked over and there he was shaking the hand of the Prime Minister. "Go! Go! Go!" I'm urged on. "This is your chance to finally get a picture!" I was stunned for a couple of seconds, grabbed my camera and bolted down the steps but could not find my childhood hero.
Undeterred, I hurried through the hallowed halls that were barren at this time looking for signs of Darryl. Breathless and sweaty from circumnavigating the building for 20 minutes, I finally walked back empty-handed to our section.
The third period was beginning and I got caught in between plays, so Mark went to his seat without me. But I was still lost inside my head somewhere trapped between the reality of not meeting Sittler and the major effort I had just put out there to find him.
When the whistle blew to proceed, I knew there was only one person in the building who could understand my emotional state. As I moved in close to the man sitting near the aisle, I said with an exasperated tone: "I can't believe of all the people I wanted to meet tonight... Darryl Sittler...YOU met him! I am soooo jealous!" To which the Prime Minister responded politely, "But I'd never met him before!" And with that I walked back to my seat and sulked for the rest of the night.
Deflated but not defeated, the search for Sittler continues and the hope of meeting hockey royalty one day.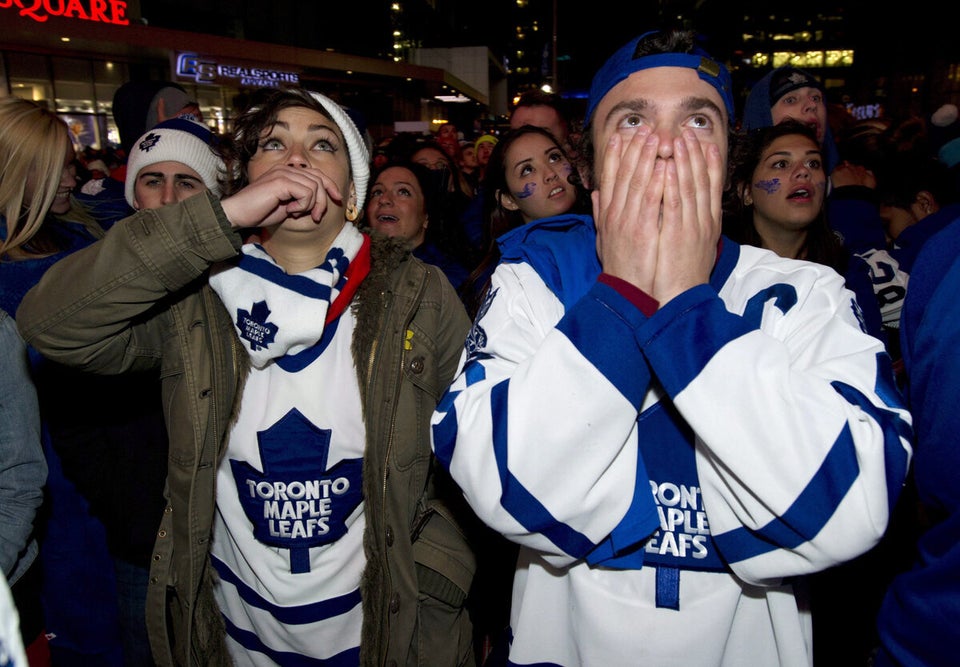 PHOTOS: Sad Maple Leafs Fans