Travelling cannot really be considered an "eco" activity because it's definitely harder on our world than staying at home. But if you are like me and take great pleasure in going away and exploring new places and getting out of your daily routine to relax and be still, or even if you just travel a lot for work, then it's worth investing in yourself to travel with your healthier habits from home.
If you create your own healthier travel practices and pack the right stuff, you'll feel so much better and enjoy your travels so much more!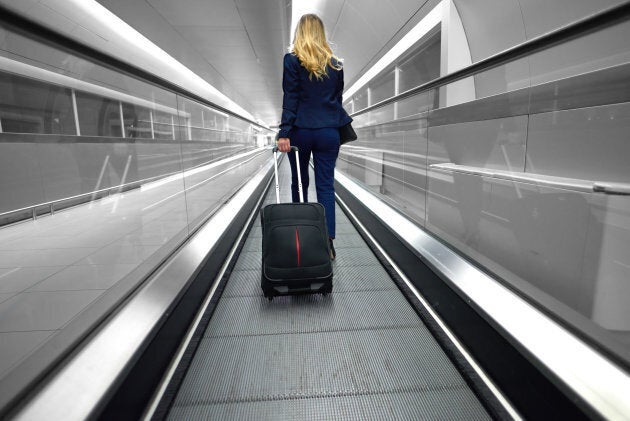 Bring your own bottle — maybe even two. I travel with one bottle for water, and another that is insulated for smoothies or hot drinks. I always have a little reusable zipper bag (think small pencil case) full of single-serve packets of my favourite drinks, tea bags and smoothie mixes. All you need is hot or cold water to nourish, soothe and hydrate, so this is the simplest solution. Also, have you seen the lineups for coffee at the airport? Skipping those is a win in itself!
At the airport, once you have gone through security, simply stop and fill your water bottle, shake up a smoothie, or steep some tea. I usually fill up my bottle for water, and also make a hot drink. If you don't have single-serve packets, you can also put whatever you want in the bottle at home without the water. Once you get on the plane, you won't need to wait for the flight attendants to wheel the trolley by your row, you will have a much larger and healthier drink, you won't be drinking from plastic (or even worse — Styrofoam), and you will enjoy your drink without having to balance your cup on those small (and shaky) airplane tray holders, which means less spilling and if you have to get up, you can manage it without that juggling act or having to finish your drink. Obviously, all of this works really well for obvious reasons, when travelling with kids too. Just rinse/wash and repeat during your trip and on your way home.
Destinations and properties
Your destination, and choice of where you rest your head at night can help you keep your eco values and healthy habits (or it can do the opposite). Before you make a reservation for your getaway, consider the hotel or rental's cleaning practices, bedding, policies and procedures. These days, many "green" hotels simply ask that you conserve the environment by not wanting your sheets and towels changed daily, which is a great small step, but in no way makes a hotel "healthy" in my books. It's incredible to find a place to stay that cares about our health, our world, and the same things we might at home. Although my list is short, I hope it will be growing. Not just because i would like to travel more, but because more places choose to do better for us all. Here are a few of my favourite green destinations.
Less is always more, but even more so when you're travelling. Those little "free" bottles and bars and tubes at hotels are not only generally made of dangerous ingredients, but are SO wasteful — shamefully wasteful. Fill up little reusable bottles with your own shampoo, body wash, conditioner, moisturizer etc. or treat yourself to a healthy travel kit! If you are going carry-on, make sure they are under 100ml.
You are used to taking reusable bags with you to shop at home, so carry that forward and pack them with you wherever you go. A good reusable bags can be stuffed anywhere and is lightweight and washable — use them for extra luggage, laundry bags, and beach bags - and of course for your shopping at your destination. Any opportunity to avoid plastic is a great one.
To avoid airplane food simply pack your own. Really. You'll save money and won't have to lineup, you'll eat better, and you'll certainly feel better. Depending on your destination, and duration of your trip, scout out farmers' markets, health food stores and supermarkets, and farm-to-table restaurants. As an allergy mom, I always pack "instant nut-free food" no matter where I go. I also request the mini bar contents to be removed from my room and fridge if staying in a hotel, then I have space for a few fresh grocery items in the fridge and replace the junk with stuff my family can help themselves to anytime.
Aside from staying super hydrated and eating the right stuff, travel, especially on an airplane can wreck havoc on our immune systems. Boost yourself leading up to, and during travel so you can enjoy your time way and have many happy returns!
Good travel is an art form with benefits, which includes major cost savings and a healthy spirit — you just have to be willing to get a little creative and put the effort in, as you are committed to doing at home.
Follow HuffPost Canada Blogs on Facebook