Marcos Brindicci / Reuters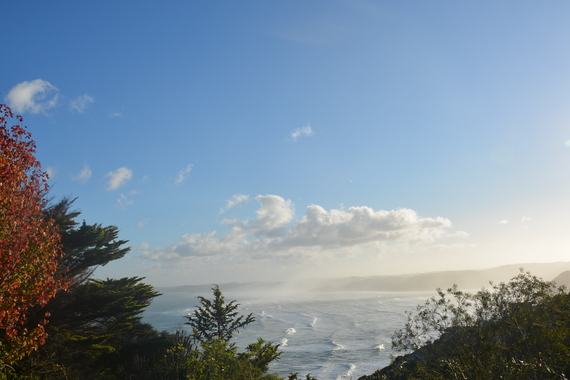 (Photo credit: Lisa Jackson)
Have you heard about the hidden hangout on New Zealand's west coast?
Decades ago, Raglan was considered an "old backwater town." Now, crowds flock to this tiny surfing town, known as Whaingaroa by the local Maori. It's teeming with environmentalists, surfers, hipsters, and creative types who thrive in this arty and environmentally-conscious community. It's no wonder: National Geographic named Raglan as one of the "Best Surf Towns in the World."
"Seriously - everyone is moving here," a New Zealander tells me.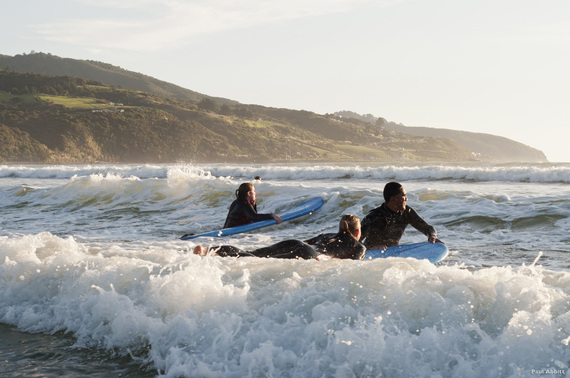 (Photo credit: Paul Abbitt/Tourism New Zealand)
Of course, catching a wave is just one of the many activities to be had in this whimsical destination. Before you go, add these six fabulous experiences to your "must do" list when visiting Raglan, New Zealand.
Go Back to (Surfing) School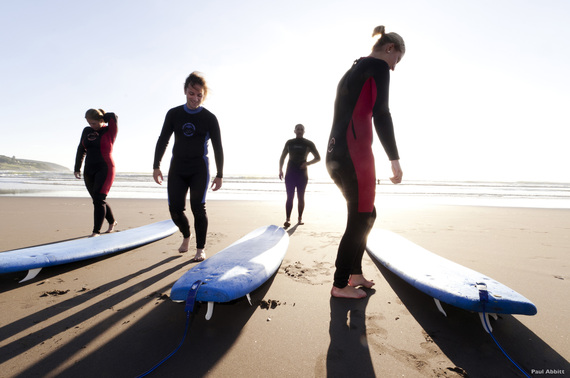 (Photo credit: Paul Abbitt/Tourism New Zealand)
Two decades ago, Charlie Young went on holiday to Raglan and never left.
"I was following the waves," he says.
In southern California, Young juggled a demanding career as a negotiator and his love of surfing. But arriving in Raglan for a "surf-cation," everything changed. Captivated by the destination's incredible left-hand wave breaks and laid-back surfer culture ("Relax - you're on Raglan time!"), he promptly quit his "real job," liquidated his assets, and opened New Zealand's first surfing school. The Raglan Surfing School instantly attracted surfers from all over the world.
"A lot of people try surfing when they visit and get hooked," Young said. "I had a German student whose parents dragged him home two years later!"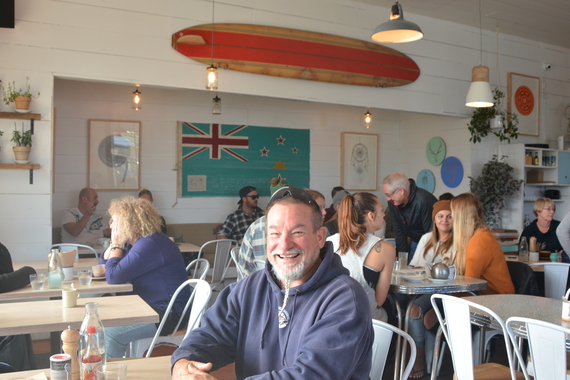 (Above: Charlie Young, founder of Raglan Surfing School; Photo credit: Lisa Jackson)
Private and group retreats range from one to five days, with some opting to stay at Young's lodge. Classes start in an old barn, where students listen and "learn the ocean" before hitting the waves at the nearby beach. But Young's program also involves more than mastering the sport.
"Part of the school is learning the surfing culture," he says. "It's about being immersed in the environment and giving back to people. We tell everyone who works for us, 'Just be yourself!'"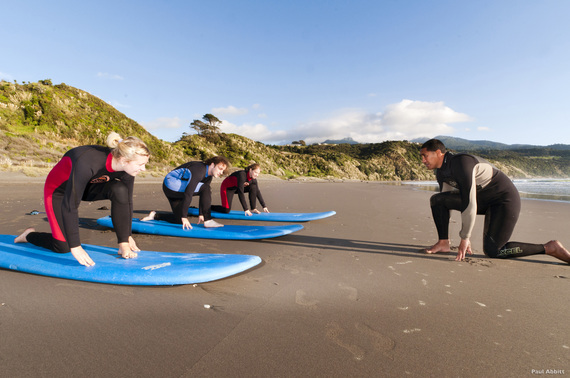 (Photo credit: Paul Abbitt/Tourism New Zealand)
When in Raglan, grab a surf board and catch a wave. The scenery is not only amazing, but it's an epic experience. Many people believe that Manu Bay on this coast has the longest, most accessible and consistent left-hand break in the world. For pros, it's even possible to catch a wave and cruise for up to two kilometres.
Fill your Face
(Photo credit: Lisa Jackson)
Raglan may be small, but the food scene is mighty. This seaside town features boutique eateries and bars serving hearty, organic fare and marine delicacies (often freshly plucked from the nearby ocean).
Start your day at The Shack - a breakfast and lunch joint that draws hungry hordes for its "honest, local, and good food." Imagine free-range eggs and meats, homemade granola, "shack smoked" salmon, and hearty veggie bowls, all made in-house from local produce. If you've got an ambitious appetite, go for the Smashed Avocado on Toast or the Cinnamon Waffles, heaped with blueberries, pecans, and apple jam.
For dinner, go for the Snapper in a Dill Crumb from The Wharf Kitchen and Bar, or head to any of the local fish n' chips shacks.
Get an Art Immersion
Raglan may be a surfer's haven, but it's also a hot spot for musicians and artists. Visit during one of the many festivals during the year, such as the Raglan Arts Weekend and Little Food Festival, Raglan Film Festival, or Sound Splash - a three day summer festival of music, freedom and expression. To listen to tunes any time of year, mosey over to the Yot Club to see touring bands and DJs.
Stay in an Eco-Resort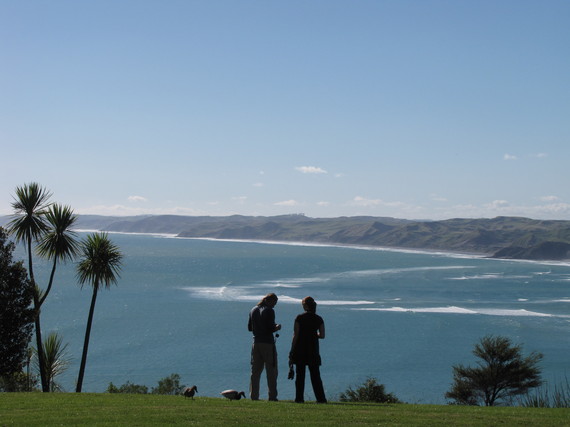 (Photo credit: Solscape)
Six kilometres outside town, a coiled highway leads to Solscape, a quirky eco-lodge perched high above the ocean that offers green accommodation options.
"Everything we do is based on promoting eco-friendly principles," explains co-owner, Phil McCabe. "We use a framework for living with a low footprint, and permanent sustainable living."
From the lodge's deck, get a million dollar view of the world famous Manu Bay, where the wild surf churns and froths like a cauldron. It's not unusual to see sheep grazing in the nearby farm fields...as well as bearded hipsters traipsing around the property or barefooted yogis headed to the onsite Yoga Centre.
"It's like a little village," says the concierge.
(Photo credit: Lisa Jackson)
The stellar views and raw beauty aren't the only draws: it's also the quirky lodgings. Solscape's guests can stay in upcycled rail cabooses, "Earth Dome" silos, or upscale "eco-baches" (self-catered cottages).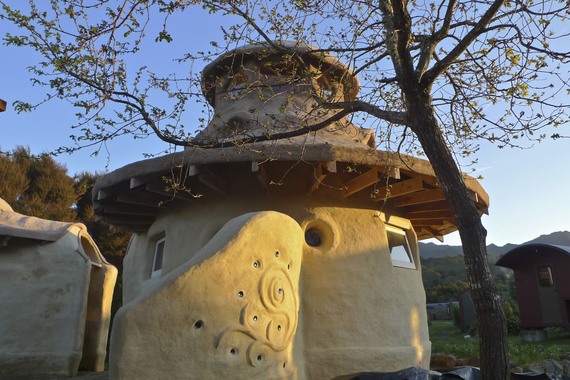 (Photo credit: Solscape)
For something really off-the-grid, go "glamping" in Indigenous-inspired tipis. Each tent is equipped with a bed and solar-powered LED lighting, and steps away, there are solar-powered hot showers, compostable toilets, and an open-air kitchen with an outdoor earth pizza oven.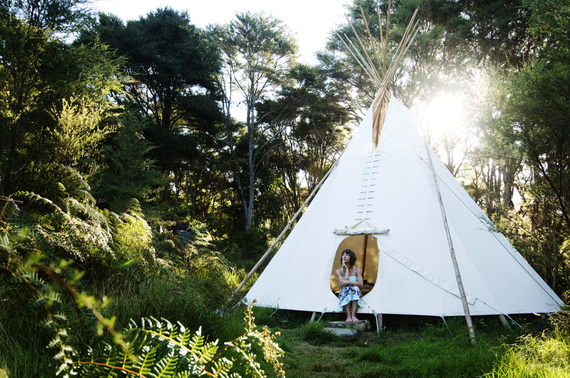 (Photo credit: Solscape)
When night falls, open up the tipi's smoke flaps and star-gaze into the evening.
Grab a Cuppa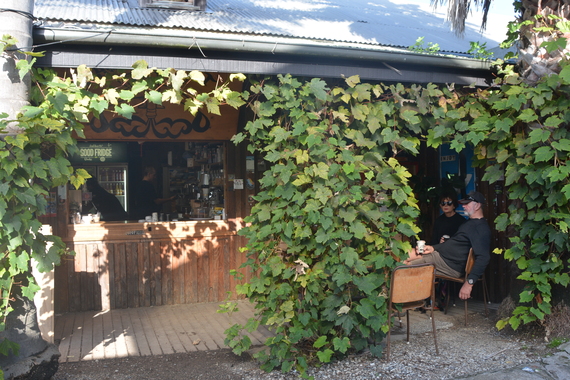 (Photo credit: Lisa Jackson)
Craving a caffeine fix? In Raglan, coffee culture thrives, and the epicentre is Raglan Roast Café, a community-based coffee roasting company that uses fair trade beans. Just follow the stream of cyclists and surfers down Volcom Lane to find this hidden hole-in-the-wall.
Take a Sunset Cruise
You haven't seen Raglan until you've sailed the 122 kilometres of coastline with Raglan Boat Charters. On a sunset cruise, watch for marine life and "pancake rocks" (ancient limestone rock formations), while listening to Maori legends in the shadow of extinct volcano Mount Karioi. As the sun melts into the horizon, sip on Kiwi beers and wines and feast on fish and chips so fresh "it's still swimming."
IF YOU GO:
Raglan is a 2 hour drive from Auckland, with bus transfers to/from various Kiwi cities across the North Island.
A member of the Star Alliance, Air New Zealand features non-stop, overnight flights from Vancouver to Auckland, and connects to most major Canadian cities.
For more travel inspiration and advice, mosey on over to Eat Drink Travel Magazine. Get more ideas for planning your Kiwi adventure at Tourism New Zealand.
Follow HuffPost Canada Blogs on Facebook