Is riding a reindeer across Siberia on your travel bucket list? How about visiting the last man living in the radioactive zone in Chernobyl? Or uncovering sunken ships and wreckage of World War II planes in the Pacific Ocean?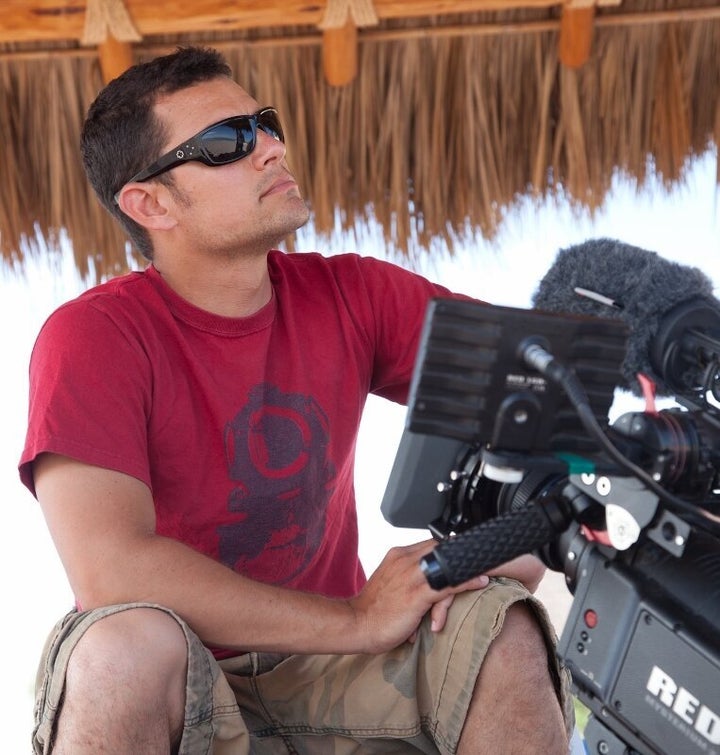 (Above: Travel show host, Scott Wilson; Photo credit: Jeff Wilson)
Canadian TV host and adventurer Scott Wilson (above) has done all these things and more on the television series, Departures -- an internationally acclaimed travel show that captures the journey as much as the destination.
A lot of us talk about quitting our jobs to travel full-time, but Scott actually did it. Before the age of 30, he left behind his life in Brantford, Ontario to shoot the TV series with co-host and high school buddy, Justin Lukach, and co-creator/cameraman, Andre Dupuis. Over three seasons, the trio filmed their adventures across seven continents and produced a Gemini award-winning television show.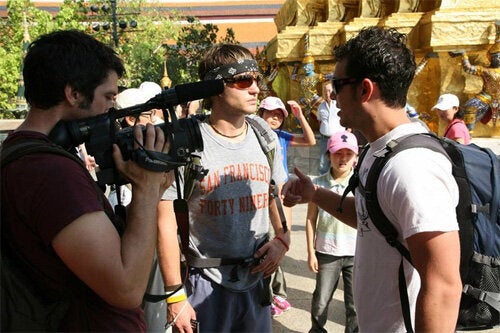 (Above: The Departures team shooting in Thailand; Photo: Courtesy of Scott Wilson)
Like many other fans, I followed Scott, Justin, and Andre as they travelled to places that I had never considered visiting -- like Greenland, Libya, or Ethiopia -- and now marvelled at through my television screen. Through Dupuis' camera lens, each episode showcased some gorgeous cinematography that portrays life as it happens -- raw, real, and beautiful. The Departures team even filmed episodes in the less visited Democratic People's Republic of Korea (North Korea) and Antarctica.
I sat down with Scott to talk about his new TV series Descending, his latest adventures, getting his pilot's license, and his advice on why travellers should embrace discomfort on the road. Keep reading for the full interview:
Lisa Jackson: You've just finished airing your first season of your new show, Descending. What's been your most memorable diving experience so far? If you can choose, that is.
Scott Wilson: I really gravitate towards the cold water dives. Diving in British Columbia and Iceland really stuck with me. Even diving here in the Great Lakes. You really don't have to go to the opposite end of the earth to have absolutely mind-blowing world class diving. We've got it right here in our own backyard.
A close second to me was the dive in the Solomon Islands, retracing the steps of the Second World War. I'm a history buff and I've always been interested in aviation. So diving on plane wrecks of the Second World War, I was just beside myself.
Jackson: You recently got your pilot's license. What motivated you to finally learn to fly?
Wilson: While filming in a remote part of Indonesia, I was on an Ultra Light that crashed into the ocean. Swimming out of that plane wreck and floating around on the water's surface waiting to be rescued, I was thinking, "As soon as I go home, I'm getting my pilot's license. From here on in, I'm going to be the one in control of the plane." So that was a last catalyst to drive me to finally get it done.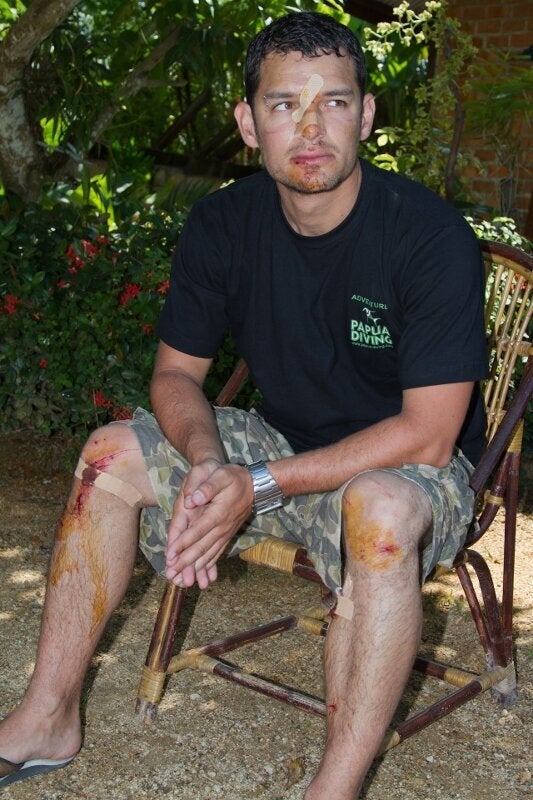 (Above: Wilson post-plane crash in Indonesia; Photo credit: Ellis Emmett)
Jackson: In season 3, the Departures team visited countries that have been negatively portrayed in the media -- such as Sri Lanka, Vietnam, Rwanda, Ethiopia, Democratic People's Republic of Korea. Can you talk about these trips and why it was important to share these experiences with viewers?
Wilson: Even from day one, we wanted to show places that weren't necessarily on the beaten path. Places that were not so often thought about, and in some cases, ones with negative portrayals in the media. We wanted to give an honest and true portrayal of what we saw, what we experienced.
There have been some negative comments about our portrayal of North Korea. It wasn't that we were trying to say this is what it's like and there aren't bad things that go on here. But I think everyone is aware of the bad things that do go on in North Korea and it was a matter of trying to humanize part of the population that is there. We're so easily drawn in to all the negatives and those few bad apples that make a country fall under the so-called "axis of evil." But in fact, 99 per cent of the people there are decent, good people and they want the same damn things as us. They want to put food on the table for their family and to leave a legacy. They want to see their kids live on in their name. It was always important for us to show that.
Luckily, we had wonderful trips. Libya and North Korea are some of my favourite episodes. We made connections with individuals instead of being responsible to portray an entire country. We'll leave the news reporting up to CBC, CNN, and BBC. That wasn't our mandate. We wanted show our experience during the two or three weeks we visited those places.
Jackson: I remember when Departures visited Cambodia, you participated in a ceremonial slaughter of a cow and subsequent feast with community members. Being a traveller means having to adapt to different cultures and customs. Were there times when you witnessed something and felt uneasy or uncomfortable? Do you think it's important to expose ourselves to these situations?
Wilson: I think it's an important part of the travel experience as a whole. Over the past four or five years of constant travel, I've taught myself that if I'm a little bit scared or uneasy, then I'm probably on the right track for getting a good experience. That's not to say that I endorse people trying to get themselves into trouble. But being uneasy when you travel -- it means that you are legitimately starting to experience things that are different from your culture. That's how we get a better grasp of who we are as a planet, as opposed to just individual countries.
The Cambodia moment was one where we were all very uncomfortable with what was going on there. We even debated whether it should go in the show -- are we going to offend or upset too many people by doing that? Then we thought, we're here and that's what happened, so there's no sense in leaving it out.
In the show, I had said that it would be really easy to highlight how wrong this practice is under our eyes and under our cultural upbringing. But it's even easier to just sit back and observe it as a fly on the wall and say, "This isn't my place, this isn't my home." This is their home and this is the way that things have been done for hundreds if not thousands of years. So who am I to say that it's wrong? It's different, but it's certainly not wrong. There are moments where you're shocked by something, but then you realize you're really learning something -- and it's tolerance and understanding. That's a good thing for anyone to have.
Jackson: Having travelled to so many places, what's the most important thing you've learned about our planet and people?
Wilson: One of the most important things that I've learned so far is that people are inherently good. Yes, we worship different idols, we believe different things, and do things in different ways. But everyone I've run into, they're just interested in who you are, where you're from, and what are you doing in my country. And oftentimes, in some of the places where you would least expect to be welcomed.
We've had people stop and help us change tires. We've had people give us beds to sleep on and give us food. Many times, this is coming from people who, from a financial perspective, are far worse off than any of us are. That's really humbling. So it gives me a really good picture of humanity. Obviously, you can turn on the news any day of the week and be horrified by what you see, and the bad things that we can do to one another. But the good news is that, from my experience thus far, there are just so many more good people than bad. It's still a wonderful world out there.
Jackson: What advice do you have for readers who are contemplating a round-the-world trip, but aren't sure where to start?
Wilson: Make sure that you start somewhere slightly outside the comfort zone. At least half of your trip, make sure you do it on your own. Don't be afraid of getting a bit lost, or being uncomfortable, or having to ask for help. If you make things too easy for yourself, I think you're potentially giving up so much more of the journey than before you even begin.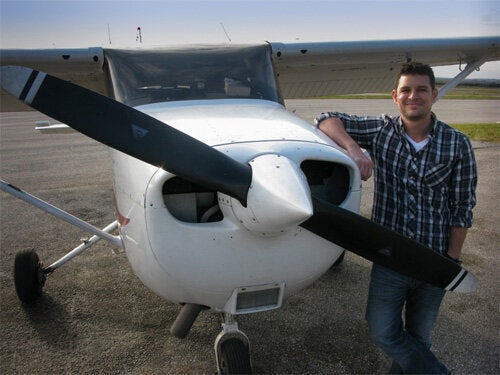 (Photo credit: Christina Dabrowski)