John E Marriott via Getty Images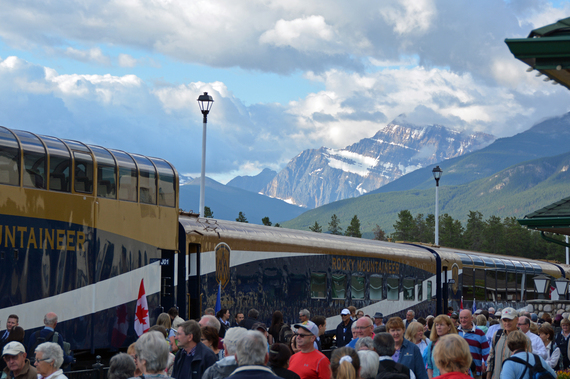 As the train rounds the bend, Canada's highest mountain appears out of nowhere.
I'm outside on the train's open-air vestibule when Mount Robson suddenly pokes its craggy face from the clouds. A snowy peak rising like a church steeple, it's a stunning but rare view of this finicky mountain.
"We're not allowed to do this, but I can't resist," says a train attendant, snapping photos with his iPhone. "I've never seen Robson like that."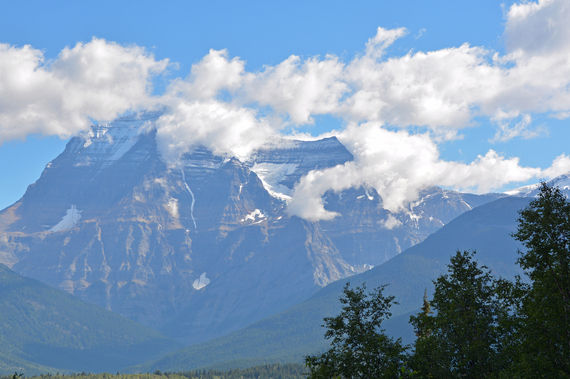 When the staff are excited, it must mean something. But such a spectacle is just one of the many marvellous sights on the Rocky Mountaineer, a rail journey through Western Canada that National Geographic has declared one of the "World's Greatest Trips."
Too often, rail travel gets labelled as the vehicle of the unadventurous traveller. But the truth is, there's no better way to see Western Canada than by riding the rails on the Rocky Mountaineer, the only passenger-based train permitted to use the Canadian National Railway.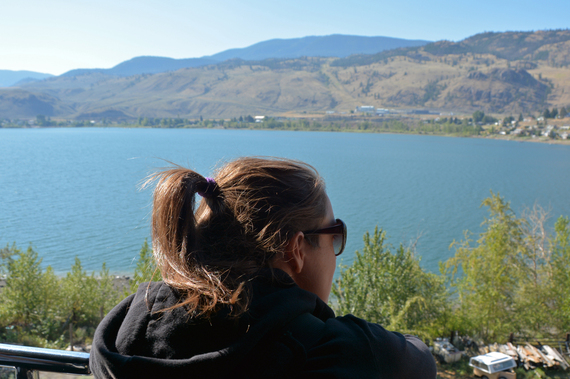 I actually found it difficult to write this article, because words and pictures can't express how thrilling it was to be a passenger. You just have to do it to understand, to feel the excitement in your bones (and decadent cuisine in your belly...oh my dayum!). So before you dismiss rail riding, here are five reasons to travel by train in Western Canada:
It's a museum on wheels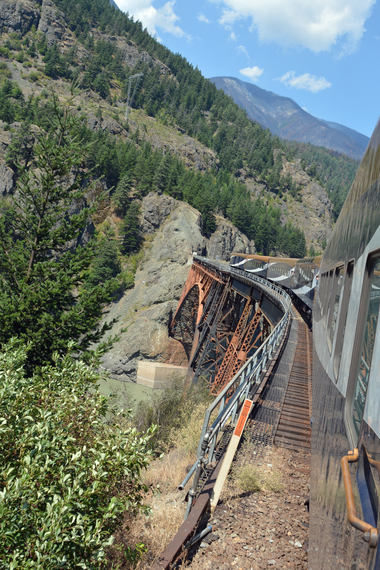 As the train glides along the track, remember that you're riding a piece of living history. The Rocky Mountaineer operates along the Canadian Pacific and National Railways - two routes built at the turn of the century to connect the newly founded nation called "Canada."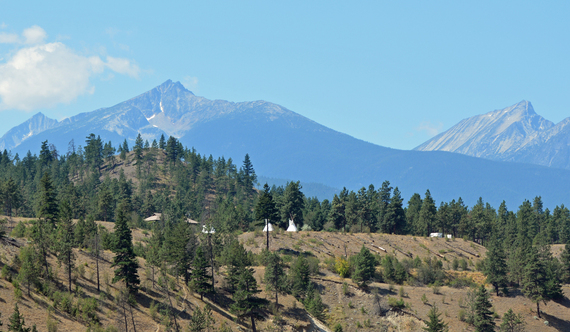 As the train whooshes past glaciers, canyons, and turquoise waters, I listen to tales of Indigenous communities who have lived on this land for thousands of years; early fur traders, gold prospectors and European explorers who attempted to scale the mountain passes; as well as the plight of Asian labourers who risked their lives to construct the railway for abysmal wages. It's one way to sink your teeth into Canadian history.
Boldly go where few have gone before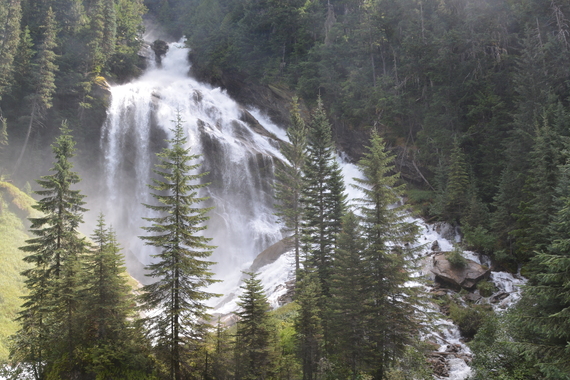 Soon after the Mount Robson spectacle, the train begins to creep along the tracks. A voice crackles over the intercom.
"Ladies and gents, we're approaching Pyramid Falls," announces the attendant. "Trust me - you don't want to miss this one."
I dart downstairs onto the outdoor vestibule. The train gradually grinds to a stop in front of the cascading waters of Pyramid Falls. From the platform, I can feel the mist and little droplets land on my camera lens.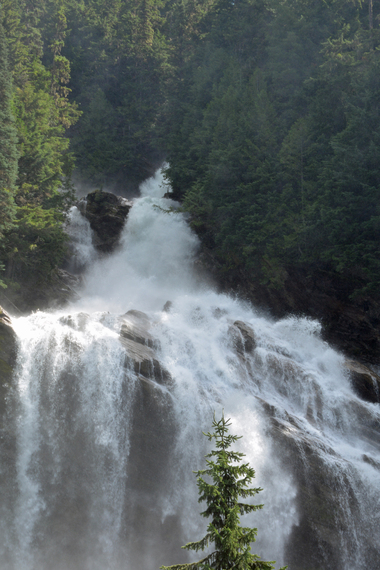 We're that close. Normally, seeing this waterfall is near impossible, with most tourists settling for long distance views from across the river. But riding the rails, I get a backstage pass to this iconic Canadian landmark.
Enjoy a five-star "moveable" feast
If there's one reason to board the Rocky Mountaineer, it's the food. Despite working on a "moving platform," Executive Chef Jean Pierre Guerin runs a five star kitchen.
The feeding frenzy starts almost immediately. While half the car feasts in the dining room, cinnamon scones and hot drinks are served upstairs as a "pre-breakfast snack." Warm dough crumbling in my mouth, I curse that I didn't wear stretchy pants.
"No one goes hungry on our watch!" jokes the staff.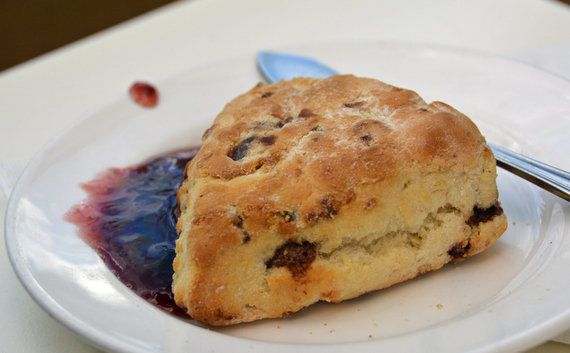 No kidding. Each day brings two gourmet meals - along with wine, cheese, and tasty snacks in between - all made with fresh, local ingredients sourced from British Columbia and Alberta. Microwaved meals are outlawed on the Rocky Mountaineer. Instead, the kitchen prepares meals from scratch, starting at 5:00am with freshly baked croissants and pastries. It's basically a Michelin-star restaurant on wheels.
"Calorie counting? We don't do much of that," says Chef Jean Pierre. "It's a feast."
Go on safari...by rail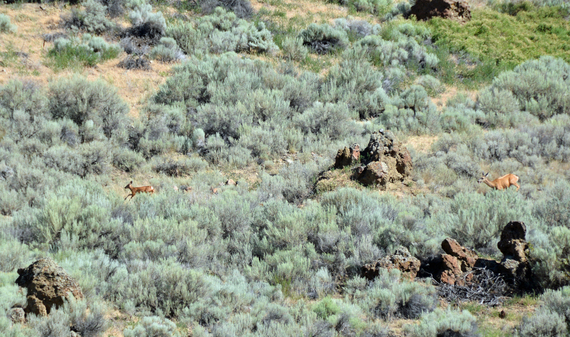 I'm dozing off, when a yelp rouses me from my post-lunch slumber.
"Eagle!" screeches a passenger. "Right above! Look!"
Just like that, naptime is over. Passengers jump from their seats and start snapping photos. I look up and see a bald eagle proudly soaring above - so close that I can see his clenched talons.
"That's a teen eagle, folks," says the attendant. "He hasn't reached his full size just yet."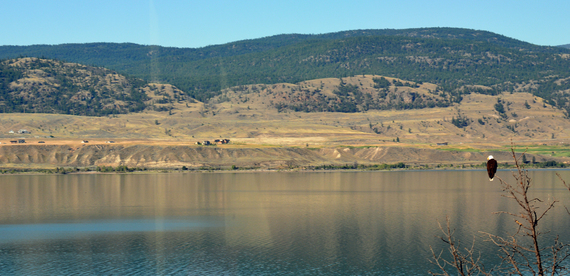 The train slows down so we can snap a few photos. Such a sight is only possible because of the glass domed coach - it has floor to ceiling windows that are scrubbed spotless every night and yield panoramic views.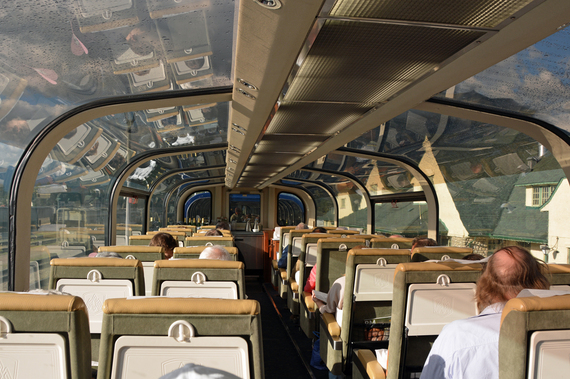 "We have an ear piece hooked up to the conductor," explains our attendant. "Whatever he sees on the track, he tells us right away. So don't be startled if we suddenly shout out, bear to the left!"
It's because of this that riding the Rocky Mountaineer is like going on safari. The train stealthily weaves through forests and mountains, revealing grizzlies fishing in the river, or elk or bighorn sheep grazing on the slopes. A few passengers have even claimed to spot (but not photograph) sasquatch (!).
You can get out and explore Western Canada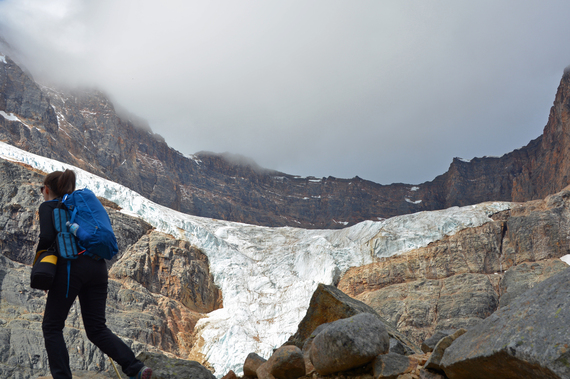 There are no crammed sleeper compartments on the Rocky Mountaineer. Instead, the train disembarks in idyllic mountain towns, such as Banff, Jasper, and Kamloops, allowing us to sleep into a hotel and explore the incredible surroundings.
In Jasper National Park, join a Walks and Talks guided hike to the spectacular Mount Edith Cavell Meadows. The trail offers a smorgasbord of wildlife spotting opportunities, as well as gobsmacking views of the Ghost Glacier - a small blue-ice glacier on the mountain that's rapidly thawing from global warming. After such an active day, treat yourself to a leisurely soak at Miette Hot Springs or a foamy pint at the Jasper Brew Pub.
For more travel inspiration and advice, mosey on over to Eat Drink Travel Magazine. Get more ideas for planning your trip at Travel Alberta and the Rocky Mountaineer.
(All photographs courtesy of Lisa Jackson)