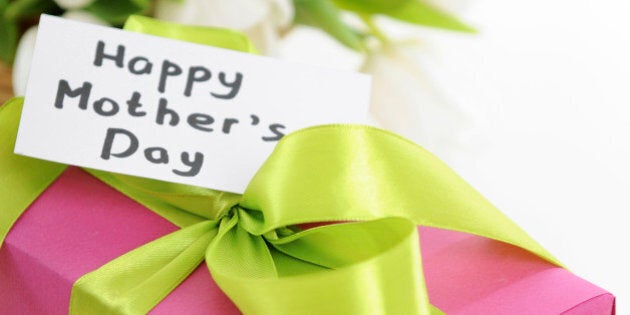 She's been there for us right from the start, loving us unconditionally through all of the highs and lows, and on Mother's Day we get to celebrate that wonderful person who many of us call Mom.
The holiday that originated in the 1900s often includes a brunch or a family meal and hopefully it will also include a special gift. Unfortunately, it can often be very tricky and frankly quite stressful to find the perfect gift for the person who has been there through everything and helped shape us into the people we are today. So to make it easier I've put together some dos and don'ts that will guarantee you select the perfect gift for your mom.
1. Buy her a "practical" gift
Mother's Day is an occasion that is meant to pamper mom and say "thank you" for all of the times she put you and your family first. I saw in a recent gift guide a recommendation to give mom a floating shelf. Nothing says I love you like shelving, right? Wrong. This gift should be something special just for her, so no vacuum cleaners or dishwashers, please!
Unless your mother is an extreme fashionista and you 100 per cent know her size and are absolutely confident you can pick something that is exactly her aesthetic, this is a very high risk move. It's too easy to go disastrously wrong. It could be too big, too small, wrong fit, wrong colour, all of which will make mom feel less than fabulous. If you have your heart set on clothing, consider an accessory and please, please enclose a gift receipt and offer to return it for her if it isn't her thing so you aren't putting one more thing on her to-do list.
1. Select a gift that is a luxury
Often moms decide to go without so that their families and children can have that extra something special. That's why Mother's Day is the perfect holiday to pamper mom with something she might not buy for herself but would love to have. My favourite luxury gifts include floral arrangements, fragrances, teas and skin care products like bath salts and hand creams. All of these gifts are meant to be little luxuries that will hopefully encourage mom to take a moment for herself to say thank you for everything she does for you.
2. Consider a gift of time
As our lives get busier one person we often take for granted is our mom. We just assume she'll always be there. But moms are precious and so is our time with them, so another excellent gift is spending some time together doing something special. Spa days are always a wonderful treat if your mom enjoys the spa. Other ideas might be lunch at her favourite restaurant or a VIP screening of a film she really wants to see. I'm thinking I might take my mom to see this one.
Whatever gift you select for your mom this year, I encourage you to take advantage of the opportunity to show her how much she means to you.
And one special note for the dads --I hate to admit it, but over the years I have had fathers ask me, "Do I really have to buy my wife a mother's day gift, she's not my mother?" The answer is yes, you do have to get her SOMETHING for Mother's Day because she is the mother of YOUR children and as such should be recognized. Plus, don't forget Father's Day is right around the corner, and let's just say there could be repercussions...