In February I asked my Twitter followers to tweet about things in Calgary that either no longer exist or have been around for a long time. Unfortunately Twitter does not allow for hashtag queries past nine days so you cannot simply read all of the mentions of #CalgaryRetro which trended heavily for more than a day with over 600 tweets. At the time I saved an archive of this conversation and can share a few vintage items with you today.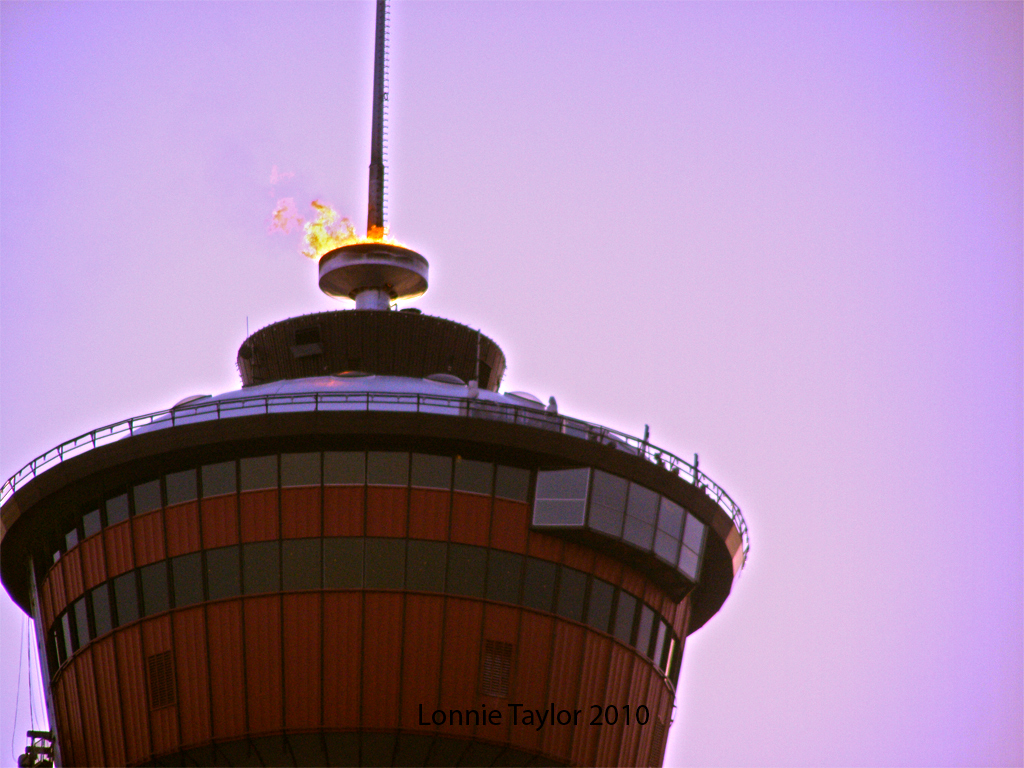 Changing Skyline
Everyone that resides in Calgary knows where and what the Calgary Tower is. Originally named the Husky Tower this iconic building was completed in the summer of 1968 and was the largest of its kind in western Canada until the completion of the Petro-Canada Centre (now the Suncor Energy Centre) in 1984.
The original paint job consisted of a red band below the observation deck followed by a yellow band at the top of the tower. Since its opening, the Calgary Tower has had several major additions including a famous natural gas cauldron in 1987 for the 1988 Winter Olympic Games. In 1973 the Dutch Canadian Centennial Committee gave the City of Calgary a carillon which played from within the tower. It was removed in 1989 due to renovations and replaced with an electronic version which chimes everyday at noon. The tower was repainted all red around 2005 when a glass floor was installed. Visitors can still ascend the elevators and enjoy the panoramic 360 degree view of our changing skyline, but no longer enjoy the original fee of one dollar admission for adults and fifty cents for kids.
Local Television
Some Calgarians will remember turning on their televisions and adjusting their coaxial cable antenna (bunny ears) in order to tune into Stampede Wrestling on channels two and seven. Glued to the set and tolerating periodic white noise due to radio interference, fans were enthralled by outrageous characters hurling themselves through the air at each other while local personality Ed Whalen narrated from inside and outside of the ring. Those that remember the show can still visit the original space in which it took place on Stampede Park.
In 1967 Calgary enjoyed its centennial year and had its first taste of The Buck Shot Show on CFCN. Ron Barge played a cowboy hat wearing, guitar playing entertainer along with his puppet friends Benny the Bear, Clyde the Owl and Farley. I will even admit that as a child I enjoyed being on the show several times and happily enjoying a McDonald's cheeseburger during commercial break. The show ran until 1997 and enjoyed a one episode comeback during Christmas eve in 2010.
Bear Necessities
Some may recall prior to 2000 the zoo used to have a larger arctic exhibit which housed polar bears. Visitors used to enjoy watching the polar bears plunge in icy blue waters from behind glass and from an above viewing area. In 1988 two pandas were a popular attraction at the Calgary Zoo. Alpha produced a vanilla and licorice flavoured ice cream to commemorate. The ice cream came in a brick which you sliced, revealing an image of a panda.
Indeed 1988 could be dubbed as the great year of the bear for Calgary. During the Winter Olympic Games our mascots were revealed to be two western dressed polar bears by the names of Heidi and Howdy. The image of this lovable duo used to be seen on road signs as people drove into the city limits. The costumes and the signs now reside at the Canada's Sports Hall of Fame located at Canada Olympic Park.
Please comment below with things that make you feel nostalgic about Calgary, tweet me or use the hashtag #CalgaryRetro.
I think we need to revive #CalgaryRetro. Thoughts?

— Lonnie Taylor (@lonnietaylor) August 14, 2012