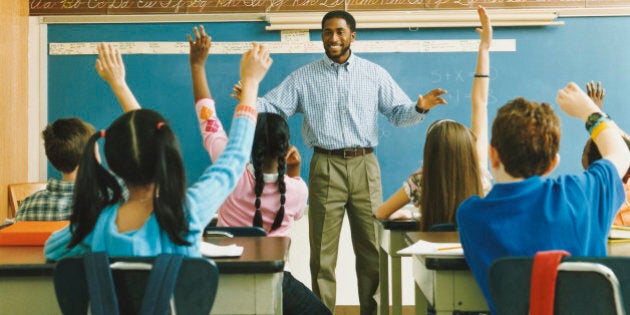 I fill a bucket with water and soap. Bubbles slowly rise to the surface as the two combine into a froth of white foam. There is much to do today and little time in which to do it all. I have my classroom sectioned off into centres: today's goal is to clean the computer station and the puzzle and games centre. I dip the rag into the bucket and wring it out.
While it might look like I am cleaning, what I am really doing is readying the classroom for the little bodies that will plunge through that door (at the bottom of the stairs, turn right) come Thursday morning of next week. I am readying things. Making sure all is clean, orderly and attractively arranged. It's slow work, but I like the quiet.
And while I clean shelves and wipe down cupboards, readying things for those little bodies and minds, I ready my own mind. Clean out the cobwebs, so to speak. I need my head to be in the game, need my thoughts to be organized. Need my mind to be clear. For when all is said and done, it's not the classroom that houses the potential and possibility to make this year the best one ever for my incoming class: it's me.
With that in mind, I've been reflecting on what I plan to teach this year, along with the usual letters, numbers, reading and writing. And what I want to teach this year is how to love.
I want to teach people how to love, not how to hate.
Teach them how to care for one another. How to reach out beyond the familiar, comfortable world they know so well so they can make a difference in the life of another.
Teach them how to be compassionate. How to show concern for those going through hard times, how to display real empathy for those with struggles and consideration for the needs of others. Above all, how to live a life marked by gentleness in one's interactions toward all living things.
Teach them how to be grateful. Thankful for what we've been given. Appreciative of little gestures and small tokens of thoughtfulness. Pleased in the lasting gifts of life- those people and things that are not transitory.
Because what I want to teach this year is the art of loving, not the vanishing pleasure of greed.
I want to teach acceptance; how to see that what we've been given is enough; acknowledging that we have a responsibility to share the love; share the blessing; I want to spread the message of hope.
And teach how to give from the heart, expecting nothing in return. How to live one day at a time.
For what I want to teach is how to strive for justice and freedom for all even in the midst of everyday living. Not just saying that we do -- living it as well.
Yes, what I want to teach this year is love, not apathy.
Teaching how to see that indifference is the same as condoning the same behaviors we find offensive in society.
Teaching that acknowledging one's lack of interest in speaking out about what they believe to be of value and of worth is a form of passivity and subtle weakness. We need to find strength in our convictions. Hopeful joy in our abilities.
I want to teach that one's boredom and lethargy is the obstacle between self and understanding the world better.
Because I want to teach them how to love. It's what I want to teach this year.
What I really want to teach this year is that love is both the message and the outcome of a life lived well- for one's own joy as well as for the joy of others. Not denying my place in history, but embracing it.
What we really need is love. It's certainly what I need. After all, it's not the world I am trying to change: it's me. And I know it will happen if I just take it one day at a time. One sure foot placed securely in front of the other.
Starting with me as the student, that's what I want to teach this year.