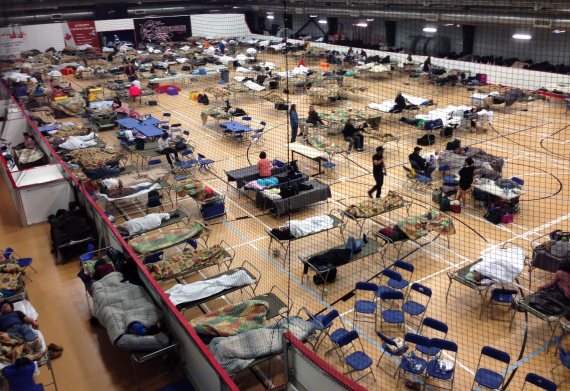 Evacuees from a wildfire in Fort McMurray, Alta., are seen at an evacuation centre in Anzac on May 4, 2016. (Photo: The Canadian Press)
While Fort McMurray burns out of control, with a vicious ferocity unknown to these parts, of which I am from: we the watching public -- friends, family and acquaintances -- anxiously, frantically, nervously stand by. Helpless to do anything from clear across the country.
Tonight, I logged onto Facebook from P.E.I. to find at the top of my news feed a harrowing account written by a fellow teacher-friend. A record of her last day at school before being evacuated from the city, it was disturbing and inspiring at one and the same time.
This friend and others like her will be noticeably absent from our graduating cohort, all of whom will be receiving a MEd degree this Saturday at the University of Prince Edward Island. There will not be one of us in attendance, as fellow students and friends, failing to call to mind both her and several others we have now known as colleagues and classmates for the past three years.
Throughout the years we were together, we have challenged one another to think deeply, learnt from one another in varied ways, as well as lived out our diverse lives in the process, sharing with one another both our moments of victory and our pauses for reflection on the brevity of life. None of us would ever have been able to predict the course that our lives would follow. Many have experienced the joy of a baby's birth while in the midst of studies, while others have lost significant loved ones -- grieving deeply in the process. Through it all, we have supported one another, if not physically, certainly in spirit.
And here we are again: watching as life unfolds. Swiftly taking away all that we have come to accept as a given. Replacing the structure and stability of life as we have known it with something far different, far worse: fear and uncertainty and sorrow.
As I read my colleague's heart-breaking account of her last day at school, I was reminded again that life is a difficult journey that we all must travel. Reminded, too, of the journey that I personally have taken over these past three years, both as a teacher and as an individual.
Starting out that journey with a question in my mind: what do students remember most about their teachers? What is deemed the most important quality of good teachers and educators? What really counts? What matters? And finishing the last moments of this trip of a lifetime, these moments before I walk across a stage with certificate in hand, with a strong belief and understanding of where the answer to that question can be found.
In reading my friend's harrowing status update about what she had been doing the moments before she and countless others had to flee the city, I was also once again convicted that the heart of our understanding of teaching as a calling is this: that we care for our students. My friend was doing just that, caring for her students. Caring for their fear, caring for their uncertainty, caring for their desperation, caring for their plight as individuals. She spent her final moments in the classroom and school that day with them, caring. And caring deeply.
What a testament to teaching at its best.
But is this not what everything comes down to in life? Care? That we care -- and care enough to reach out to those in need? That we stop to take a moment to make the eye contact necessary to affirm and support? That we reach out in tangible ways? That we call or text or write the old-fashioned way so as to connect? That we meet face-to-face, when possible? That we listen and support? That we give tirelessly of ourselves?
Is it not all about care?
This Saturday when I walk across the stage, I will receive a diploma indicating that I have completed a course of study. That course of study was intended to make me a better teacher. And I think it has... but perhaps not for the reasons I first believed would be the stimulus for such.
How I have benefited over the past three years is in ways far more significant. It has been the introspection spurred on by the conversations, the challenging questions, the inspirational lives I have observed: these have enriched my understanding. And I have grown from hearing the stories of each and every one of my colleagues, particularly in the ways in which they have cared deeply for their students, their families and their communities in which they live and grow as individuals.
Even now, I am growing in awareness as I watch these very same colleagues battle nature and elements beyond their control. My perspective shifts as I observe their courage and fortitude from a distance.
And so I ask myself, and often: what matters as we live out our lives -- today and each day forward? What matters is that we care. That we take the time to care for others and their varied human needs and requirements. What matters is that we care. That we take the time to know ourselves and care for our own physical needs, our emotional needs, our spiritual needs, our physiological needs.
What matters is that we care.
Fellow friends, as we care deeply and mourn the great losses of our friends in far-flung parts of this great nation, as we grieve for Fort McMurray -- as we grieve for others: may we never forget that it is the care that binds our hearts together, knitted tightly and perhaps even eternally with cords of love and compassion. This is that which matters most.
Godspeed, friends and colleagues in Fort McMurray.
Take courage.
Follow HuffPost Canada Blogs on Facebook
MORE ON HUFFPOST:
Photo gallery

Fort McMurray Wildfire (May 2016)

See Gallery