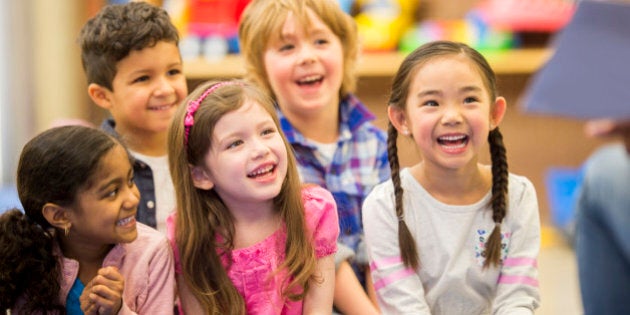 It's funny how listening in on last week's live news conference with President Trump acted as a reverse-reminder to one lowly teacher from P.E.I., Canada...that kindness as a principle for living is the only way. Even when what is required might be tough, might be difficult, might not be easy. Might be really tricky to deliver. There is only kindness. Yes, even when what is required is hard, demanding, testing and problematic. When life is complicated.
Kindness is the only way.
Maybe Trump never learned this lesson in school. But let me tell you, he should have.
Because even I know from my years spent in public school classrooms and the schoolyard...that tough love can be done in kindness.
I learned that consequences can be carried out with kindness. Gentle critique can be conducted with a cushion of kindness. All of this and more. All can be cradled in kindness and compassion and gentleness and love.
This is the only way. There is no other that should be considered.
So in thinking about how we interact with one another and how we carry out relationships and interactions, I can remember those times when kindness was the rule. Can also remember those times when it was not. But the greater influence is certainly the former.
Recently, I was worried about an assignment I had to finish up for my masters work. I emailed the professor and came to find out I had done the whole thing differently than others in the class. This was a PROBLEM because I was over 85 pages into the thing. I had already committed and signed my life over, so to speak. I had worked on it for five weeks already, so there was no turning back. So, when I emailed the prof, I really did not know what to expect. Did not know whether he would tell me to get my act together and start over. Or get my act together and finish it.
What he said instead was really interesting. Actually, it was amazingly kind. He emailed me not once, but twice and it was the second email that truly touched my heart. Here is what he said, after emailing me the first time to say things would work out:
"I just had to write you again to reassure you that your above-and-beyond work will pay off for you and you definitely will not be penalized in any way. I am proud of you!"
As I am now a student again, I have begun to think of students and teachers and relationships and how these connect with memories students have in terms of what they remember most about teachers. In terms of what lasting recollections students have in their minds, I cannot help but emphasize again that:
It is not about the lesson plan. It's not about the fancy stuff we teachers make -- the crafts we do, the stories we read, the papers we laminate. No, that's not really it. That's not what matters most. Kids won't remember how organized our bulletin boards are. How straight and neat are the desk rows.

No, they'll not remember that amazing decor we've designed.

But they will remember us.
Teachers, your students will remember you.
So, thank you to one Dr. Nesmith, professor of counseling and himself a certified counselor for many: thank you for your kindness to me these past few weeks. You are truly a wise and empathic counselor and mentor at heart. It is the way you have shown care and compassion to me that will be remembered.
Follow HuffPost Canada Blogs on Facebook