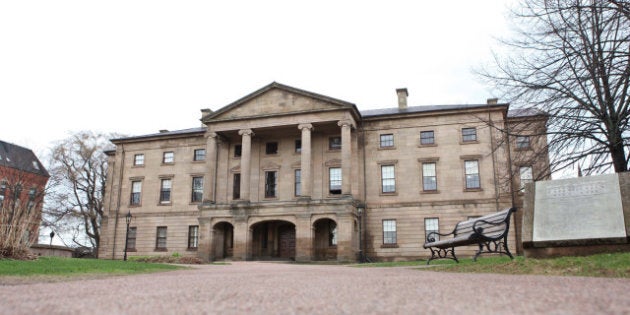 She, the beautiful bride-to-be, is anxious that everything be just right as per her plans for the big day, and I assure her that since she is the bride, her word is the law. I am pianist and vocalist for this upcoming Island wedding, and this petite brunette, who plans to be married in a church in western P.E.I., has met with me twice already prior to the wedding rehearsal, as well as initiated numerous electronic exchanges to go over the fine details. As this is an Island wedding, it has its own high standards to live up to, if one takes into account the numerous testimonials, private and public, that give reason for any young couple to choose the Island as their wedding destination.
If you google "P.E.I. weddings," it should not come as a surprise that the Island has carved out a market for even the most discriminating of brides. Those wishing to live up to their own romantic ideals or any number of other sentimental clichés will not have to search far to find what they are looking for, as the Island has diverse vacation packages to suit any bride's fancy. As I have had many opportunities to attend Island weddings, as well as experience my own personal version of the Island wedding a few years back, I can vouch for the fact that weddings planned and carried out here are truly as special as they are touted to be.
For one thing, the Island has some of the most beautiful beaches in the world, perfect for any kind of family get-together, not excluding a wedding. Of course, P.E.I. is not the only place on the globe where one can mix together sand, water and sky to make a perfect concoction worthy of romance. But, there is something about getting married on an island like ours that makes the sandy dunes and red shores more notable and thus, more romantic. It is as if the bride and her groom were together on a secluded fantasy island with miles of sand and red clay separating them from the rest of the world. Although we Islanders know that only after a short drive, you will find yourself in the heart of our capitol city, visitors need not dismantle the illusion of seclusion. That is the beauty of our island -- romance, charm and intrigue are always in the air.
Another reason the Island is perfect for tying the knot is our emphasis on tourism. We Islanders cater to our visitors, and what better way to do so than to offer romance packages for couples wishing for a romantic wedding location, to be followed by a laid-back, entertaining vacation on P.E.I. Couples come from all over the world, and they are not disappointed: The province has the whole deal, including great food, fantastic theater, outstanding golf courses as well as some of the prettiest scenery known to man.
Of course, I am not biased, just well-informed. And it helps to be a local who knows from first-hand experience that the Island is the place to be for a romantic wedding befitting a fairytale.
So, to give you a personal account of my own Island wedding, I would be remiss to not include the fact that my husband proposed to me on the beautiful shores of Cavendish beach, minutes away from the house of a certain Anne Shirley. Maybe you've heard of her? He carried the ring in his pocket for the afternoon, setting it aside while we swam in the crystal clear waters of the north shore, all the while nervously scanning the beach for pickpockets, while I, oblivious to this tension going on in his mind, was just enjoying the beauty of a perfect summer day. Carefree as a bar clam before a clam bake.
After drying off in the sun, we walked hand-in-hand over the rocks until we came to a series of caverns. One was deep enough for two to sit comfortably, so we stopped to catch our breath. I looked out at the blue of the water, and I could sense there was something on his mind. He was extremely nervous, and I eventually caught on to what was coming next. I watched him get down on one knee and hold out a promise in the form of a sparkling diamond ring. The waves crashed the shoreline while gulls soared overhead.
He proposed, I said yes. The rest, as they say, is history. We were married two years later on another perfect summer day in a church sanctuary in the city of Charlottetown, and held our reception outside underneath beautiful white tents draped with filmy gauze and flowers. The honeymoon commenced with our first night spent at Dalvay-By-The-Sea, notable for recently hosting the Canadian royal visit by their Royal Highnesses, Prince William and the Duchess of Cambridge. Capped off by an evening meal in the spacious dining room, our first night of marriage was a prelude to a honeymoon fit for the storybooks. A perfect Island wedding and a romantic honeymoon; just what the tourism movers and shakers would want the rest of world to come to experience.
Although a wedding can be preformed just about anywhere, it is magical on the Island. It is a wonderful way to start life together as a married couple with a few days in paradise before settling in to the regular rhythm and flow of everyday life. And it might just be what the doctor ordered for those returning to P.E.I. after years as a couple, wishing to put a spark back into their marriage.
And you can bet your bottom dollar that the tourism sector has designed a niche for year-round romantic weekend getaways for two, as well. After all, weddings are only the beginning. There is a lifetime of opportunity for couples seeking a getaway to whom we Islanders hope to cater our charm, and spin a web of intrigue to draw in those seeking the romance of our fair isle.