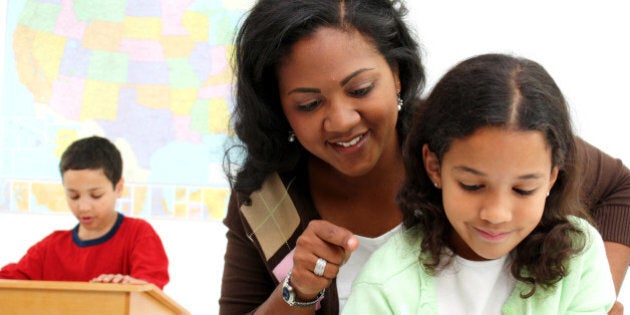 I am coming to realize more and more all the time that the overall public perception of teachers on the outside-- both in the United States and Canada (and perhaps beyond) is at times negative.
Recently, I wrote an article about what teachers want, in terms of public support and appreciation. The issue of teachers' wants and needs is a hot topic currently due to collective bargaining processes happening in various regions across Canada.
The overall impression I was left with, after reading the dozens of comments accompanying the piece, was that teachers were defensive, while some in the public were persistent in supporting their perception of teachers' professional work as being characterized by whininess, over-pay, indulgence, laziness, self-centeredness and servility. This image will probably remain until change occurs, both within and without education.
Teachers are at times unaware of the image we occasionally present to the public (images that hold run deep and hold fast within the public mindset). Perhaps it is time that we as teachers begin to re-invent this negative image, presenting ourselves as the compassionate caregivers we know we are, rather than enabling the existing perceptions of us as self-serving government employees to persist.
In a recent rebuttal found on my blog, I had this to say:
In writing about teaching as a profession (and in turn, trying to debunk the myths that teachers are money-hungry, union slaves that think solely of how to raid public coffers), I am also realizing the need for teachers to present an alternative image to the world other than the one currently being upheld. I think what is needed in our profession is for teachers to show those that are unclear about what teachers really care about -- the truth of our identity. As young people fresh out of high school, we were not drawn to the teaching profession because we could not wait to one day be part of a union that would help us get rich. Hardly. We were drawn to teach because we cared about the ideals of the profession and because we cared about connecting kids to those ideals. Then, as we became employed, we realized something even more important (if we hadn't come to the conclusion already): we realized how incredibly important the kids in our classrooms were to us. They in fact were everything.
As such, we started to care for them personally -- and deeply care. Care about what they were eating both in school and without. Care about who they were friends with, about how much sleep they were getting on school nights. Care about what they were watching on television/social media. We also started to care about their personal history and their present situations. We began to notice when they looked sad. We started to tune-in to their moods and feelings. We noticed when things began to change from their typical interactions and responses. Started to notice so much more than even this.
In short, we were not really expecting this part of our calling to occur: it was not exactly what we trained for in university. But somehow, in conjunction with the first day of our teaching contract, we realized that teaching content would sometimes take a backseat to caring for kids as people. Actually, we learned rather quickly this would happen a lot of the time. And this, all because our job as teachers was profoundly about the students -- their concerns, feelings, beliefs and identities. Our calling was wrapped up in the whole student, not just concerned with their brain. Our calling was wrapped up in the health and well-being of their body, heart and mind.
When I am made aware of public perceptions of teachers like this one:"whine , whine, whine , move on and get a different job"; and this one:"what teachers want is more money"; and this one as well :"get back to work, public servant! If you don't like your job, get another one. Got that, public servant?": rather than feel anger, I am extremely saddened. Sad because of what the image of teachers has become. For what bothers me the most is that we as teachers have not been enabled to truly represent ourselves in the real world or in the media so that people outside the system can understand what we truly care for, long after collective bargaining time is over and done with.
Of utmost importance, the public must hear from us of the absolute and incredible gift we know it is to be a teacher all those other days of the year. They must hear directly from us and often about what exactly our job entails, must be made aware of the highs and the lows of our tireless work. We need to share with the public our well-founded concerns as well as our ample "gratitudes" and appreciation for our work. We need to tell what it is like to struggle with meeting the needs inside our classroom and what it is like to triumph in spite of the shortcomings. And we need to continuously share the importance that a teacher can make in the life of a child. One moment at a time.
In my blogging, I have made this my goal: to raise awareness about teaching. To be a voice in the wilderness, if need be. To be a rally cry for teachers to unite and care about our profession enough to invest in it. To be a clear and concise storyteller so as to draw people into the world of education. I want people to care about what we do because we are teaching the children that people care about. What we do inside classrooms is incredibly significant, particularly when it gets personal. And I still hold fast to the following words:
"Until we, as people, are affected personally by this caregiving aspect role that describes a true educator, we really will not understand how important it is. And what I mean by that is the following:
* Until your child has been bullied, you don't realize what it means to have a teacher calling you to see what they can personally do to rectify the situation.
* Until your child has been without a lunch, you don't realize how much it means to have a teacher offer half of hers to your child.
* Until your child has been excluded, you don't realize how much it means to have a teacher notice your child and seek them out.
* Until your child has been owing money for an event, you don't realize what it means to have a teacher notice and make up the difference in the amount.
* Until your child has lost a loved one, you don't realize how much it means to have a teacher take the time to make a homemade card for your son or daughter.
* Until your child has been scared, anxious, worried, fearful, hurt, overwhelmed or endangered, you don't realize what it means to have a teacher in their corner- rooting for them, whatever it takes.
Until it hits you personally, it is really hard sometimes to remember what a monumental role caregiving plays in the day-to-day life of a child.
Caregiving is hands-down the heart of teaching. It is absolutely crucial that the outside world -- the one concerned with education, but not located therein -- become aware exactly what this critical adage really means to us as teachers.
The task is ours to passionately convey this message.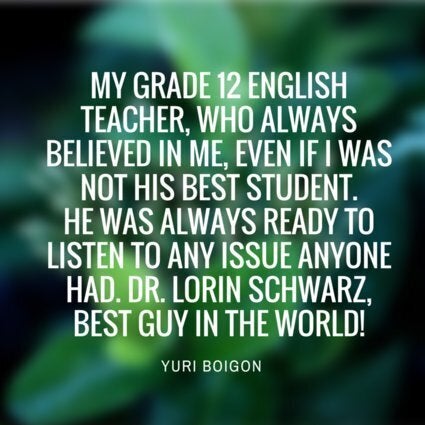 11 Teachers Who Made An Impact