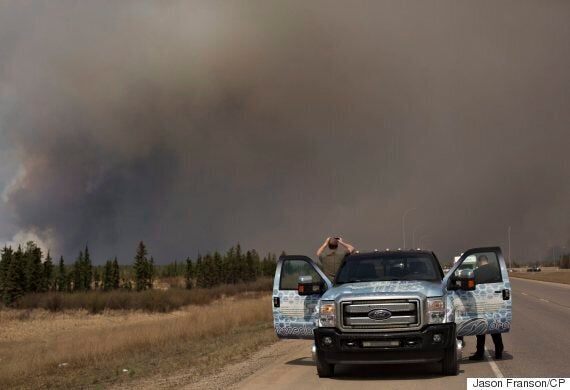 Wildfires grew into an inferno that forced the evacuation of more than 80,000 people from the Fort McMurray area this week. (Photo: Canadian Press)
It struck me during a CBC radio call-in show this terrible week that a mom of two young children said that at least they escaped Fort McMurray through the fire while their children were asleep. They will not remember, she said in tears. A gift indeed.
Even a thousand of kilometres away, it's as if the flames are licking at my front door. I grieve for the loss of home and community to say nothing of the fact, which we have yet to acknowledge, that Fort Mac has been the engine of Canada's economy.
I know many want to have the conversation about climate change and fossil fuels. But now is not the time.
There is hardly a town you could live in that doesn't have a paycheque coming from Fort Mac. And while we watch them burn down on live TV, we know that their loss is our loss. Their town is our town. Their fire is our fire even if we don't feel the heat and the flames.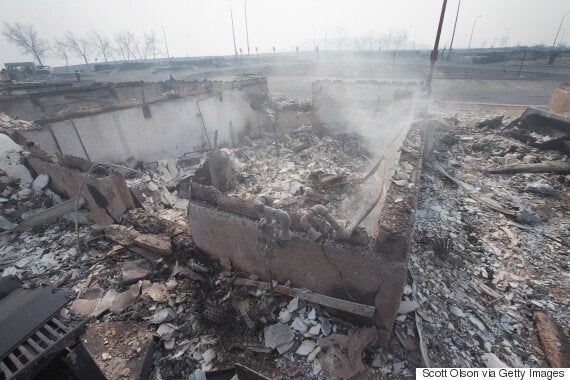 The foundation of a home smolders in a residential neighborhood destroyed by a wildfire on May 6, 2016 in Fort McMurray. (Photo: Scott Olson/Getty Images)
When the evacuation started, I started texting my mom friends. My mom friends whose husbands were in camp. Are they OK? Have you heard? Will they be home soon? How are the kids? What a freaking nightmare.
Years from now, the children of Fort Mac will be adults. The trauma will in many ways shape their lives, their decisions, and their indecisions just as our traumas have shaped our lives. The October crisis, Polytechnique, Sandy Hook, Slave Lake, Lac Megantic. The list is far too long. Some consequences told. Most, not yet.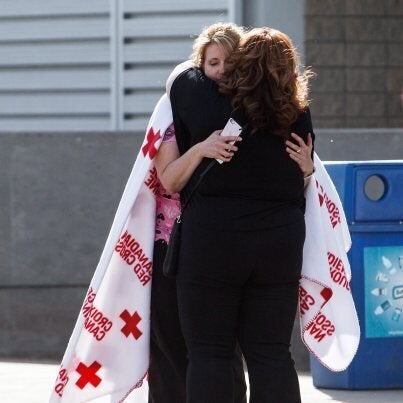 People forced from Fort McMurray embrace at an evacuation centre. (Photo: Canadian Press)
Every tragedy raises a previous one. We all struggle with the feelings that come with watching other families suffer. And while my empathy is intact, I hope, it's like our experience of tragedies are called to the forefront yet again.
I've spent days on the verge of tears. And I struggle to rationalize where it comes from. Is it for the victims or is it from memory. Am I personalizing the struggle of others out of recognition of previous experience or am I genuinely empathetic. The mind boggles. The heart breaks.
Thank goodness for the practicality of the Red Cross. Please donate. You will feel better. And it will do good.
We are all vulnerable though none more than the direct victims. But there are moments that break us, change us irreversibly and forever. I would trade everything I had. Bank balance, cozy home, sense of safety, to offer even a bit of respite to those who years from now will do the same for strangers in memory of the tragedy they suffer through this terrible time.
You are loved and you matter. It's not going to be OK. But it will get better. It. Will. Get. Better.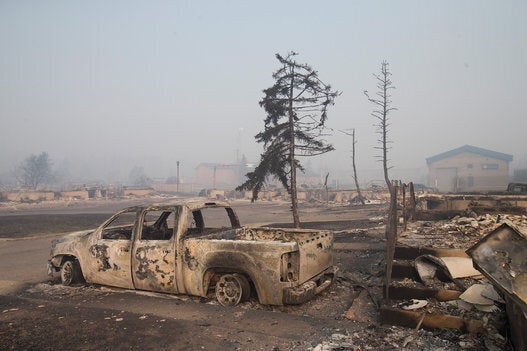 Fort McMurray Fire Aftermath (May 2016)