I hear it all the time: "I'd love to get one, but I don't have time!", "I'd totally get a dog if I didn't work so much!", "My apartment's too small, but I've wanted a dog forever!" I get it. Having a dependant -- even a four-legged one -- is a big commitment, and not one to be taken lightly. So, if you're not ready but want to feel like you've got a dog and help some deserving homeless pups in the process, here are some options:
(Note: if cats are more your style, this can all apply to them as well)
Gift or Instagift What's Needed Most
If the commitment of sponsorship isn't for you, how about gifting items needed to dogs and rescues anywhere? With this type of program, it's a one-time, no commitment payment, but you know that what you are supplying these animals with is potentially life-saving. I've put a cuddle level of 4 out of 5 here because it's been proven people are happier giving gifts than receiving them, and what's better than knowing you made a homeless dog happy?
The Downtown Dog Rescue is a shelter intervention program located in Los Angeles. They help low income families keep their much-loved pets out of shelters through education and running programs like their spay/neuter clinics. They also rescue dogs from shelters, and keep an Amazon Wishlist of items they need.
Houndsavers is a greyhound-specific shelter in California, rescuing dogs that come off of racetracks. As the most worked and massacred breed in the world, greyhounds are extremely loyal, calm, and affectionate, but are still under the stigma of the racing industry. Houndsavers lets you learn more about the hounds they have, and gift treats, toys, or blankets to the dog of your choice through their insta-gift program here.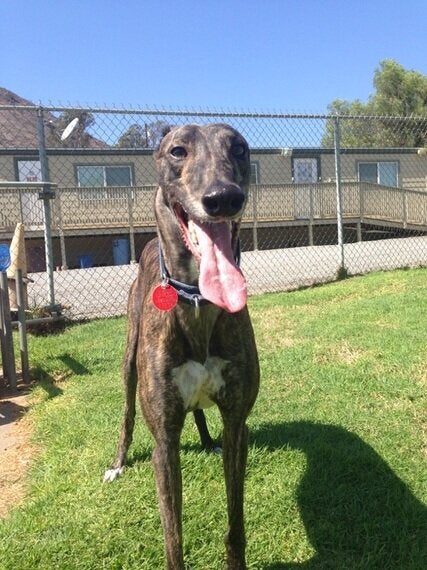 George at Houndsavers Greyhound Shelter.
Municipal animal shelters need their share of volunteers as well, but if you happen to be located further away, don't have the time to make the commitment or take the training, and happen to be allergic, consider volunteering with a rescue. Yes, all the problems above can still apply, but now with the prevalence of people looking at pet options online and on social media, all rescues could use help spreading the word online, posting pictures, and updating profiles. There's also lots of fundraising work to be done, collecting blankets and toys. Many rescues are associated with a cause, breed, or region, so you can easily find something near your area that you're passionate about, and know you'll be helping deserving animals find their forever homes.
Ginger's Fund [warning: prepared to get sad when looking at their Facebook page] is a rescue in South Carolina that focuses on abuse cases where police find or seize animals. They get the most critical cases, and fundraising is vital to their efforts of helping animals. More people spreading the word online can not only increase their capacity, but also raise awareness of abuse that happens every day.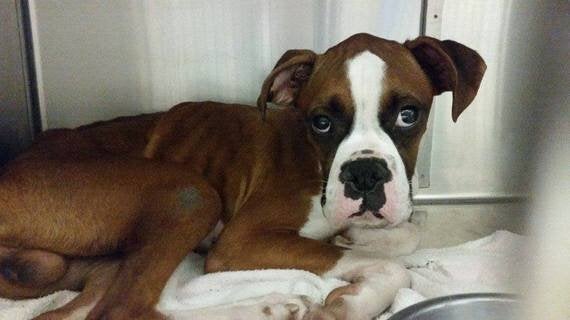 I can guarantee you that anywhere taking in homeless animals is stretched for resources in some way. Sponsoring a dog is a great way to contribute to his or her life and get regular pictures and updates. This is usually a monthly monetary commitment over a specific term, but really helps to keep the heater on in the winter, food in what were empty bowls, and more perfectly happy, healthy dogs from being euthanized. Almost all rescues or shelters will have this program.
Rescues and animal shelters may ask for foster parents to: test the animal to see how good they are with pets/kids/environments, free up crate space in their facility, keep an animal from being euthanized, and more. However, this option gets a commitment level of 4 out of 5 because even though the rescue or shelter will usually cover the costs of food and medication, you have to do your part in socializing the pet and treating it like your own. Also, some foster parents report a hard time giving up their foster pets when the right forever home does come along. But, if you're looking to have a real impact on a dog's life without a forever commitment, fostering is a good way to go.
Though these lists are not exhaustive, a Canadian list of shelters and rescues can be found here, and for US options, Adopt a Pet and PetFinder seem like good options.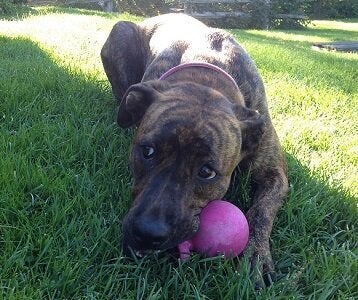 Lucy, waiting for her forever home at Ugly Mutts in Ontario. See more of their dogs here.
And, if you feel you are ready one day to welcome muddy paws onto your furniture (I say that lovingly), please adopt. This story about a dog that survived Euthanasia recently should have done wonders for educating people about how quickly a dog will be killed after being surrendered by their owner, simply because nobody wants it (two weeks!). The last dogs to get adopted are seniors and black dogs, though they both have hearts of gold. Join the #AdoptDontShop movement on Twitter to learn more.