A few days ago, I was walking around in Calgary and met a little girl named Emily who was selling her artwork at a small table in front of her house. She was about four years old, and for $0.25 you could purchase one of Emily's originals and receive a complimentary daisy. Emily was raising money for the victims of the flood.
We have all seen Emilys over the past three weeks as we cleaned out basements, did each other's laundry, took in our friends and strangers, delivered sandwiches, donated time and money to those in need.
For me, Emily was another indicator of what makes Calgary special - and perhaps a predictor of how we are going to come out of all of this.
I read recently that many people experience post-traumatic growth rather than post-traumatic stress after being impacted by traumatic events. I had heard of post-traumatic stress but post-traumatic growth was a new term to me. Apparently research has shown that this growth is not a result of the traumatic event itself, but the struggle of dealing with the realities of the trauma.
When a person is able to adapt, then there are substantial opportunities for growth.
What I found most encouraging were the predictors of post-traumatic growth: social support, spirituality, and opportunities to talk about the event. If some or all of those things are present in some degree, chances are good that we will come through a trauma stronger than we were before. Just think about what we have seen in Calgary since the flood: people helping people they have never met, sharing stories, sharing ideas; emerging leaders beside strong formal leadership; everyday heroes; creative solutions; people of all faiths praying for each other. "We can't do this" replaced by, "How can we do this?"
We should be so proud of how we are handling this. We have everything we need to move from recovery to resiliency as a city.
We have to continue to be there for each other, to talk about what we have and are experiencing, to know that it is normal to feel sad or upset at times. I think it was Nietzsche who said, "If it doesn't kill me, it makes me stronger."
As we move forward together, just watch for the signs! If you are experiencing a great appreciation for life, if your priorities have now changed, if you find yourself being a little kinder, a little more thoughtful, a little more outward focused, if you are appreciating your friends and family a little more, if you feel stronger, more confident about getting through something difficult, if you are a little more in touch with your spiritual side and even re-evaluating your purpose -- chances are you may be experiencing post-traumatic growth.
We know that moving the city from recovery to resilience will require the work of many over the next months and years. United Way will continue to play a leadership role in bringing people together to provide a coordinated response. Our knowledge and experience around building resilience has taught us that good things can result from crises like these if we have the appropriate response.
We will be fearless in embracing our future. What a wonderful side effect of something as terrible as the flood of 2013.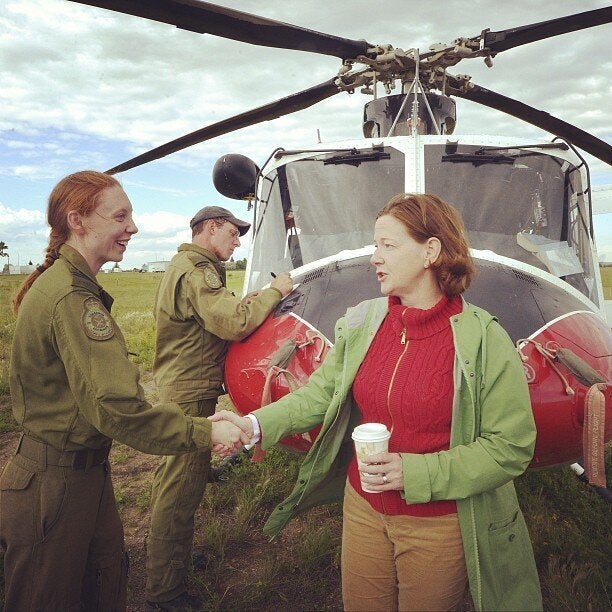 Most Moving Photos From The Alberta Flood