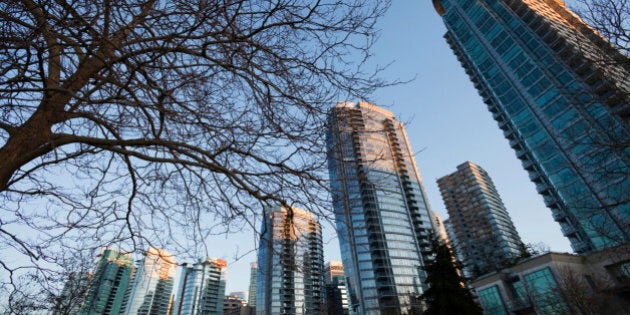 While real estate in Vancouver seems bulletproof with property assessments up over 20 per cent in the past year, North American stock markets are down 20 per cent from their highs last April. Is the stock market undervalued, making it a viable buying opportunity? Has Vancouver real estate finally reached its peak, or is it simply too expensive to be worthwhile?
This begs the question: where do I invest my money?
Real estate in Vancouver has been, and continues to be, a great investment. If you bought your primary residence years ago and have enjoyed tax-free growth since, you've probably made a great return on your home. Real estate is a relatively safe investment. It's easily understood, and it's well proven that the long-term investment of buying is preferable to renting.
However, this article isn't about your primary residence. The question I want to answer is this: assuming you already own your primary residence, should you invest your excess funds into an investment property or into the stock market?
If you already own one or more investment properties (or have excess funds that you're looking to invest), then I encourage you to answer the following questions:
Including your primary residence, do real estate investments account for 50 per cent or more of your net worth?
Do you have a mortgage?
Outside of your primary residence, do you own other investment properties?
Should an emergency occur, would you need access to these funds?
If you have answered "YES" to any of the above questions, then you'll want to read further. We'll talk about the risks of investing entirely in real estate.
As an investment adviser, I know that diversifying your investment portfolio is smarter than investing everything into any single sector. Consider real estate like any asset class with its own sets of risks, and not as a guarantee: it isn't. People have lost money in the real estate market, even in Vancouver. That's a fact.
Need proof? Look at the price index for homes in Greater Vancouver and you'll notice the average home price isn't a straight line. In 2008, for example, the home price index for Greater Vancouver fell by 10.1 per cent, and apartments fell by 11 per cent during the same year, according to the Real Estate Board of Greater Vancouver.
Here's the point: real estate investing is not 100 per cent guaranteed.
Diversification is a key pillar in the process of making any investment decision. If you answered yes to any of the previous questions and are considering further investment, it's important to diversify away from real estate. There are plenty of other options available to you that will help bring down your overall exposure to one asset class.
Let's look at a real-life example.
Joe and Stephanie own their primary residence, have maxed out their RRSP and now have excess funds to invest. They're considering either buying a small condo downtown to rent, or investing their funds in the stock market. Below is a quick summary of both scenarios, illustrating two potential routes over the past three years.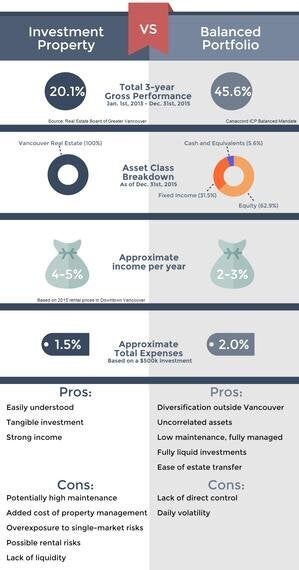 The chart above isn't about proving that one investment is better than the other. This summary shows us there are alternatives that offer yields and investment results similar to the real estate market, while adding a tremendous amount of value to your overall diversification. When Joe and Stephanie invest into a balanced portfolio with their adviser, they successfully diversify away a lot of interest rate risk and exposure to a single asset class.
Here's one simple way to look at it. You live in Vancouver, your job is based in Vancouver and your primary residence is in Vancouver. That doesn't mean that your investments have to be in Vancouver. It's well worth considering your options.
I look forward to your comments, and hope this article has you thinking.
This blgo post is solely the work of the author, not an official publication of Canaccord Genuity Wealth Management (CGWM). All information is given as of the date appearing in this post and the author does not assume any obligation to update it or to advise on further developments related. All information included has been compiled from sources believed to be reliable, but its accuracy and completeness is not guaranteed, nor in providing it do the author or CGWM assume any liability.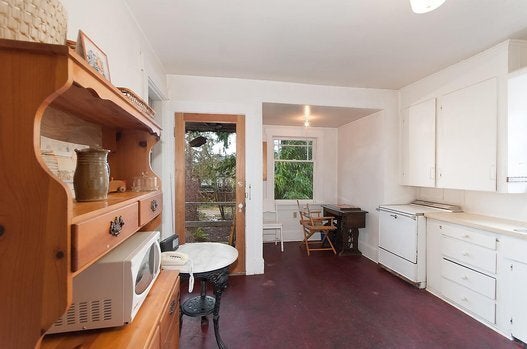 Vancouver Teardown Listed For $2.4 Million